BOOSTER PACK
【VGE-G-BT04】
Cardfight!! Vanguard G Booster Pack Vol. 4: Soul Strike Against The Supreme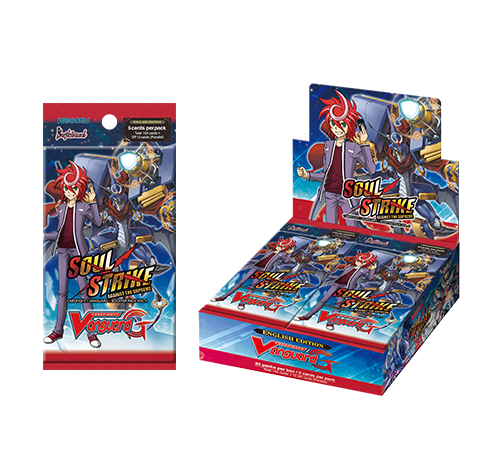 Release Date
October 2, 2015
Featured Clans
Gear Chronicle, Royal Paladin, Neo Nectar, Shadow Paladin, Genesis, Angel Feather, Megacolony clans, Cray Elemental
Card Types
104 types of cards (GR: 2 / RRR: 8 / RR: 12 / R: 22 / C: 60) + SP: 12 [Parallel] (GR = Generation Rare)

Others
1 pack contains 5 random cards
1 display contains 30 packs
1 card in every pack will definitely be an R or above card!!
Campaign
1 PR card (Total 4 types) will be included in each display!!
Heat up the fight with VGE-G-BT04 [Soul Strike Against The Supreme]!!
Look out for strong cards used by Team TRY3 and their rivals from the Cardfight!! Vanguard G anime, as well as new cards to upgrade your favorite decks from previous sets!!
Featuring new and powerful units for <<Gear Chronicle>>, <<Royal Paladin>>, <<Neo Nectar>>, <<Shadow Paladin>>, <<Genesis>>, <<Angel Feather>>, <<Megacolony>> and <<Cray Elemental>>!!
Do you have what it takes to stand up against supremacy?
Revealing the G-BT04 Secret Pack!
Packs including 5 SECRET rarity cards will be randomly inserted! (Total 6 types)!
G-BT04/SR06EN SCR
Chronodragon Nextage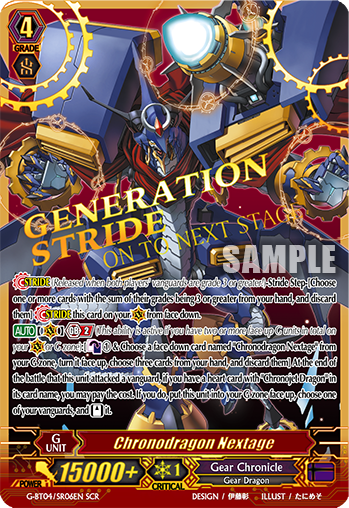 Each Secret Pack will contain 1 piece each of G-BT04/SR03EN, G-BT04/SR04EN, G-BT04/SR05EN & G-BT04/SR06EN. 1 piece of either G-BT04/SR01EN or G-BT04/SR02EN will be randomly inserted in every Secret Pack.