BOOSTER PACK
【VGE-G-BT08】
Cardfight!! Vanguard G Booster Pack Vol. 8: Absolute Judgment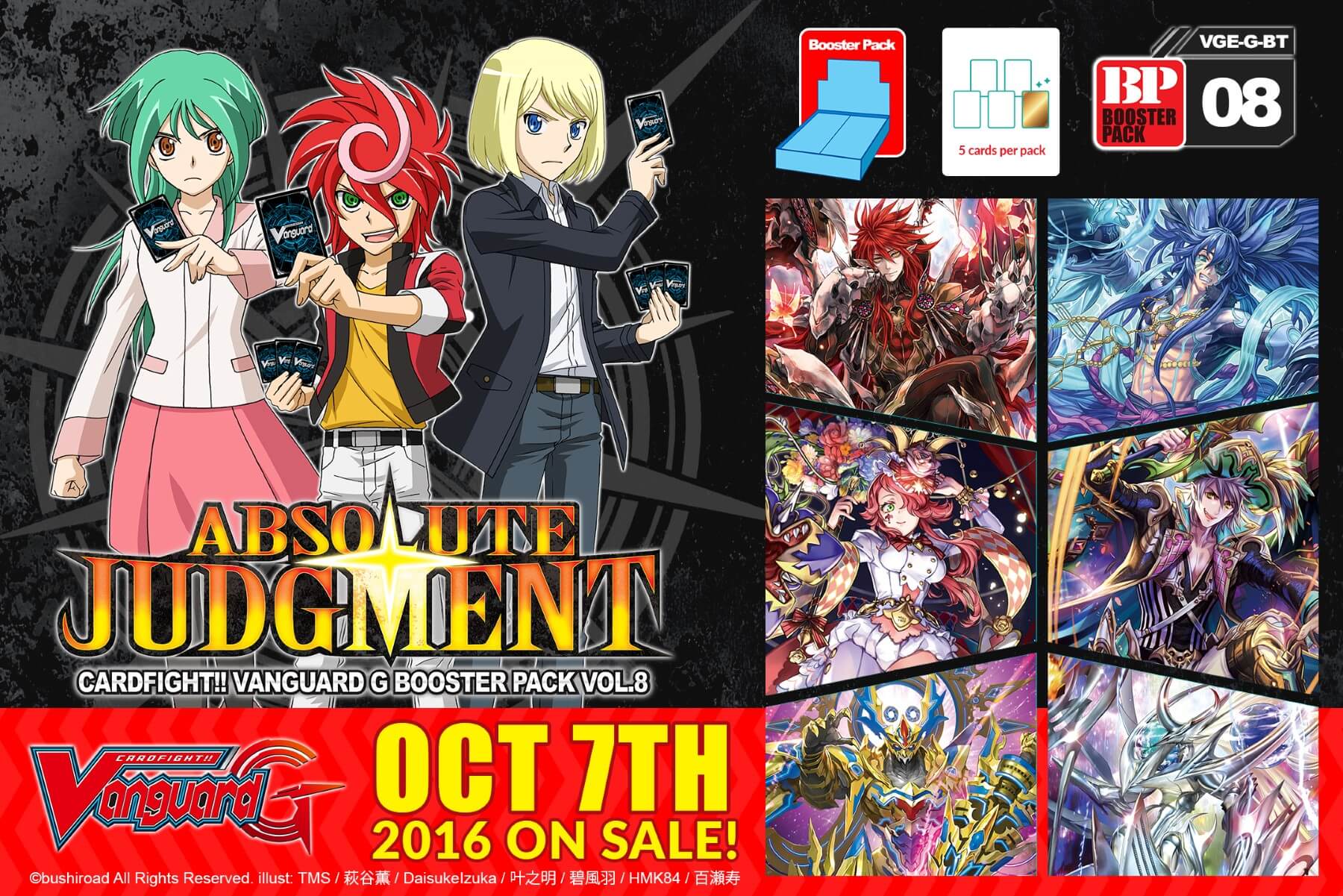 Release Date
October 7, 2016
Featured Clans
Royal Paladin, Neo Nectar, Genesis, Gold Paladin, Link Joker, Dark Irregulars, Pale Moon, Granblue, Cray Elemental
Card Types
104 types of cards
103 new cards / 1 reissue card (GR: 2, RRR: 8, RR: 12, R: 22, C: 60)
+ SP: 12 [12 Parallel]
+ SGR (Super GR): 2 [2 Parallel]
+ Special Reissue "Genesis Dragon, Amnesty Messiah"
(+ SP: 30 [From SP Clan Pack])
Others
1 pack contains 5 random cards
1 card in every pack will definitely be an R or above card!
1 display contains 30 packs
[VGE-G-BT08] Cardfight!! Vanguard G Booster Pack Vol. 8: Absolute Judgment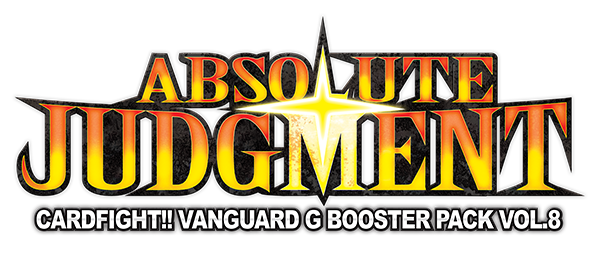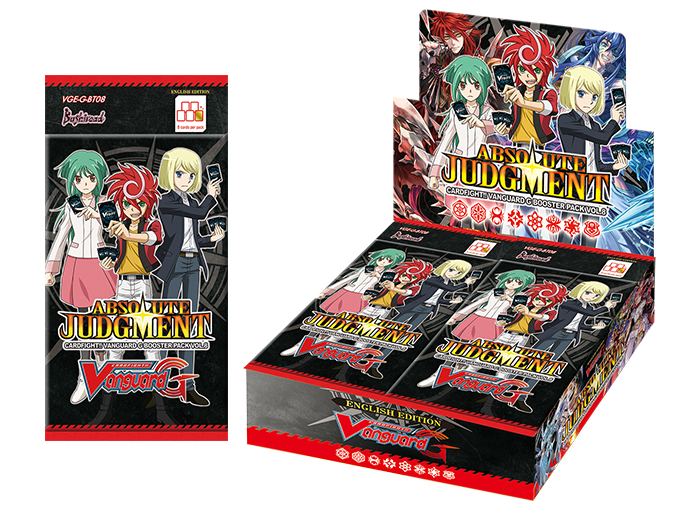 This Booster Pack is based on the ongoing "Cardfight!! Vanguard G Stride Gate" episodes.
VGE-G-BT08 [Absolute Judgment] features new trump cards used by both our protagonists and their rivals.
The SP Clan Packs that were highly popular in the VGE-G-BT07 [Glorious Bravery of Radiant Sword] Booster Pack will also be included in [Absolute Judgment] to the delight of collectors and new players alike!
Pre-order now to receive exclusive playmats! [ENDED]
Every carton of [Absolute Judgment] pre-ordered will come with exclusive playmats!!
※ Bonus playmat design is different from Sneak Preview
※ Applicable only to orders made before July 22nd, 2016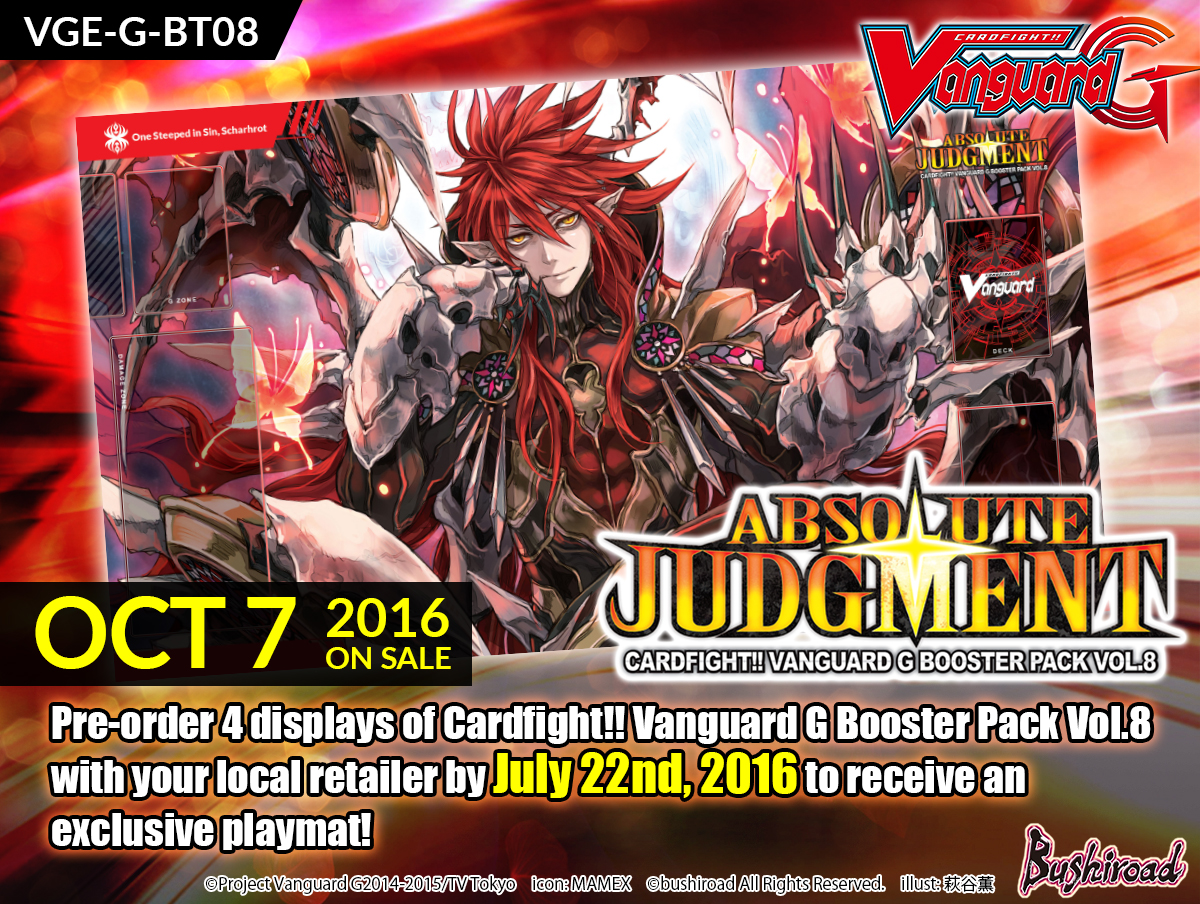 New Super GR Cards!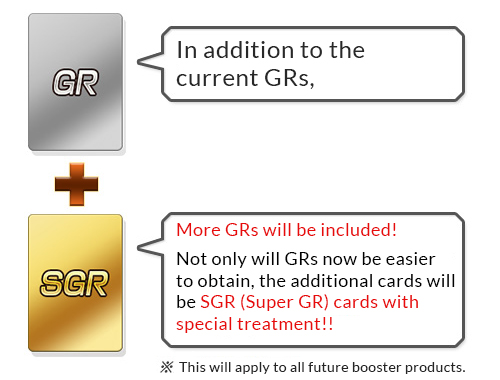 SGRs included in G-BT08 product: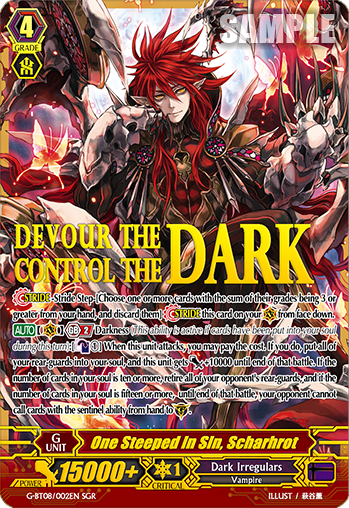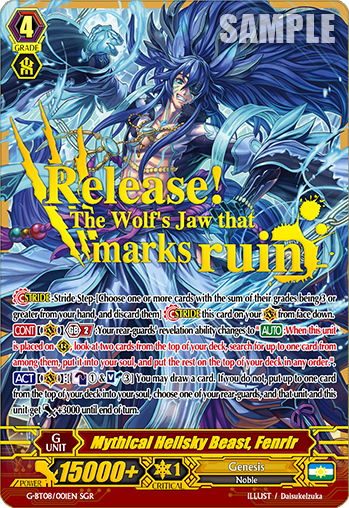 "Genesis Dragon, Amnesty Messiah" Special Reissue!
In response to players' high demand, "Genesis Dragon, Amnesty Messiah" has made its return with a new design.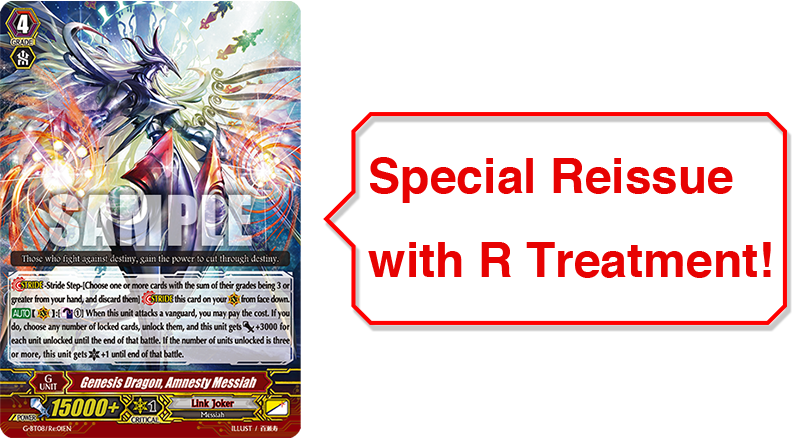 Second Set with the Popular "SP Clan Pack" !!
6 Types of SP Clan Packs featuring the following clans:
Royal Paladin
Neo Nectar
Genesis
Link Joker
Pale Moon
Granblue
※ No SP Clan Pack for <<Gold Paladin>> & <<Dark Irregulars>>
※ Contents will be different for each clan
[VGE-G-BT08 SP] Cardfight!! Vanguard G Booster Pack Vol. 8: Absolute Judgment Sneak Preview