BOOSTER PACK
Cardfight!! Vanguard G Character Booster Vol. 2: We Are!!! Trinity Dragon
Release Date
March 24th, 2017
Featured Clans
Oracle Think Tank, Dimension Police, Great Nature
Card Types
75 types of cards
[72 new cards / 3 reissue cards]
GR: 3, RRR: 6, RR: 12, R: 21, C: 33
+ SP: 12 [12 Parallel]
+ SGR (Super GR): 3 [3 Parallel]
+ Special Reissue: 4
(+ SP: 21 [From SP Clan Pack])
Others
1 pack contains 7 random cards
2 cards in every pack will definitely be an R or above card!!
1 display contains 12 packs
[VGE-G-CHB02] Cardfight!! Vanguard G Character Booster Vol. 2: We Are!!! Trinity Dragon


Here comes the second character booster expansion for Cardfight!! Vanguard G!

Have you been catching up on the latest episodes of Cardfight!! Vanguard G NEXT?
Following the release of TRY3 NEXT, this release features many cards from the clans used by a rival team, Trinity Dragon!!
The anime demonstrates the different ways cards featured in this release can be efficiently used.
The popular SP Clan Packs have returned!! Also included are 4 special reissue cards.
Units that Power Up a variety of Deck Builds!!
Susanoo
Enigman
Gallop
Bigbelly
Battle Sister
Dimensional Robo
Honorary Professor
Popular "SP Clan Pack" Returns!
There are 7 cards with SP treatment in each SP Clan Pack!
SP Clan Packs are available for the following 3 clans:
Oracle Think Tank
Dimension Police
Great Nature
※ Contents will be different for each clan.
4 types of Special Reissue with RRR Treatment!
The 4 types of Special Reissue now feature new illustrations for these popular units!!
Psychic Bird
Super Dimensional Robo, Daikaiser
Dimensional Robo, Kaisergrader
Honorary Professor, Chatnoir
※ Number of types of Special Reissues may differ for future releases.
[VGE-G-CHB02 SP] Cardfight!! Vanguard G Character Booster Vol. 2: We Are!!! Trinity Dragon Sneak Preview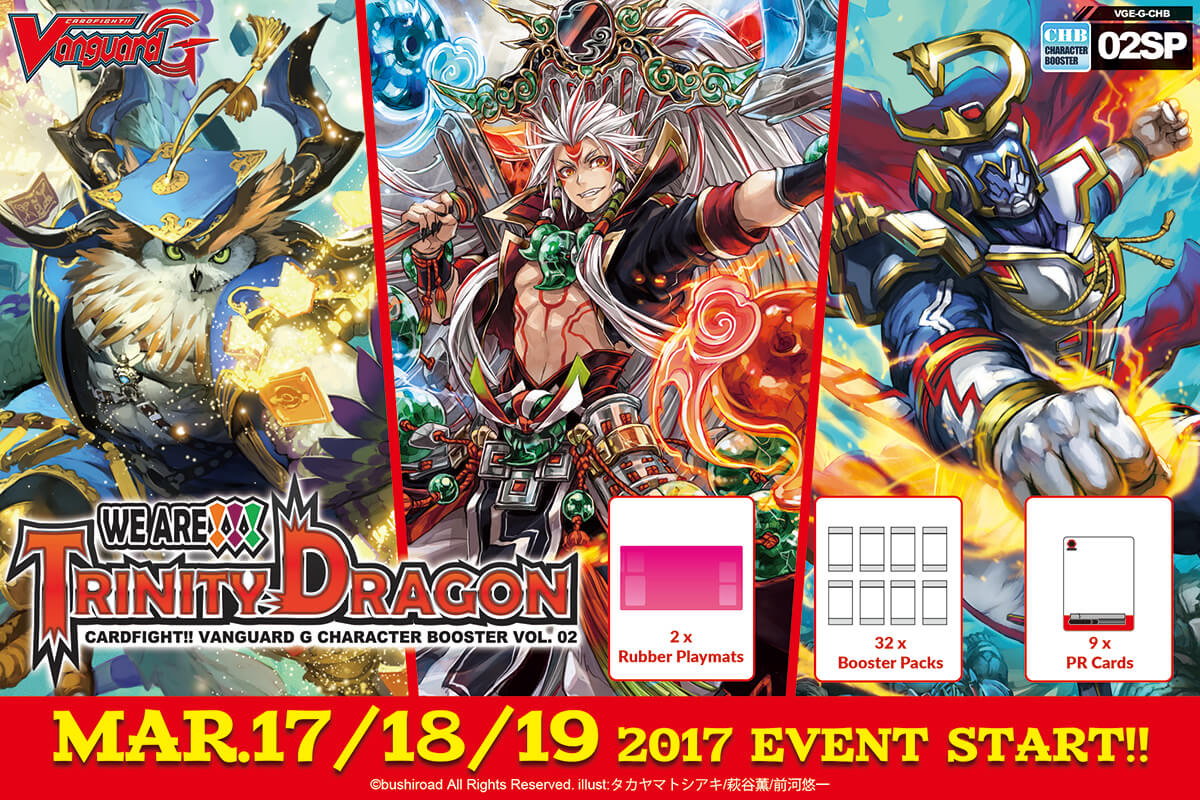 Featured Clans

Oracle Think Tank
Dimension Police
Great Nature