CONSTRUCTED DECK
Cardfight!! Vanguard G Start Deck Vol. 2: Knight of the Sun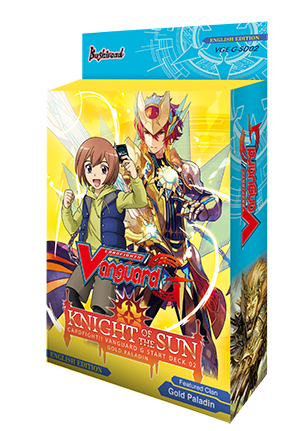 Release Date
April 22th, 2016
Featured Clans
Gold Paladin
Others
1 pre-constructed start deck contains 52 pre-set cards/ 1 display contains 6 decks
An exclusive PR card is also included.
Clan card, Starter's guide and playmat are included.
Embark on your sunlit journey through Vanguard with the VGE-G-SD02 [Knight of the Sun] Start Deck!
Featuring the knights of the «Gold Paladin» clan, this Start Deck contains everything a new player needs to get started, with the unity of the knights and [Stride] as your weapon in battle!