BOOSTER PACK
【VGE-G-TB01】
Cardfight!! Vanguard G Title Booster: Touken Ranbu -ONLINE-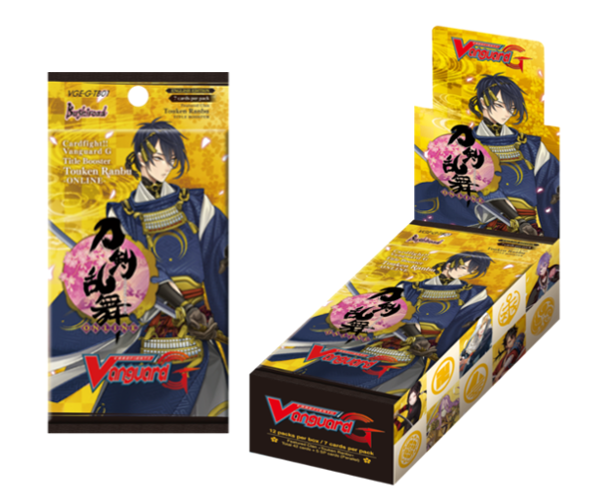 Release Date
November 6, 2015
Featured Clans
Touken Ranbu
Card Types
42 types of cards (GR: 1 / RRR: 5 / RR: 8 / R: 11 / C: 17) + SP: 5 [Parallel]
Others
1 pack contains 7 random cards
1 display contains 12 packs
Every pack will definitely have one R, and an additional R or above!
We have changed the release date of Cardfight!! Vanguard G Title Booster: Touken Ranbu -ONLINE- from October 30 to November 6, 2015 to ensure the quality of our product delivered to our players.
Sneak Preview events
will be held between October 30 to November 5, 2015. Please check with your local stores for the revised dates.
The collaboration between "Touken Ranbu -ONLINE-" and "Cardfight!! Vanguard" makes its appearance in the English edition!
Featuring the exquisite illustrations from the original game, the classical world of Touken Ranbu will be represented through the Vanguard game system.
All 42 of the initial Touken Danshi are included!
Let the blossoming sakura flowers take you to ancient Japan, as you rally your troops to protect history!
What is a Cardfight!! Vanguard G Title Booster?
Cardfight!! Vanguard G Title Booster is a product that feature collaborations with other popular titles. Under the same category of product as the revamped Extra Booster, Title Boosters will have 12 packs per display and 7 cards per pack including one R and one R or above card, similar to that of a Clan Booster. And the first Title Booster features the classic Japanese world of Touken Ranbu -ONLINE-!
What is 'Touken Ranbu -ONLINE-'?
Touken Ranbu is an online web browser game by DMMgames and Nitroplus, where the player is a Saniwa who travels to the past to prevent history being changed by evil forces. As a Saniwa, the player has the ability to create Touken Danshi, inanimate historical swords and other weapons given life by the Saniwa. And these Touken Danshi will make their appearance as cards in the Cardfight!! Vanguard system!
What is special about VGE-G-TB01 'Touken Ranbu -ONLINE-'?
Firstly, the SP cards will feature hot stamped signs by the voice actors behind five of the Touken Danshi!
Also, there will be some keyword abilities introduced in G-TB01 that are based on mechanics in the original game.
・In the original game, 'Shinken Hissatsu' is a state triggered when a Touken Danshi has been hit down to half its maximum health, that increases its fighting capability. And so, in G-TB01, Shinken Hissatsu abilities will be active when you have three or more cards in your damage zone!
・'Homare' is a badge awarded after a battle to the Touken Danshi who contributed the most for that battle. Just as how only one Touken Danshi can receive this badge of honor in a battle, you will only be able to activate one 'Homare' ability once per turn (if you have other units with 'Homare' abilities, you will not be able to activate them for the rest of the turn). In return for that restriction, these abilities tend to feature powerful effects or low costs!
As VGE-G-TB01 is still in development, the terms used for the final product may differ.