CONSTRUCTED DECK
【VGE-G-TD01】
Cardfight!! Vanguard G Trial Deck Vol. 1: Awakening of the Interdimensional Dragon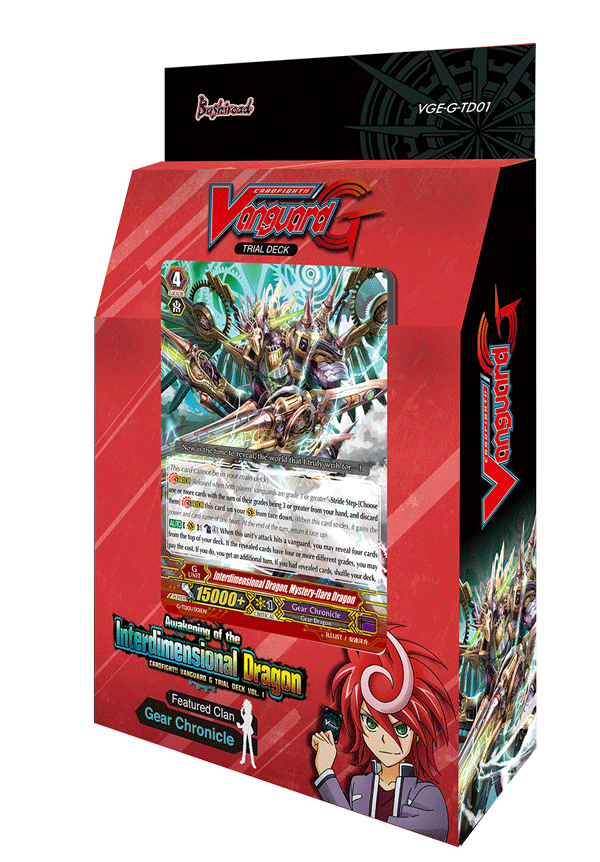 Release Date
February 27, 2015
Featured Clans
Gear Chronicle
Card Types
2pc G-TD01/001EN Interdimensional Dragon, Mystery-flare Dragon
2pc G-TD01/002EN Chronojet Dragon
4pc G-TD01/003EN Smithereen Colossus
2pc G-TD01/004EN Steam Knight, Ubara-tutu
4pc G-TD01/005EN Smokegear Dragon
2pc G-TD01/006EN Steam Fighter, Amber
2pc G-TD01/007EN Twinmaser Dragon
2pc G-TD01/008EN Great Carapace, Gear Turtle
4pc G-TD01/009EN Masergear Dragon
4pc G-TD01/010EN Brasswing Dragon
3pc G-TD01/011EN Steam Soldier, Tauge
2pc G-TD01/012EN Steam Rider, Burnham
2pc G-TD01/013EN Withdrawn Gear Raven
1pc G-TD01/014EN Gunnergear Dracokid
4pc G-TD01/015EN Steam Battler, Dadasig
2pc G-TD01/016EN Steam Knight, Shu Sin
4pc G-TD01/017EN Stomach Clock Gear Rabbit
4pc G-TD01/018EN Steam Maiden, Uluru
2pc G-TD01/019EN Luckypot Dracokid
Others
1 set contains the following 52 cards:
Campaign
The following PR cards are allocated to VGE-G-TD01 Trial Decks:
PR/0163EN True Ultimate Dimensional Robo, Great Daikaiser
PR/0164EN Amon's Leader, Astaroth
Possess the ability to transcend time and space with VGE-G-TD01 [Awakening of the Interdimensional Dragon]!!
Introducing a brand new clan <<Gear Chronicle>> which features powerful units with abilities that will overwhelm your opponent!
Witness the awesome power of the new "Stride" mechanic as seen in the latest Cardfight!! Vanguard G arc and stand a chance to receive 1 illustrator signed card randomly inserted into decks!!
This pre-constructed Trial Deck can be used out of the box and comes with exclusive Trial Deck only cards which will delight new and veteran players alike!
Product Specifications
Cardfight!! Vanguard G Trial Deck Vol. 1: Awakening of the Interdimensional Dragon
1 pre-constructed trial deck contains 52 pre-set cards
1 display contains 6 decks
19 types of cards (All Trial deck exclusives, inclusive of 4 holo cards)
Starter's Guide and Playmat are included.
The following PR cards are allocated to VGE-G-TD01 Trial Decks:
PR/0163EN True Ultimate Dimensional Robo, Great Daikaiser
PR/0164EN Amon's Leader, Astaroth
* One set of the above two PR cards will be given with each deck. Please check with your local store regarding the PR cards. While stocks last.