CONSTRUCTED DECK
【VG-TD01】
Trial Deck Vol.01: Blaster Blade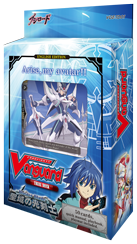 Release Date
December 3, 2011
Featured Clans
Royal Paladin
Card Types
4pc TD01/001EN Crimson Butterfly, Brigitte
1pc TD01/002EN Knight of Conviction, Bors
2pc TD01/003EN* Solitary Knight, Gancelot
4pc TD01/004EN* Knight of Silence, Gallatin
1pc TD01/005EN* Blaster Blade
3pc TD01/006EN Knight of the Harp, Tristan
4pc TD01/007EN* Covenant Knight, Randolf
4pc TD01/008EN* Little Sage, Marron
2pc TD01/009EN* Wingal
4pc TD01/010EN Starlight Unicorn
4pc TD01/011EN Knight of Rose, Morgana
1pc TD01/012EN Stardust Trumpeter
4pc TD01/013EN Bringer of Good Luck, Epona
4pc TD01/014EN* Yggdrasil Maiden, Elaine
4pc TD01/015EN* Weapons Dealer, Govannon
4pc TD01/016EN* Flogal
Others
50 cards in this set
Take on the role of a cardfighter!
Comprising of the cards used by Aichi Sendou and Toshiki Kai in the TV anime,
The 2 types of trial decks which will allow you to experience the same card game is now on sale.
Aichi's deck: "Blaster Blade", is made up of the "Royal Paladin" holy knights. In contrast to that, Kai's deck: "Dragonic Overlord" comprises of the strongest "Kagero" dragon units.
All that is required is to purchase one of these two 50 card, pre-constructed decks, and you can start cardfighting right away.
Quick manual and playmat included to assist new players in starting the game as well.
Product image for illustration purposes only. Actual product may vary from image shown.