CONSTRUCTED DECK
【VG-TD09】
Trial Deck Vol.09: Eradicator of the Empire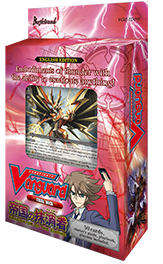 Release Date
October 04, 2013
Featured Clans
Narukami
Card Types
1pc TD09/001EN Eradicator, Vowing Sword Dragon
4pc TD09/002EN Barrage Eradicator, Zion
2pc TD09/003EN Discharging Dragon
4pc TD09/004EN Eradicator, Thunder Boom Dragon
1pc TD09/005EN Eradicator, Spark Rain Dragon
1pc TD09/006EN Assassin Sword Eradicator, Susei
2pc TD09/007EN Dragon Dancer, Veronica
4pc TD09/008EN Lightning Blade Eradicator, Jeem
4pc TD09/009EN Red River Dragoon
4pc TD09/010EN Eradicator, Demolition Dragon
4pc TD09/011EN Dust Storm Eradicator, Toko
2pc TD09/012EN Eradicator of Fire, Kohkaiji
1pc TD09/013EN Stone Bullet Eradicator, Houki
4pc TD09/014EN Eradicator, Yellow Gem Carbuncle
4pc TD09/015EN Eradicator, Dragon Mage
4pc TD09/016EN Zephyr Eradicator, Hayate
4pc TD09/017EN Worm Toxin Eradicator, Seiobo
Others
50 cards in this set
Unlock the secrets of the new [Break Ride] mechanics with Toshiki Kai's Eradicator units!
This pre-constructed Trial Deck can be used out of the box and comes with exclusive trial-deck-only cards for both ardent collectors and new players to enjoy!
Product image for illustration purposes only. Actual product may vary from image shown.