CONSTRUCTED DECK
【VGE-TD14】
Trial Deck Vol.14: Seeker of Hope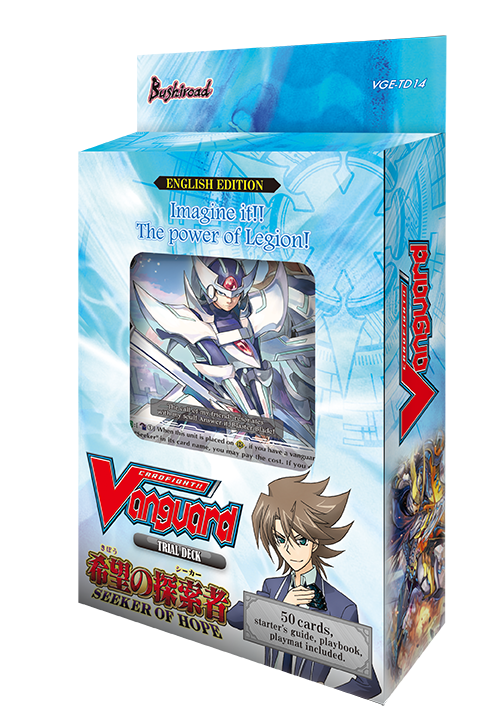 Release Date
November 21, 2014
Featured Clans
Royal Paladin
Card Types
1pc TD14/001EN Seeker, Sacred Wingal
2pc TD14/002EN Secret Sword Seeker, Vortigern
4pc TD14/003EN Blue Flame Seeker, Taranis
4pc TD14/004EN Natural Talent Seeker, Valrod
1pc TD14/005EN Blaster Blade Seeker
1pc TD14/006EN Full Bloom Seeker, Cerdic
4pc TD14/007EN Provocation Seeker, Blumental
2pc TD14/008EN Bladgal Seeker
4pc TD14/009EN Seeker, Youthful Mage
4pc TD14/010EN Honest Seeker, Cynric
4pc TD14/011EN Righteousness Seeker, Gangaren
2pc TD14/012EN Seeker, Rune Eagle
1pc TD14/013EN Bravery Seeker, Marc
4pc TD14/014EN Impact Seeker, Modoron
4pc TD14/015EN Messegal Seeker
4pc TD14/016EN Siren Seeker, Maris
4pc TD14/017EN Seeker, Loving Healer
Others
50 cards in this set
Experience the power of the new Legion skill with VGE-TD14: Seeker of Hope!!
Toshiki Kai returns with the classic <<Royal Paladin>> clan in this first ever Trial Deck from the latest Cardfight!! Vanguard: Legion Mate arc!
This pre-constructed Trial Deck can be used out of the box and comes with exclusive Trial Deck only cards which will delight new and veteran players alike!
Cards from VGE-TD14 can also be used to strengthen existing <<Royal Paladin>> decks!!
1 pre-constructed trial deck contains 50 pre-set cards/ 1 display contains 6 decks
17 types of cards (All Trial Deck exclusives, inclusive of 3 holo cards)
Starter's guide, Playbook, and playmat are included.
Product image for illustration purposes only. Actual product may vary from image shown.