BOOSTER PACK
【VGE-V-BT03】
English Edition Cardfight!! Vanguard Booster Pack Vol. 03: Miyaji Academy CF Club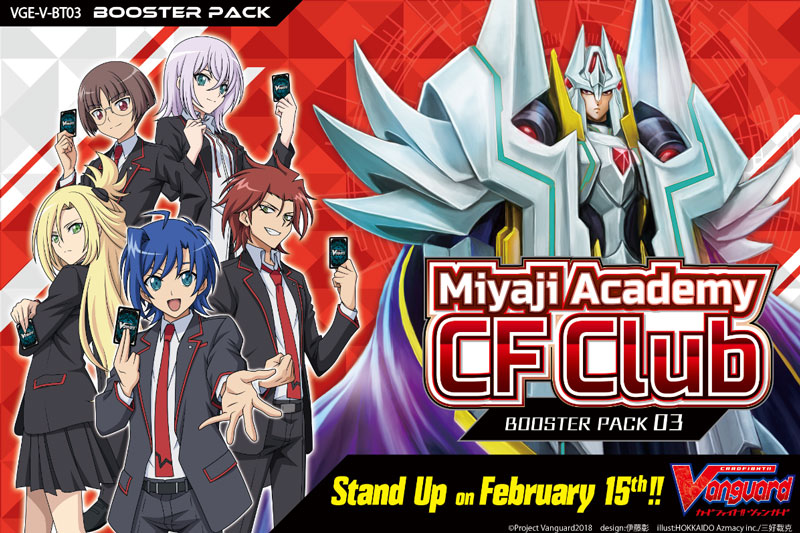 Release Date
February 15th, 2019
Featured Clans
Oracle Think Tank, Gold Paladin, Narukami, Royal Paladin, Nubatama

Card Types
84 new cards (VR: 5 / RRR: 8 / RR: 12 / R: 17 / C: 42) + SVR: 5 [5 Parallel] + OR: 6 [6 Parallel] + IMR (Image Ride Rare): 2 [Parallel] + SCR (Secret Rare): 5 + Special Reissue: 1
2 cards in every pack will definitely be R or above cards!!
※Rate of getting SCR cards is different from previous booster packs
Others
- 1 pack contains 7 random cards
- 1 display contains 16 packs
Campaign
-
With the increase in number of types of VR, the rate of getting a VR is increased too!!
Random displays will include two VRs instead!
This booster can strengthen the 《Oracle Think Tank》 clan's Trial Deck Vol.05 "Misaki Tokura"
and the 《Narukami》 clan's Trial Deck Vol.06 "Naoki Ishida"!!
《Nubatama》 decks can be constructed with just this booster!!
Each box will include a pack of Gift Markers (1 each for "Force", "Accel", and "Protect", with 1 of them being a unit illust version)
"Blaster Blade" will get a special reissue with SP treatment!
Gift Markers with hot-stamped signatures of the cast from the animation are featured as Secret Rares too!