BOOSTER PACK
【VGE-V-BT06】
English Edition Cardfight!! Vanguard Booster Pack Vol. 06: Phantasmal Steed Restoration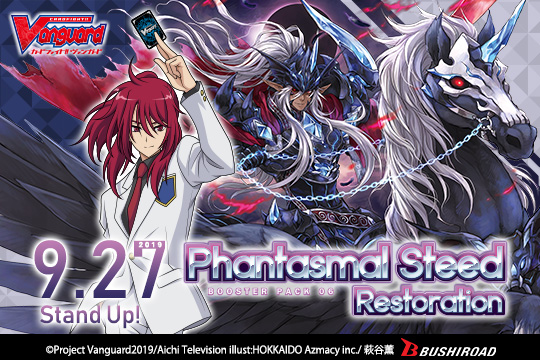 Release Date
September 27th, 2019
Featured Clans
Shadow Paladin, Dark Irregulars, Pale Moon, Murakumo
Card Types
- 84 types of cards + Various Parallels
- 2 cards in every pack will definitely be R or above cards!!
Others
- 1 pack contains 7 random cards
- 1 display contains 16 packs
Campaign
-
This booster can strengthen all 4 clans from Booster Pack Vol.02 "Strongest! Team AL4"!
1 VR will be included in every display!
Keep a lookout while we reveal further details about the parallels!

※2 Pieces of pre-order bonus playmats (1 design) will be included in every carton!!
A special Gift Marker will be included in every display as well!
Commercial

Introducing the sneak preview for Cardfight!! Vanguard Booster Pack Vol. 06: Phantasmal Steed Restoration! Be the first to get your hands on the upcoming VGE-V-BT06 cards a week before the actual release!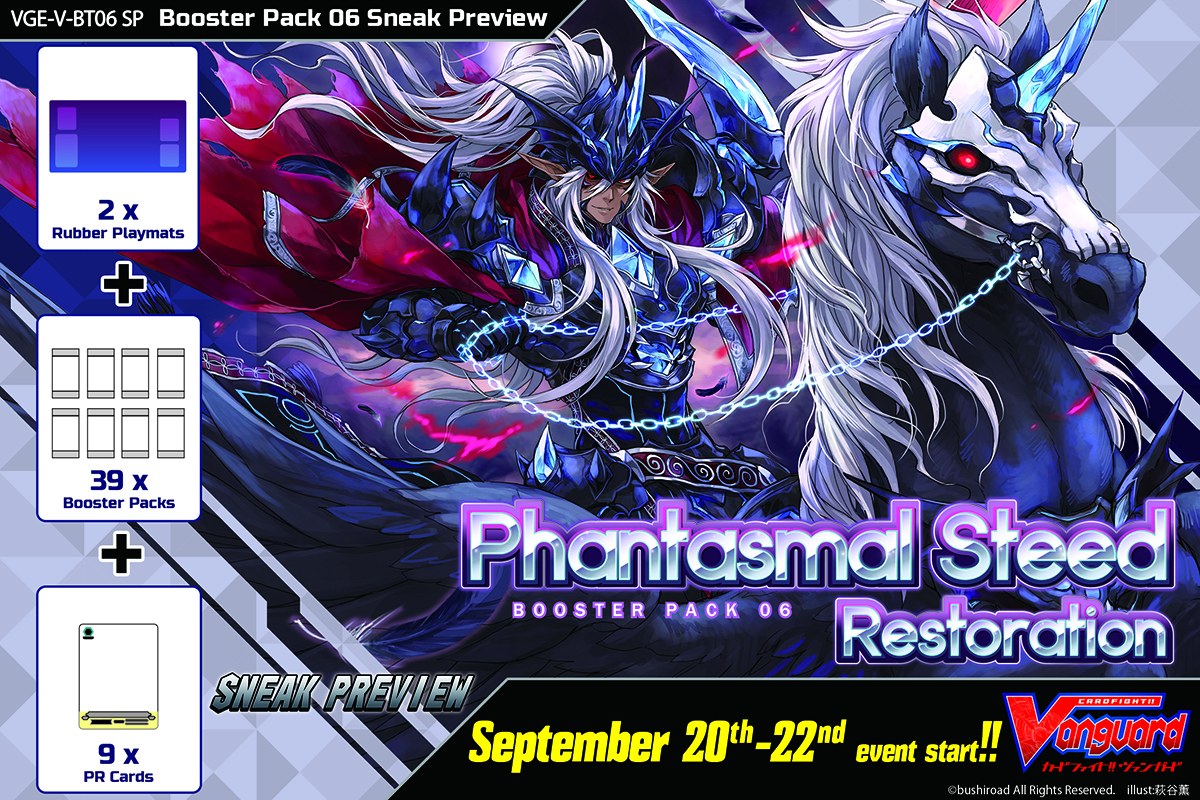 Participate and stand a chance to obtain exclusive sneak preview event goodies such as promotional cards and rubber playmats!
Check out for stores near you that are organizing the Sneak Preview Booster Draft Tournament on any one day between September 20 and 22!
Find a participating store here!
Disclaimer:
* Not all stores will be running the sneak preview tournament. Do check with your local stores for updates.
* The event will only be held on one of the dates stated. If you discover any stores running the sneak preview tournament more than once or not on the stipulated date, do inform us at sg_support@bushiroad.com.