BOOSTER PACK
【VGE-V-EB02】
English Edition Cardfight!! Vanguard Extra Booster 02: Champions of the Asia Circuit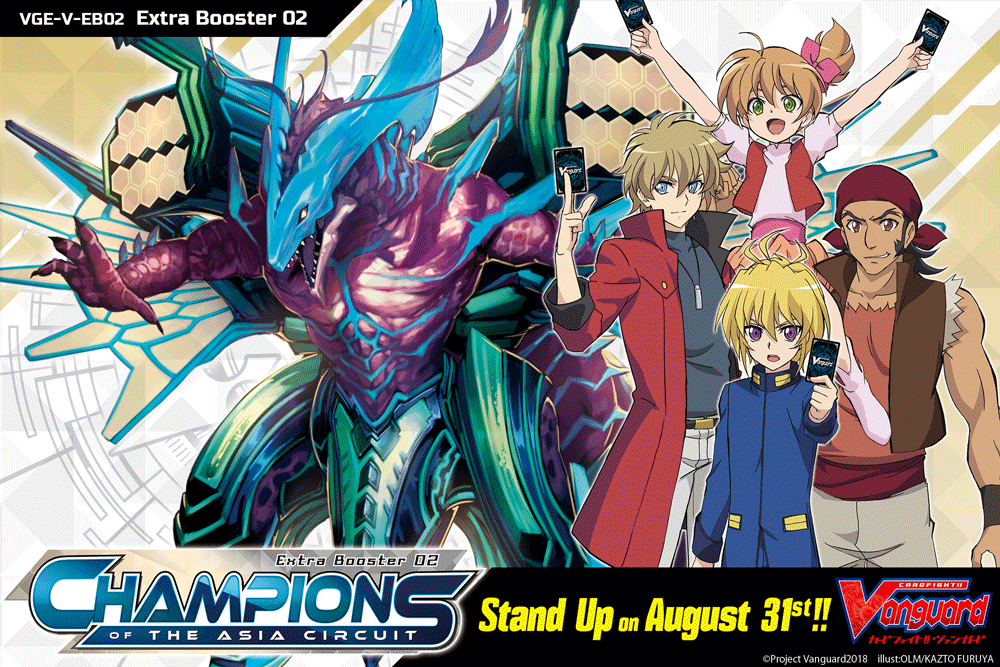 Release Date
August 31th, 2018
Featured Clans
Aqua Force, Dimension Police, Granblue
Card Types
58 new cards (VR: 3 / RRR: 6 / RR: 8 / R: 13 / C: 28) + SVR: 3 [3 Parallel] + OR: 3 [3 Parallel] + SCR: 4
2 cards in every pack will definitely be R or above cards!!
Others
- 1 pack contains 7 random cards
- 1 display contains 12 packs
Campaign
-
This is an extra booster that features units from 3 distinctive clans used by Asia's Top 3, "Leon Soryu", "Gouki Daimonji", and "Kenji Mitsusada"!
Power up the same-day-release Trial Deck Vol.03 "Leon Soryu"!!
Construct 《Dimension Police》 and 《Granblue》 decks with just this booster!!
Each booster box will include 1 piece of "Force", "Accel", and "Protect" Gift Markers too!
(A unit illustration version will be randomly inserted)
Gift Markers with hot-stamp signatures of the cast will also be included as Secret Rares!