BOOSTER PACK
【VGE-V-EB03】
English Edition Cardfight!! Vanguard Extra Booster 03: ULTRARARE MIRACLE COLLECTION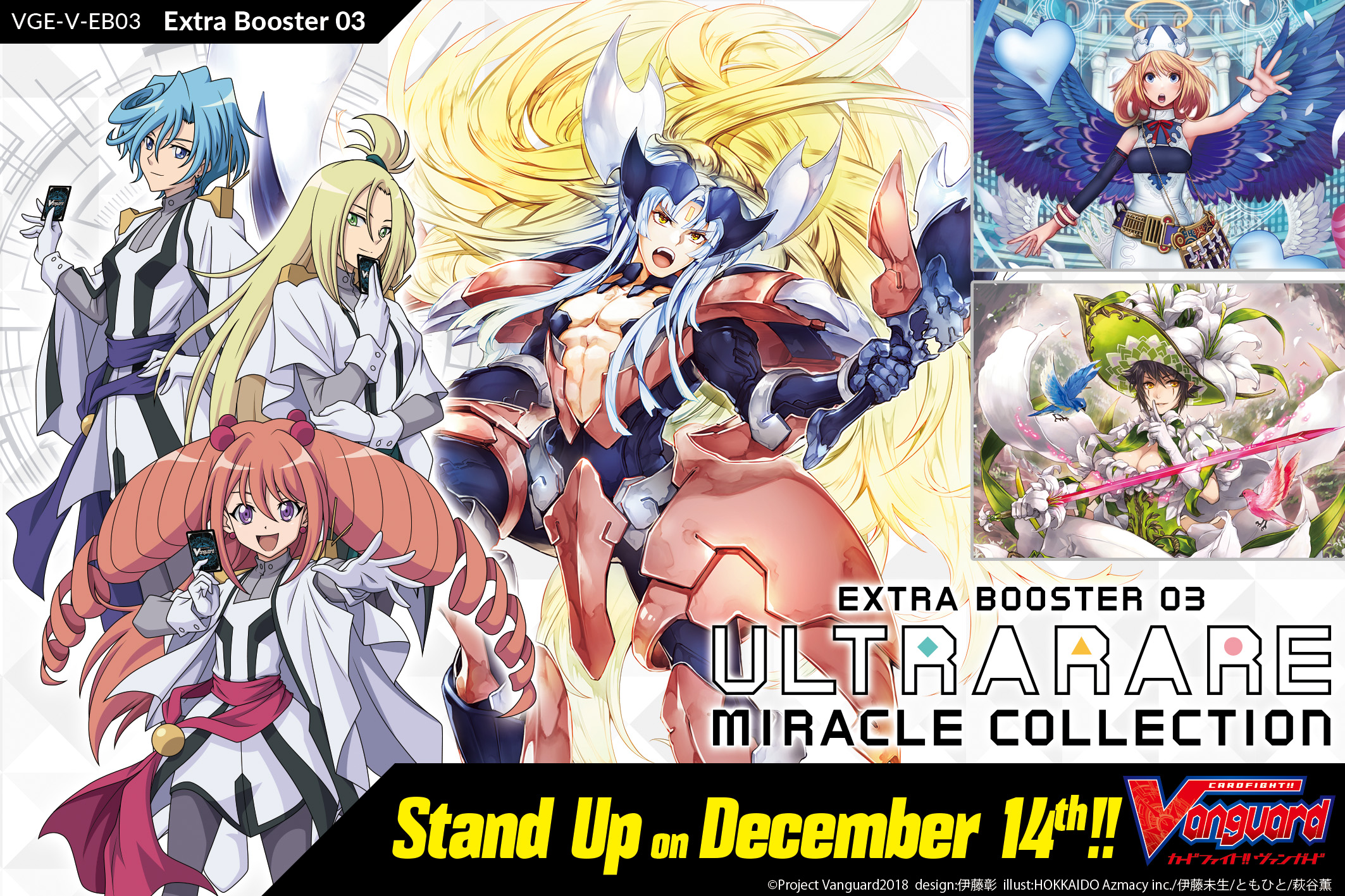 Release Date
December 14th, 2018
Featured Clans
Gold Paladin, Angel Feather, Neo Nectar
Card Types
66 new cards (VR: 3 / RRR: 6 / RR: 9 / R: 15 / C: 33)
+ SVR: 3 [3 Parallel] + OR: 3 [3 Parallel] + URR: 3 [3 Parallel] + SCR: 3
Others
2 cards in every pack will definitely be R or above cards!!
1 pack contains 7 random cards
1 display contains 12 packs
Campaign
-
Form the Ultrarare decks for all three members!
- Kourin's 《Gold Paladin》 Incandescent Lion, Blond Ezel
- Suiko's 《Angel Feather》 Solidify Celestial, Zerachiel
- Rekka's 《Neo Nectar》 White Lily Musketeer, Cecilia
Each box will include a pack of 3 Gift Markers
(1 each for "Force", "Accel", and "Protect", with 1 of them being a unit illust version)
[VGE-V-EB03] English Edition Cardfight!! Vanguard Extra Booster 03: ULTRARARE MIRACLE COLLECTION
Form the Ultrarare decks for all three members!
– Kourin's 《Gold Paladin》 Incandescent Lion, Blond Ezel
– Suiko's 《Angel Feather》 Solidify Celestial, Zerachiel
– Rekka's 《Neo Nectar》 White Lily Musketeer, Cecilia
Each box will include a pack of 3 Gift Markers
(1 each for "Force", "Accel", and "Protect", with 1 of them being a unit illust version)
Introducing a new rarity called URR (Ultrarare Rare)!
Also featuring unit cards with character signatures!