BOOSTER PACK
【VGE-V-EB09】
English Edition Cardfight!! Vanguard Extra Booster 09: The Raging Tactics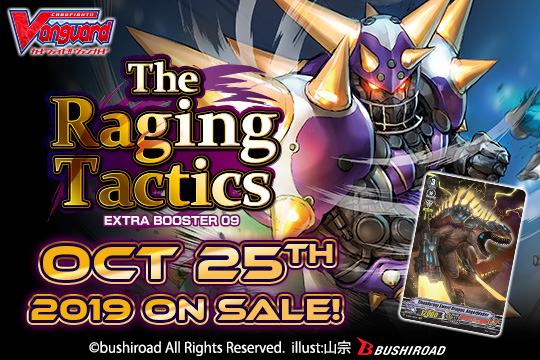 Release Date
October 25th, 2019
Featured Clans
Spike Brothers, Tachikaze, Megacolony
Card Types
66 types of cards (11 reissue cards) + Various Parallels
2 cards in every pack will definitely be R or above cards
Each box will include 3 Gift Markers, with a random one-out-of-three unit illustration version
Others
1 pack contains 7 random cards
1 display contains 12 packs
This Extra Booster features the 3 clans with unique quirks and strategies!
Fans of the 3 clans from "The Destructive Roar" can get this to further strengthen their decks.
Popular units such as "Bad End Dragger" and "Unrivaled Blade Rogue, Cyclomatooth" make a return too!
A VR or SVR will definitely be included in every display.
Decks of each clan can be constructed with just this product! (Trigger units and first vanguards featured)

※2 Pieces of pre-order bonus playmats will be included in every carton.
Commercial

Introducing the sneak preview for Cardfight!! Vanguard Extra Booster 09: The Raging Tactics! Be the first to get your hands on the upcoming VGE-V-EB09 cards a week before the actual release!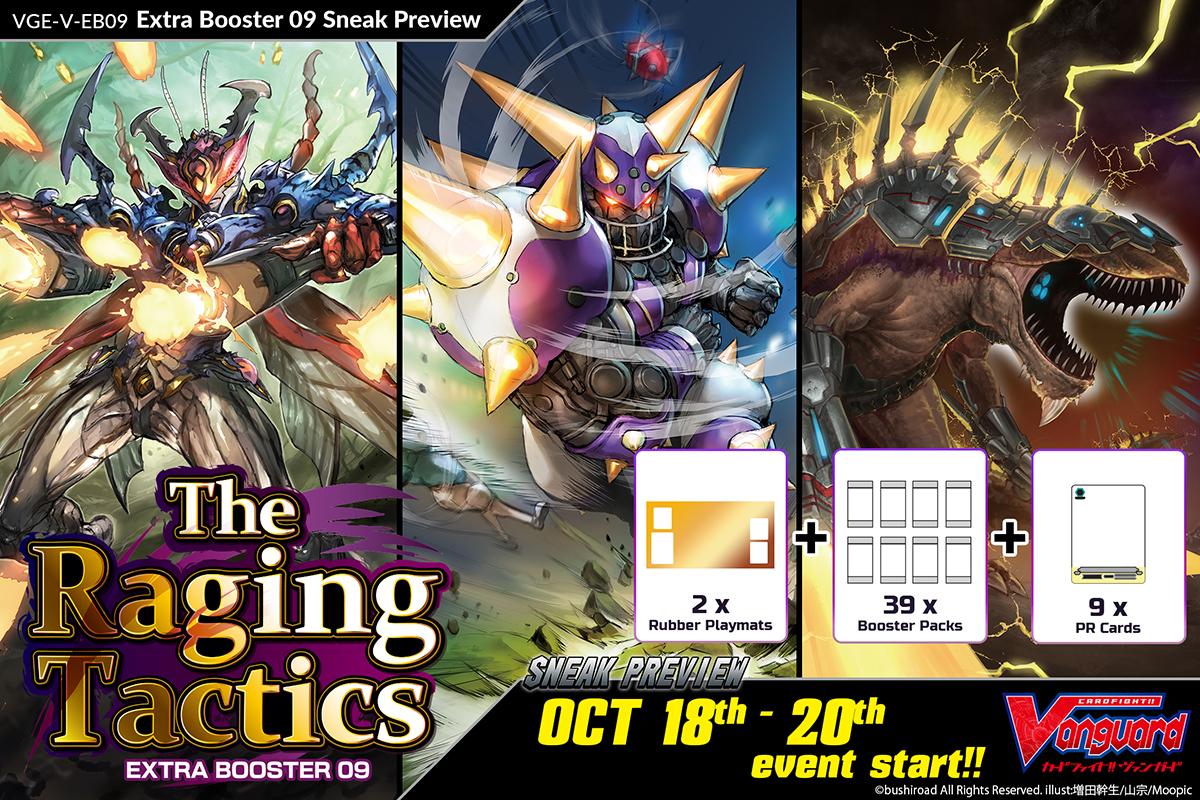 Participate and stand a chance to obtain exclusive sneak preview event goodies such as promotional cards and rubber playmats!
Check out for stores near you that are organizing the Sneak Preview Booster Draft Tournament on any one day between October 18 and 20!
Find a participating store here!
Disclaimer:
* Not all stores will be running the sneak preview tournament. Do check with your local stores for updates.
* The event will only be held on one of the dates stated. If you discover any stores running the sneak preview tournament more than once or not on the stipulated date, do inform us at sg_support@bushiroad.com.