Bonjour~ Misei Ito Sensei!
Next weekend, the Bushiroad World Championship 2015 will be making its way to France, Paris!
The land of Paris, well-known by many for its baguettes and romance will soon be the destination where Cardfighters will congregate and battle against each other. To heighten the excitement, the lovely Misei Ito sensei will also be making an appearance!
Misei Ito
Freelance illustrator

illustrating artworks for trading card games, arcade games and books.
Homepage | Pixiv | Twitter
Illustrator of popular Cardfight!! Vanguard cards
Guest of BWC2015 France Regional Qualifier
Misei Ito sensei is an illustrator whose works can be found in trading card games, arcade games and even books! She started illustrating for Bushiroad's Cardfight!! Vanguard a few years back and one of her most popular card illustrations is One Who Surpasses the Storm, Thavas.
She will be holding a live drawing session on the 14th of November as well as autograph sessions on both days of the Paris Qualifier. Do give her your utmost support! (ノ◕ヮ◕)ノ*:・゚✧
For fans of her illustrations, I'm sure you have been curious about the illustrator behind some of your favorite cards! Many thanks to Misei Ito-sensei for taking time off her busy schedule and accepting this interview! Without further ado, let's take this opportunity to get to know more about Misei Ito-sensei and some of her thoughts about illustrating!
Interview with Misei Ito Sensei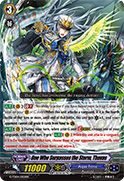 One Who Surpasses the Storm, Thavas
Among all the card illustrations you have created for Cardfight!! Vanguard, which one is your best-loved one?
I have different feelings for each of the unit I have illustrated and I really love them all. If I have to select a particular card amongst all that I've illustrated, my favorite would be Thavas.
I really love how he surpasses all tides against him and grows to be a stronger person. I was extremely delighted when I knew that I get to draw him again, and I gave myself a lot of pressure to ensure that the new illustration will look cooler!
I also love my girls, Dragon Dancer, Agatha, as well as, the Witch of Eagles, Fennel and Witch of Golden Eagles, Jasmine legion. Sacred Tree Dragon, Jingle Flower Dragon is also on the top of my list because it's rare for me to draw non-humanoid creatures.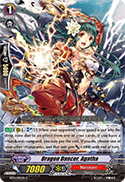 Dragon Dancer, Agatha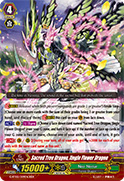 Sacred Tree Dragon, Jingle Flower Dragon
Have you ever visited France before? What would you like to try during your trip to France?
I have never been to France and there are many places I would really love to visit!
I have read about Palace of Versailles from manga when I was young. Since then, I have always wanted to visit it. Also, places like the beautiful Musée du Louvre-Lens, the historical town of Carcassonne, the countryside of La Provence caught my attention too.
I would really love to try out the bread in Paris because I heard that the locals love eating bread.
Any special word to Cardfight!! Vanguard players in Europe?
I would always keep in mind to create illustrations that would allow players to feel that "This card is cool!" or "This card is really cute!" when they hold it. I hope that my cards would lift up the spirits and bring happiness to all the players.
Vine! Here're Your Creative Clips!
The "c" campaign has successfully concluded! Thank you to everyone who contributed. We utterly enjoyed all your videos!
This time, we have picked another 8 videos we thought were the best to feature on our site! After a lot of deliberation (and I really mean A LOT of deliberation (๑•́ ₃ •̀๑)), we finally shortlisted our favorites!
After a year+ hiatus from Cardfight! Vanguard….(via Mystayria)
I do all my own stunts… I mean strides (via Flore)
How Vanguard cards make me feel. Alfred Exiv Legion. (via Justin Unwin)
Confessions of a cardfighter (via Carly)
Genesis players be like (via Robert Garcia)
Showcasing a Pacifica charm I drew myself :3 (via Mystayria)
Do check out the Vine videos clips which were featured in the column updated on October 9!
Thank you once again for supporting this campaign! We know just how much effort goes into making a video. All of you can pat yourselves on your back for a job well done! ─=≡Σ((( つ•̀ω•́)つ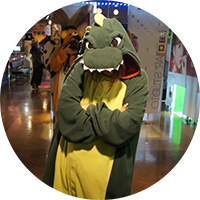 lactariusindigo
Pre-Historic Columnist
Always with her head in the clouds, lactariusindigo is the builder of sandcastles in the air. Easily excitable, she likes to live life both passionately and fiercely. In addition, her love for all things watermelon and dinosaur knows no bounds.
The Cardfighter's Column publishes every Friday, featuring Cardfight!! Vanguard news, card insights, event updates and more!
Do you have any suggestions? What would you like to see in future column articles? Drop us a line on Facebook or through email at sg_support@bushiroad.com!