It's the 2nd Week!
What are your thoughts about the first column last week? We have read through your comments on Facebook and the emails you've sent in. We are glad to hear that you loved the column! Stay tuned every Friday!
Cardfight!! Vanguard G GIRS Crisis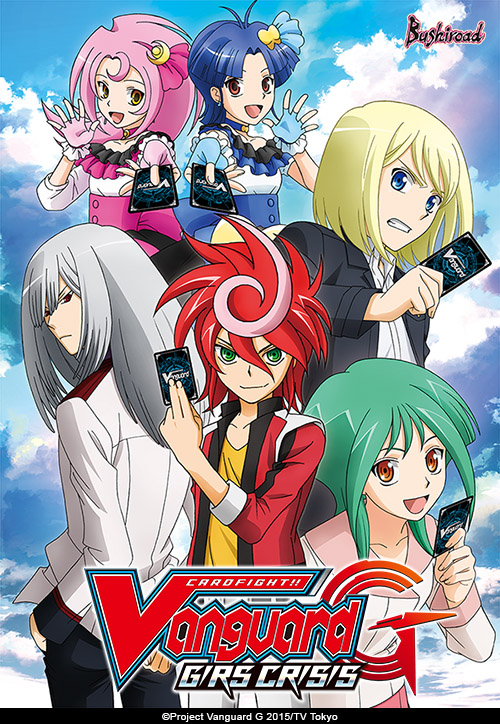 On September 17, Bushiroad announced the 6th season of Cardfight!! Vanguard, Cardfight!! Vanguard G GIRS Crisis at Tokyo Game Show 2015. The airing of the 5th season of Cardfight!! Vanguard in Japan concluded last weekend. Starting from this Sunday, the new season, Cardfight!! Vanguard G GIRS Crisis will begin airing!
If you haven't heard about this new season, here's a brief introduction!
This autumn will mark the opening of a major event organised by the Federation of International Vanguard Associations, known as the "G Quest". Those who conquer the 6 Branch Quests will be honored with the title "Generation Master", and the chance to become a Clan Leader. The three members of TRY3 are all fired up by the new goal ahead of them, but behind the scenes, a massive plot that would lead to the destruction of Vanguard has been set in motion…
What is this "Plan-G" that Kouji Ibuki is devising to achieve his mission about?
What future will Chrono and the rest achieve through their new encounters!?
The G Quest will see Legend class fighters such as Toshiki Kai, Ren Suzugamori and Leon Soryu taking part!
The fight for a new era begins now!
I believe many of you know that we are going to have the new season available on the official YouTube channel on the same day! You are able to enjoy the new season around the same time as Japan!
The Cardfight!! Vanguard G GIRS Crisis episodes available from this weekend on the official YouTube channel will be dubbed in Japanese and subtitled in English. We will have the English-dubbed episodes for Cardfight!! Vanguard G GIRS Crisis as well on the official YouTube channel starting from December this year.
Sunday 11:00am JST
Sunday 10:00am SGT
Sunday 4:00am CEST
Saturday 7:00pm PDT
Sunday 10:30am JST
Sunday 09:30am SGT
Sunday 3:30am CEST
Saturday 6:30pm PDT
Sunday 11:00am JST
Sunday 10:00am SGT
Sunday 4:00am CEST
Saturday 7:00pm PDT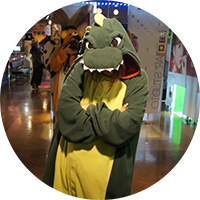 lactariusindigo
Pre-Historic Columnist
Always with her head in the clouds, lactariusindigo is the builder of sandcastles in the air. Easily excitable, she likes to live life both passionately and fiercely. In addition, her love for all things watermelon and dinosaur knows no bounds.
Welcome to Singapore, fuzichoco-sensei!
The Bushiroad World Championship 2015 Singapore Regional Qualifier is happening on October 10 and 11, 2015! Cardfighters, are you ready?
It's a great honor for us to have fuzichoco-sensei, the illustrator of a long list of Cardfight!! Vanguard card illustrations, to be at Bushiroad World Championship 2015 Singapore Qualifier!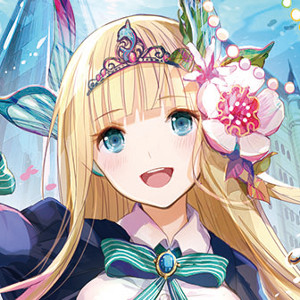 fuzichoco
Illustrator of popular Cardfight!! Vanguard cards
List of cards illustrated by fuzichoco-sensei
Anesthesia Celestial, Rumael
Partner Edge Dragoon
Battle Maiden, Mizuha
Perdition Dragon, Glutton Dracokid
Black Shiver, Gavrail
Profound Sage, Kunron
Devastation Star-vader, Tungsten
Regalia of Far-sight, Clear Angel
Devoting Jewel Knight, Tabitha
School Etoile, Olyvia
Diviner, Kuroikazuchi
Sharp Fang Witch, Fodla
Duo Grampus Turn, Shannon
Silent Ripple, Sotirio
Intelli-beauty, Loire
Squallmaker Vampir
Jumping Street Knight
Steel Blade Liberator, Alwilla
Keyboard Star-vader, Bismuth
Vortex Star-vader, Molybdenum
Maiden of Flower Pistol
Witch of Oranges, Valencia
Miss Direction
Witch of Strawberries, Framboise
Nouvellecritic Dragon
fuzichoco-sensei begun illustrating for Bushiroad's Cardfight!! Vanguard cards as early as "Jumping Street Knight" in 2012. To date, more than 20 illustrations from fuzichoco-sensei have been used in Cardfight!! Vanguard cards, across a number of clans such as Gold Paladin, Genesis, Oracle Think Tank and Bermuda Triangle.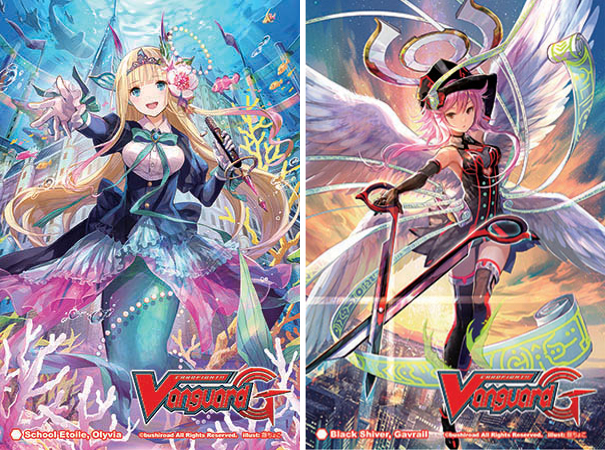 School Etoile, Olyvia (left); Black Shiver, Gavrail (right)
This week, we are featuring 2 card illustrations: School Etoile, Olyvia from G-CB01 Academy of Divas, and Black Shiver, Gavrail from G-BT04 Soul Strike Against The Supreme at Bushiroad World Championship Singapore Qualifier! We believe many of you love the illustrations! (Psst, we have seen your replies on Facebook!)
Earlier in summer, School Etoile, Olyvia managed to obtain the 3rd position, with 9760 votes, in the Bermuda Summer Festival Contest held in Japan. Congratulations!
We are very grateful to fuzichoco-sensei for taking time off from her busy schedule to accept this interview and share her experience with us.
Interview with fuzichoco-sensei
Could you share with us the experience of drawing card illustrations for Bushiroad?
I enjoy the process of thinking how to transform the requests and specifications for the character design into a very attractive character. It's fun to go through trials and errors.
Olyvia has obtained 3rd position in Bermuda Summer Festival contest! Congratulations! Could you share with us any interesting story during the vote canvassing period?
Thank you very much!
Olyvia is my first unit that was used as the main visual.
Therefore, I worked extremely hard on illustrating this unit! I'm really happy that Olyvia got 3rd place and would love to draw more Olyvia in the future.
Have you ever visited Singapore before? What would you most like to try during your trip to Singapore?
I have been to Singapore once 10 years ago. I'm curious to find out how it has changed over the years. I am looking forward to see the new modern looking buildings, especially Marina Bay Sands. I believe I will not forget the highly impressionable design of the building if I get to see it myself.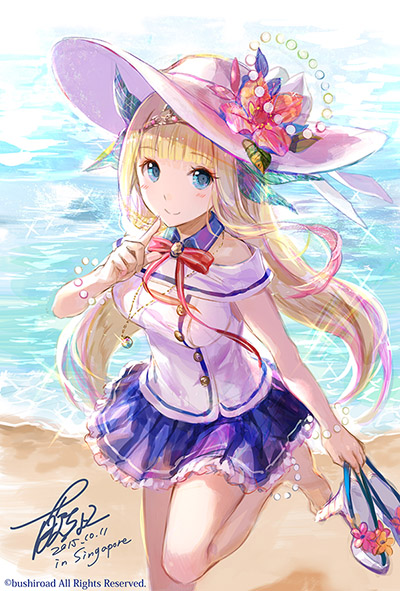 Any word to worldwide Cardfight!! Vanguard players?
Thank you for making me part of this awesome trading card game which is greatly loved around the world.

I will try my best to create more wonderful illustrations in the future!
Thank you very much, fuzichoco-sensei! Hope you enjoy your stay in Singapore!
[Update] Check out the School Etoile, Olyvia (SP ver.) by fuzichoco-sensei drawn at Bushiroad World Championship Singapore Qualifier! >>>
---
* * * * * * * * * * * *
A special card preview has also been carried out at Bushiroad World Championship Singapore Qualifier. Uhmm… We may probably also have some card previews at subsequent Bushiroad World Championship events. Who knows?
Vine, Show Your Creativity!
The "Cardfight!! Vanguard 6 Second Video Clips on Vine" campaign is still ongoing. We have received an overwhelming response and this is making me so excited!! I love all the clips… but I'm not able to feature all of them here (ಥ﹏ಥ). Here's 6 of my favorite submissions! (The rabbit is really cute o( ❛ᴗ❛ )o).
Dark Irregular Players be like:
Aichi had it the whole time!!!
No Title (via くろねこ@どこでもないゾーン)
Submissions are still open, and we look forward to see more creative and interesting clips! We will soon feature more clips on the campaign page!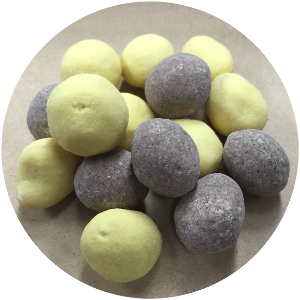 Peanut
A Grain Legume Columnist
Peanut. Peanut oil. Peanut butter. Eat peanuts, draw peanuts, write peanuts, code peanuts and play with a white dog. Live on the ground, look into the sky, and hope to bring joy to everyone.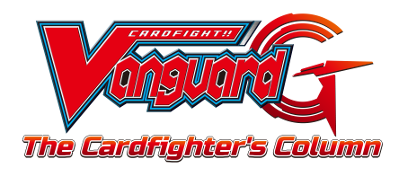 The Cardfighter's Column publishes every Friday, featuring Cardfight!! Vanguard news, card insights, event updates and more!
Do you have any suggestions? What would you like to see in future column articles? Drop us a line on Facebook or through email at sg_support@bushiroad.com!