[VGE-D-LBT01] Lyrical Booster Pack 01: Lyrical Melody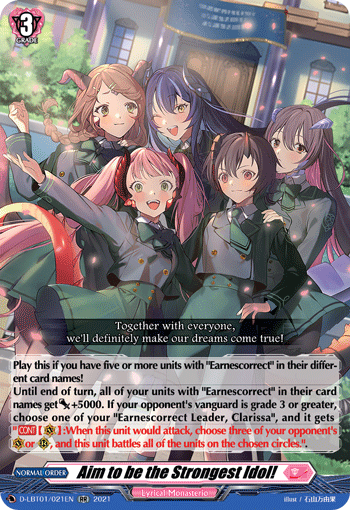 Aim to be the Strongest Idol!
---
Normal Order
Lyrical Monasterio
Grade 3
Power
Critical
Shield
Play this if you have five or more units with "Earnescorrect" in their different card names!
Until end of turn, all of your units with "Earnescorrect" in their card names get [Power] +5000. If your opponent's vanguard is grade 3 or greater, choose one of your "Earnescorrect Leader, Clarissa", and it gets "[CONT](VC):When this unit would attack, choose three of your opponent's (VC) or (RC), and this unit battles all of the units on the chosen circles.".
Together with everyone, we'll definitely make our dreams come true!
Standard
D-LBT01/021EN
RR
石山万由果
Found in the following Products
[Aim to be the Strongest Idol!] is used in the follow Deck Recipes