BOOSTER PACK
【VGE-D-LBT01】
CARDFIGHT!! VANGUARD overDress Lyrical Booster Pack 01: Lyrical Melody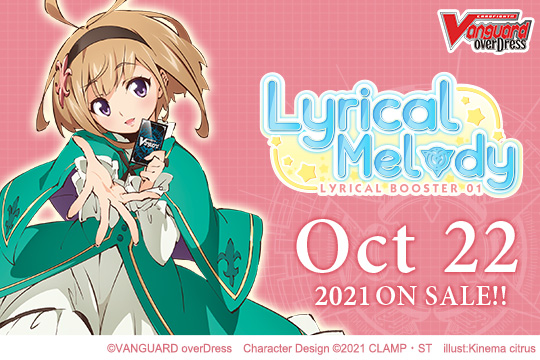 Release Date
October 22nd, 2021
Featured Nations
Lyrical Monasterio
Card Types
120 types of cards (120 new cards)
(RRR: 10 / RR: 12 / ORR: 5 / R: 30 / C: 63)
+ Parallels: 112 types (LSR: 5 + LSP: 7 + SP: 50 + H: 50)
2 cards in every pack will definitely be R or above cards!!
Others
1 pack contains 7 random cards
1 display contains 16 packs
Commercial
Introducing the Booster Pack for Lyrical Monasterio!
Lyrical Monasterio is an academic city where idols and
idol candidates from all over the world have gathered!
This product features the school life in Lyrical Monasterio with units
from a myriad of origins (Mermaids, Angels, Ghosts, Warbeasts, and more).
The Booster Pack that delivers upgrades to the Lyrical Trial Deck as below!
Lyrical Trial Deck 01: Ahoy! Lyrical Monasterio!
New cards revealed!
As featured in the weekly VG Bites. Do keep a lookout for more reveals!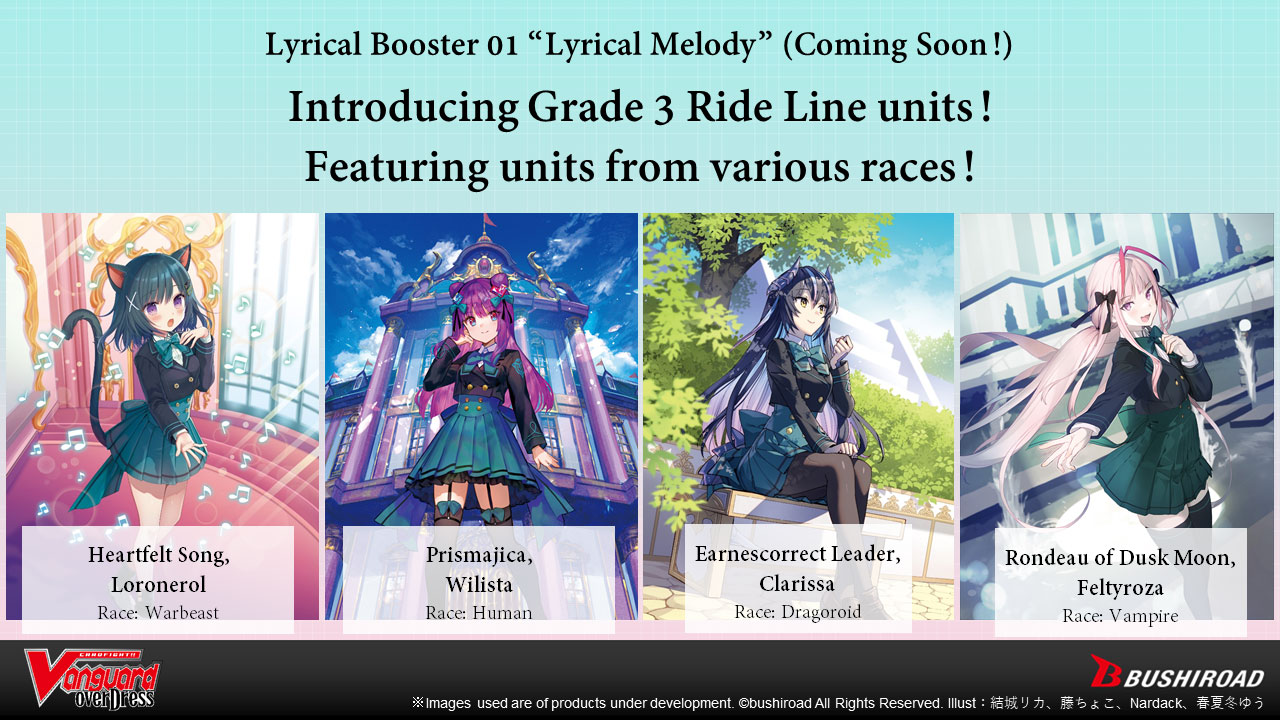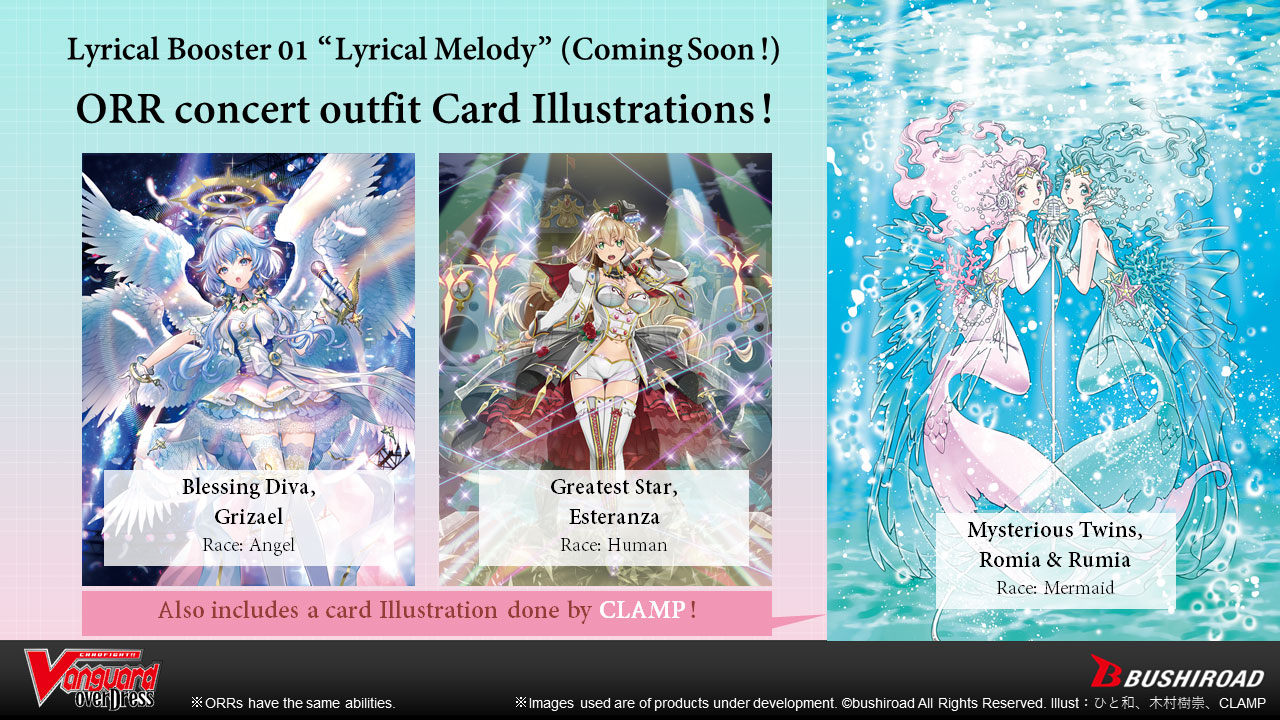 What to expect
Five new Ride Lines!
Just like Booster Pack 01: Genesis of the Five Greats and Booster Pack 02: A Brush with the Legends , each box will include 1 SP as well!
Be spoilt for choice with the variety of trigger cards available!
3 types each of 3 types each of Critical, Draw, Front, and Heal Triggers!
5 types of Sentinels with the same ability included as R cards makes it easy to construct decks!
Look out for the rare and ultra-valuable cards in this set!
LSR (Lyrical Secret Rare) or Lyrical Special Pack will be included randomly!
※Lyrical Special Pack is a pack that includes 1 piece each of 7 types of LSP (Lyrical Special) cards
Pre-order bonuses you should not miss out on!
1. Box topper Fighter's Counter (in collaboration with the Lyrical Lily DJ unit from D4DJ)
Each display will come with 1 piece of Fighter's Counter of a random design featuring the members from Lyrical Lily that can be used in cardfights!
There are 4 types of Fighter's Counter in total, let's collect them all!
Use them as counters for your Over Trigger!
※While stocks last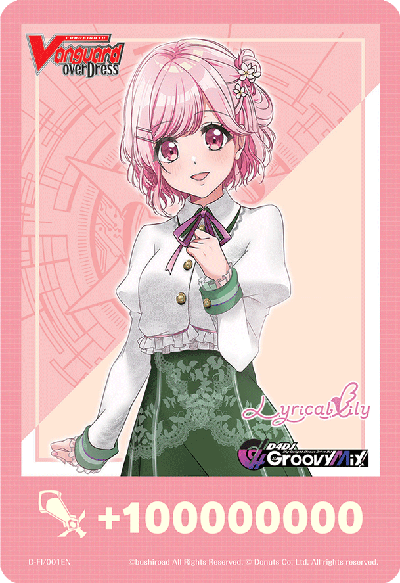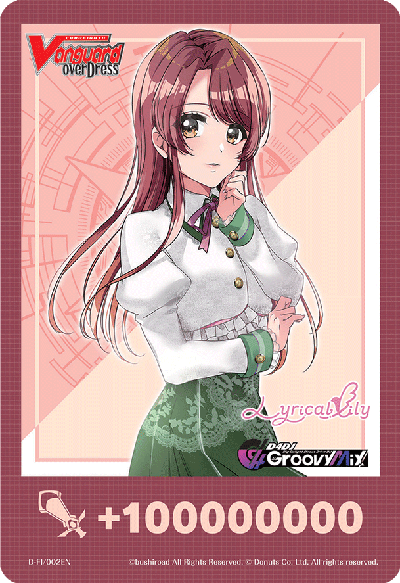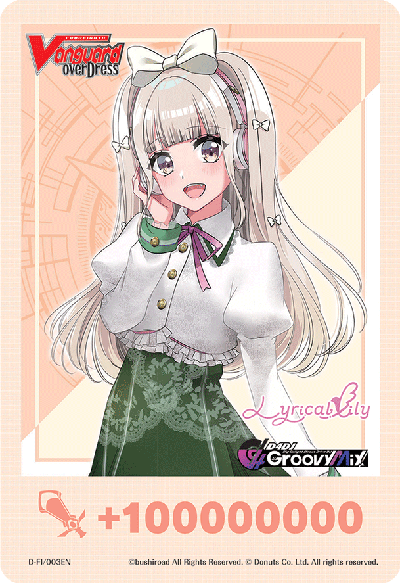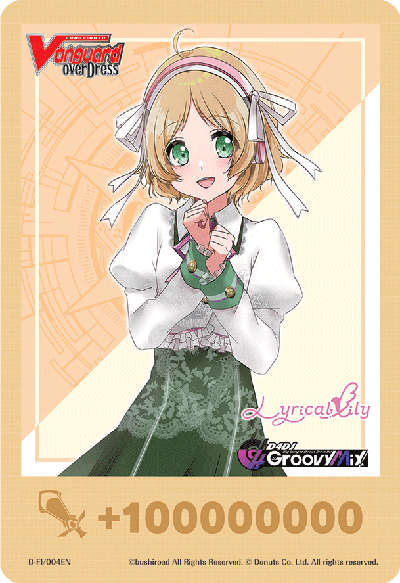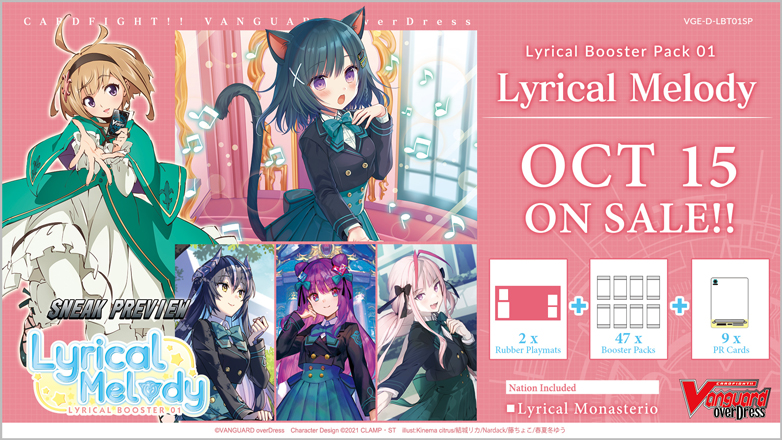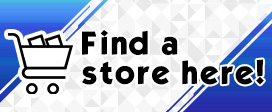 ※ The above deck recipe contains cards from Trial Deck 01: Ahoy! Lyrical Monasterio!