[VGE-D-TB02] Title Booster 02 "Record of Ragnarok"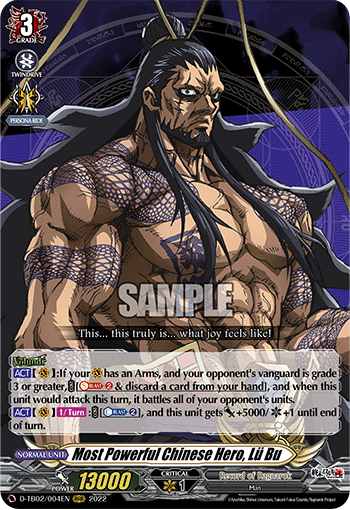 Most Powerful Chinese Hero, Lü Bu
---
Normal Unit
Record of Ragnarok
Man
Grade 3
Power 13000
Critical 1
Shield
Twin Drive, Persona Ride
[Völundr]
[ACT](VC):If your (VC) has an Arms, and your opponent's vanguard is grade 3 or greater, [COST][Soul-Blast]2 & discard a card from your hand], and when this unit would attack this turn, it battles all of your opponent's units.
[ACT](VC)[1/turn]:[COST][Counter-Blast]2], and this unit gets [Power] +5000/[Critical] +1 until end of turn.
This... this truly is... what joy feels like!
Standard
D-TB02/004EN
RRR
©Azychika, Shinya Umemura, Takumi Fukui/Coamix, Ragnarok Project
Found in the following Products
[Most Powerful Chinese Hero, Lü Bu] is used in the follow Deck Recipes