[V-EB05] Primary Melody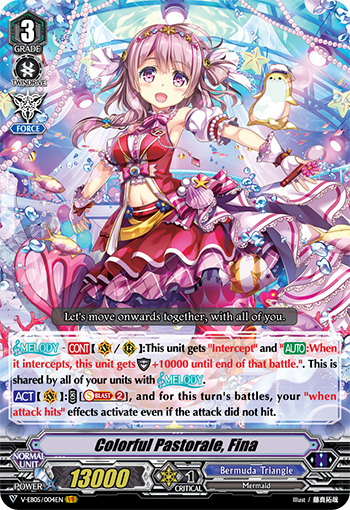 ---
Normal Unit
Bermuda Triangle
Mermaid
Magallanica
Grade 3
Power 13000
Critical 1
Shield -
Twin Drive!!, Force
-
[Melody]‐[CONT](VC/RC):This unit gets "Intercept" and "[AUTO]:When it intercepts, this unit gets [Shield] +10000 until end of that battle.". This is shared by all of your units with [Melody].
[ACT](VC):[COST][Soul-Blast 2], and for this turn's battles, your "when attack hits" effects activate even if the attack did not hit.
Let's move onwards together, with all of you.
V-Premium
V-EB05/004EN
VR
藤真拓哉
Found in the following Products