The Sword of Victory that Splits the Heavens

A heavyweight Keter Sanctuary deck, now with a wider range of strategies to take advantage of grade 3 units. With the power of triple drive, draw cards of grade 3 or greater, restand and strengthen all grade 3 allies, and win with consecutive super-powered attacks!
Check out these featured cards!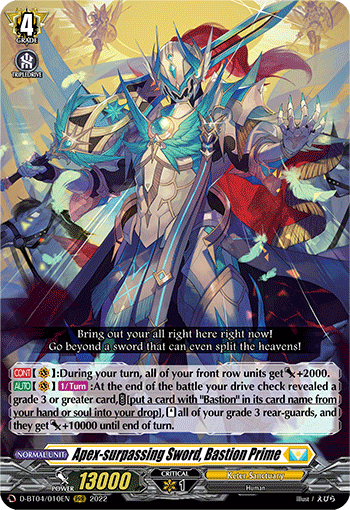 Apex-surpassing Sword, Bastion Prime
All front row units get +2000 Power! At the end of the battle where your drive check revealed a grade 3 or greater card, place one "Bastion" unit from your hand or soul into your drop, restand all grade 3 rear-guards and they get +10000 Power! Give a boost to all your grade 3 units with "Pride to Protect" and attack at once with four high-firepower attacks from your rear-guards! In addition, you can also perform a drive check with "Heavenly Shock of Distinction, Lagrele" while suppressing the loss of hand size by using rear-guards that can restand when rested as cost!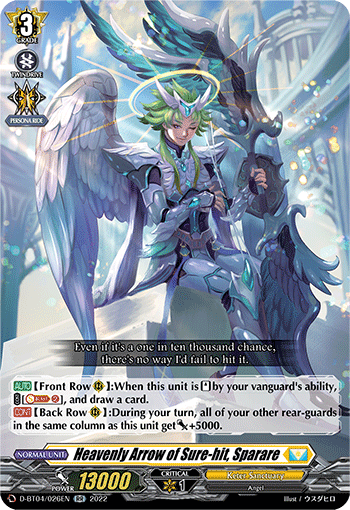 Heavenly Arrow of Sure-hit, Sparare
When this unit in your front row restands with your vanguard's ability, you can draw a card! If this unit is in the back row, allies in the same column as this unit get +5000 Power! You can use Bastion's ability to restand this unit and increase your hand size, or you can put this in the back row to strengthen your front row rear-guard!