Those Hands Hold the Symbol of Determination and the Trigger of Rejection

A Dragon Empire deck that expands the range of tactics for Bavsargra with new Arms cards. Aim to have two Arms cards from the third turn onwards, and dominate the battlefield with the power-up from DressBoost while destroying your opponent's board with the powerful ability of Bavsargra!
Check out these featured cards!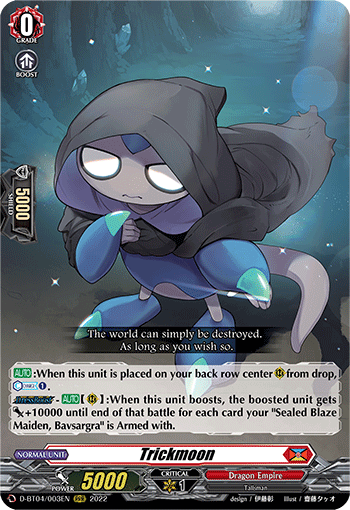 Trickmoon
When placed in the back row center from drop, you can Counter-Charge 1! With DressBoost, when this unit boosts, the boosted unit gets +10000 Power for each card "Sealed Blaze Maiden, Bavsargra" is Armed with! If Bavsargra is Armed with two cards, you can increase the power of the boosted unit by 20000! Overwhelm your opponent with this immense power!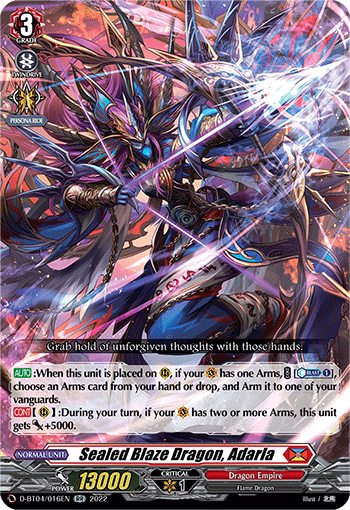 Sealed Blaze Dragon, Adaria
When placed as a rear-guard, if your vanguard is Armed, you can choose one Arms card from your hand or drop, and Arm it to your vanguard! If your vanguard has two or more Arms, this unit gets +5000 Power! If you have an Arms card in your hand or drop, you can Arm it to Bavsargra without paying the cost of the Arms card! This is a unit that you can rely on to Arm two cards from the third turn onwards!