[VGE-D-BT01] Booster Pack 01: Genesis of the Five Greats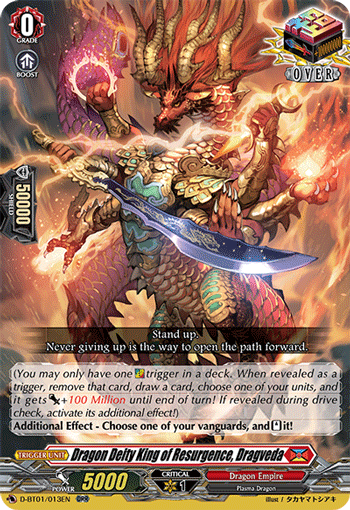 Dragon Deity King of Resurgence, Dragveda
---
Trigger Unit
Dragon Empire
Plasma Dragon
Grade 0
Power 5000
Critical 1
Shield 50000
Boost
Over Trigger +100,000,000
(You may only have one [Over] trigger in a deck. When revealed as a trigger, remove that card, draw a card, choose one of your units, and it gets [Power] Trigger +100 Million until end of turn! If revealed during drive check, activate its additional effect!)
Additional Effect - Choose one of your vanguards, and [Stand] it!
Stand up. Never giving up is the way to open the path forward.
Standard
D-BT01/013EN
ORR
タカヤマトシアキ
Found in the following Products