overDress of Victory!!

The Dragon Empire deck that has further evolved with battle tactics revolving around overDress. Make use of the super-powerful abilities of the grade 4 "Nirvana" and "Vairina" to seize victory!
Check out these featured cards!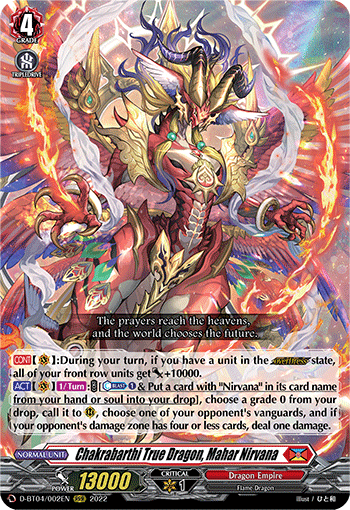 Chakrabarthi True Dragon, Mahar Nirvana
If you have a unit in the [overDress] state during your turn, all your front row units get +10000 Power! By Counter-Blasting 1 and placing one "Nirvana" unit from your hand or soul into your drop, you can call a grade 0 from your drop, and if your opponent has four or less damage, you deal one damage to your opponent! Deal damage directly to your opponent with its second ability, and then attack with your powered-up units!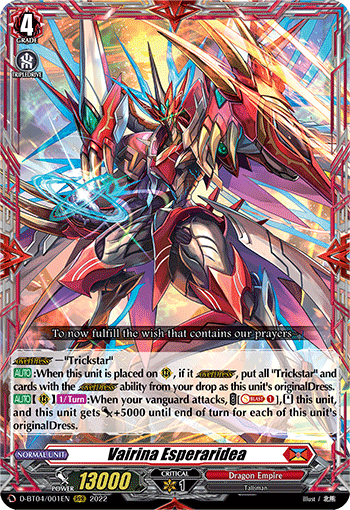 Vairina Esperaridea
When it is placed by [overDress], all "Trickstar" and units with the [overDress] ability are put from your drop as this unit's originalDress! When your vanguard attacks, Soul-Blast 1 to restand this unit, and get +5000 Power for each of this unit's originalDress! All of the "Trickstar" and "Vairina" units that you have used so far can be used for this unit's originalDress, and you can greatly improve its power! Grasp victory with consecutive attacks!