Princess of the Cosmos

The Brandt Gate deck that gained the ability to imprison not only an opponent's rear-guards, but various other evils as well! From your opponent's hand to even their soul, imprison them and drop the hammer of justice with your strengthened allies!
Check out these featured cards!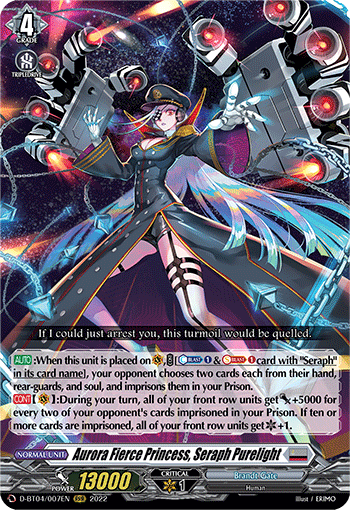 Aurora Fierce Princess, Seraph Purelight
When placed, Counter-Blast 1 and Soul-Blast 1 "Seraph" card, to have your opponent choose two of their rear-guards, and two cards each from their hand and soul, and imprison them all in your Prison! For every two cards imprisoned in your Prison, all front row units get +5000 Power during your turn. If you have ten or more cards, all your front row units get an additional critical!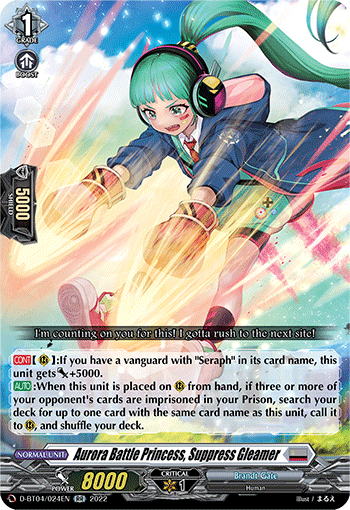 Aurora Battle Princess, Suppress Gleamer
If you have a "Seraph" vanguard, this unit gets +5000 Power! When placed, if three or more of your opponent's cards are imprisoned in your Prison, you can call up to one card with the same name as this unit from the deck! Deploy more rear-guards by making full use of this ability to call a card with the same name! With this deck, you can always attack and boost with 13000 Power after riding to grade 3!