The Unparalleled Barrage of Extreme Fists

A Nova Grappler deck that mainly consists of the Beast Diety archetype, which fights with continuous Vanguard attacks. The vanguard can attack continuously on condition that the rear-guard in the rest state restands! Aim for combos with various cards!
Check out these featured cards!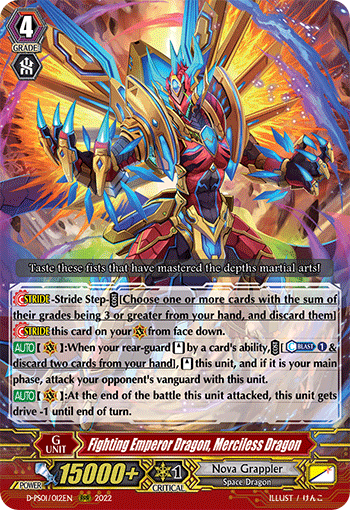 Fighting Emperor Dragon, Merciless Dragon
Featuring a new G unit trump card for this deck! When your rear-guard Stands from a card's ability, Counter-Blast 1 and discard two cards from hand to Stand this unit and attack the opponent's vanguard even during the main phase! At the end of the battle this unit attacked, this unit's drive-1! Aim for Vanguard's attack during the main phase by combining it with cards like "Screamin' and Dancin' Announcer, Shout" and "Beast Deity, Scarlet Bird"! Although the number of drives drive will gradually decrease, power obtained by the vanguard obtained from the drive trigger etc. remains, making a powerful continuous attack possible!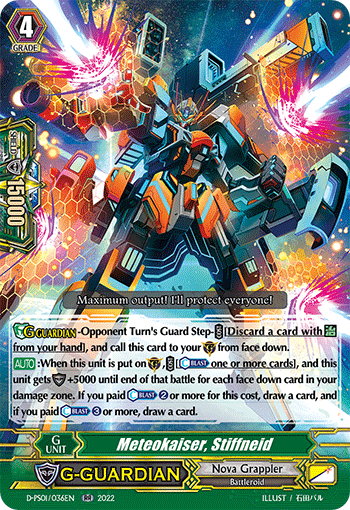 Metrokaiser, Stiffneid
Let's take a look at the new G Guardian of the Nova grappler clan! When put on the Guardian Circle, Counter-Blast your desired number of cards for this unit to get +5000 Shield for every face down card in your damage zone. If two or more Counter-Blasts were paid for this cost, you can draw a card, and one more if you paid three Counter-Blasts instead! Not only can you get a high shield value, but you can also increase your hand size, so it will be easier to guard against your opponent from the next turn!