Iron Maiden Jeanne

A "Maiden" deck that launches a wave of attacks with "Shamash"! By using Over Soul with "Jeanne" and "Shamash", when your vanguard attacks, you can call Shamash from soul and power it up! Support your "X-LAWS" members with a specific order card and battle!
Check out these featured cards!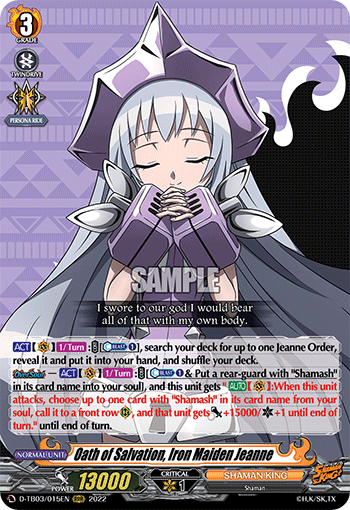 Oath of Salvation, Iron Maiden Jeanne
This grade 3 unit is the trump card for the deck! By paying the cost, you can search your deck for a Jeanne Order card and put it into your hand! Over Soul by putting "Shamash" into soul! By doing so, when this unit attacks, you can call a "Shamash" from your soul to the front row and it gets power +15000 and critical +1! After "X-LAWS, Lyserg Diethel" attacks and uses its ability, you can then attack with this unit and call "Shamash" to a freed up rear-guard circle and perform consecutive attacks!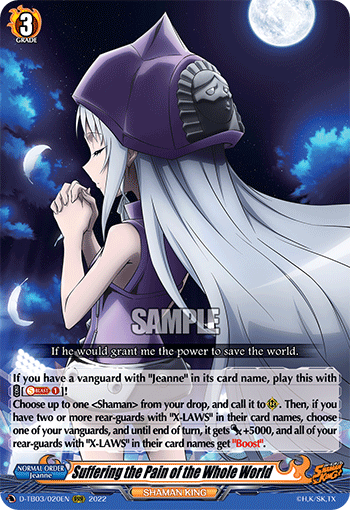 Suffering the Pain of the Whole World
If your vanguard is "Jeanne", you can play this card by paying its cost! Revive a "Shaman" from your drop! Afterwards if you have two or more "X-LAWS" rear-guards, your vanguard gets power +5000, and all of your "X-LAWS" rear-guards gain "Boost"! Increase your number of allies and give "Boost" to your "X-LAWS" and launch powerful attacks!