Together, We Advance to the Future!

Check out these featured cards!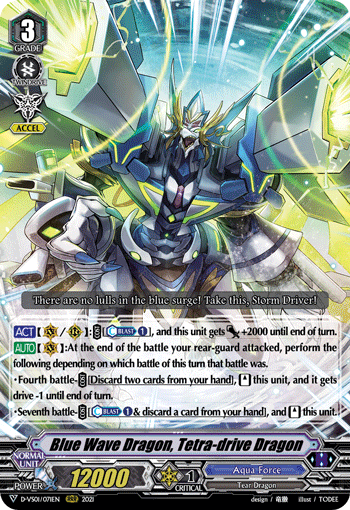 Blue Wave Dragon, Tetra-drive Dragon
Counter-Blast 1, and this unit gets +2000 Power during that turn! When you make the fourth attack of the turn, you can restand this unit with drive -1 by discarding two cards from hand! When you make the seventh attack, Counter-Blast 1 and discard one card to restand this unit! Meet the conditions of this unit's abilities by attacking a lot with rear-guards, then win with continuous attacks!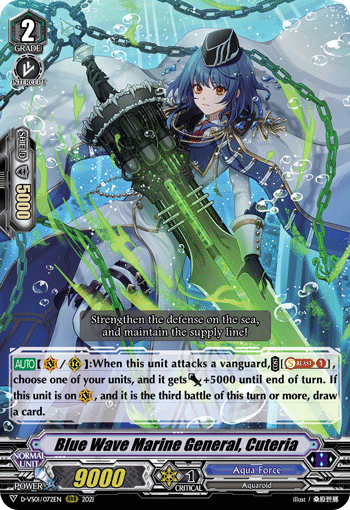 Blue Wave Marine General, Cuteria
When it attacks a vanguard, you can Soul-Blast 1 to increase a chosen unit's Power by 5000! Furthermore, if it is the third battle of this turn or more, draw a card! An easy-to-use unit that can power up allies and adjust your hand!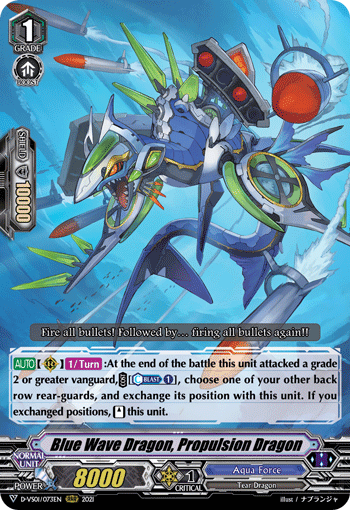 Blue Wave Dragon, Propulsion Dragon
At the end of the battle this unit attacked a grade 2 or greater vanguard, Counter-Blast 1 to exchange the position of this unit with another unit in the back row. If you did so, restand this unit! You can increase the number of attacks by exchanging its position with a back row rear-guard and restand!