Burn it all down - Vanishing Field!!

Check out these featured cards!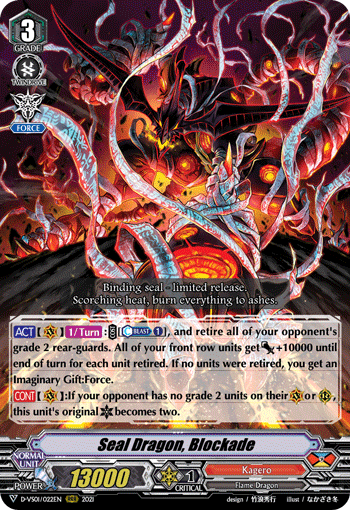 Seal Dragon, Blockade
Counter-Blast 1 retires all of your opponent's grade 2 rear-guards, and all your front row units get +10000 Power for every unit retired! Even if you did not retire any unit, you get an Imaginary Gift: Force! If your opponent has no grade 2 units on the field, this unit's critical becomes two! Regardless of whether you retire your opponent's grade 2 units or otherwise, you can overwhelm them with powerful abilities!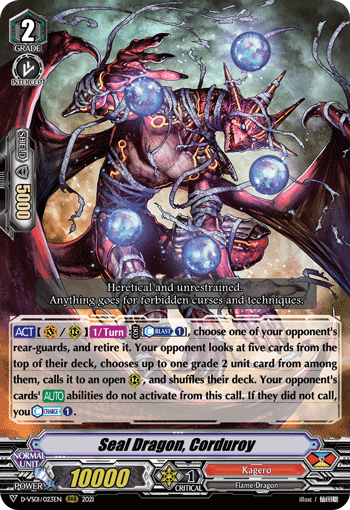 Seal Dragon, Corduroy
With the cost of Counter-Blast 1, choose and retire one of your opponent's rear-guards! In addition, your opponent looks at the top five cards of their deck and calls up to one grade 2 unit. If no units were called, you can Counter-Charge 1! While it's a quirky ability that allows your opponent to call a grade 2 unit, the called unit can be easily eliminated with Blockade's ability!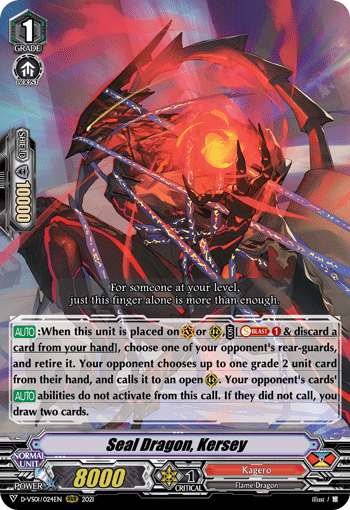 Seal Dragon, Kersey
When placed, Soul-Blast 1 and discard a card from hand to retire your opponent's rear-guard! After that, your opponent may call a grade 2 unit from hand. If they did not call, you can draw two cards! Similar to Corduroy, aim to retire the called grade 2 unit with Blockade's ability!