The Lord of Destruction Suited in the Armor of Dark Light

A Megacolony deck that takes its opponent's freedom away by paralyzing them. By preventing an opposing rear-guard from restanding with its ability, the number of rested rear-guards increases, and you can aim for a maximum of 5 drives with "Master Beetle"!
Check out these featured cards!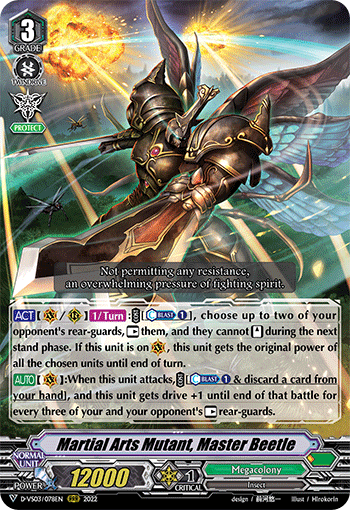 Martial Arts Mutant, Master Beetle
By paying the cost, you can paralyze two opposing rear-guards! If this unit is a vanguard, it gets the original power of all chosen units! When it attacks, by paying the cost, it gets an additional drive for each of your opponent's rested rear-guards! While stalling your opponents, strengthen yourself and defeat them!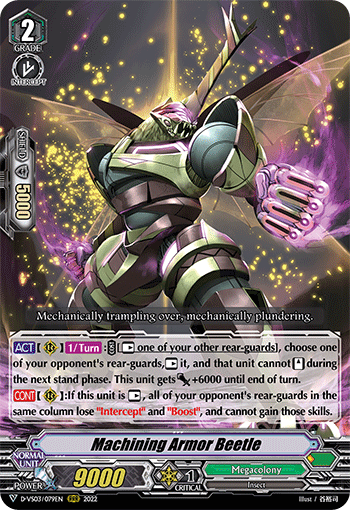 Machining Armor Beetle
By resting one other rear-guard, you can paralyze one of your opponent's rear-guards! In addition, it gets +6000 Power! If rested, all of your opponent's rear-guards in the same column will lose "Intercept" and "Boost", and cannot gain those skills! Stop powerful opposing rear-guards in their tracks and create an opening in your favor!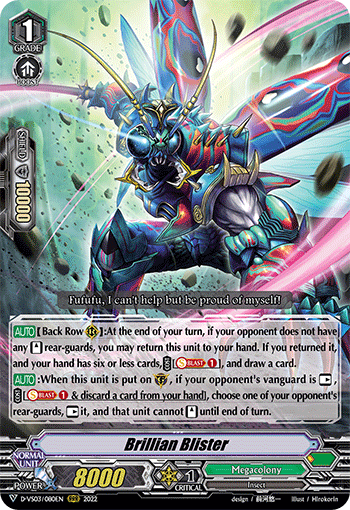 Brillian Blister
At the end of your turn, if this unit is in the back row and your opponent has no standing rear-guards, you can return this unit to hand! If you returned it and have six or less cards in hand, pay the cost to draw a card! If your opponent's vanguard is Rest when this unit is placed on the Guardian Circle, you can pay the cost to rest one of your opponent's rear-guards! If the conditions are met, you can return this unit to hand after boosting! After returning it to your hand, use it as a guardian to prevent attacks from opposing rear-guards in advance!