Intersecting Stars of Crimson and Azure

An Oracle Think Tank deck that battles with the capabilities of the "Witch" archetype. Plan your fight strategy by making full use of Imaginary Gift: Protect that can be acquired in large quantities!
Check out these featured cards!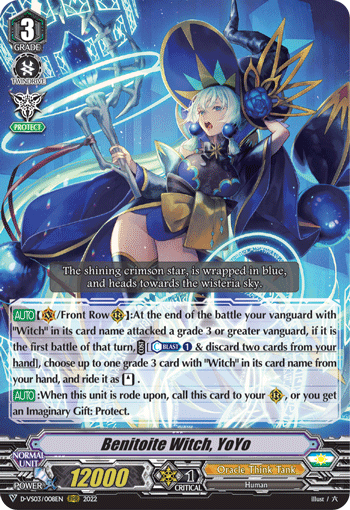 Benitoite Witch, YoYo
At the end of the battle your grade 3 or greater Witch vanguard attacked an opposing vanguard, you can ride a grade 3 Witch card from hand as Stand by paying the cost! When this unit is rode upon, you can call this card as a rear-guard or get an Imaginary Gift: Protect! Ride after your vanguard's attack and aim for continuous attacks! In addition, you can ride from "Scarlet Witch, CoCo" to "Wistaria Witch, ZoZo" and unleash a powerful attack!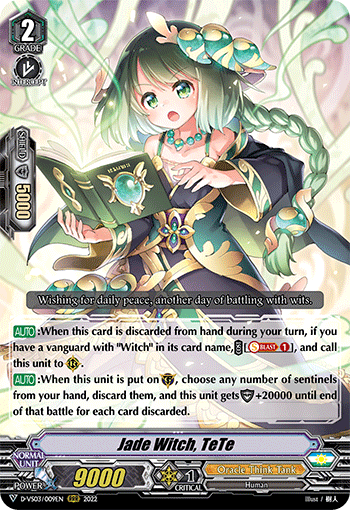 Jade Witch, TeTe
When discarded from hand during your turn, you can Soul-Blast 1 to call this card to the field! When put on a Guardian Circle, you can discard a desired number of sentinels from hand, and this unit gets +20000 Shield for each card discarded! You can activate its ability by discarding it from hand for YoYo and Coco's abilities! If you discard an Imaginary Gift: Protect from hand when intercepting, you can guard with a strong shield value!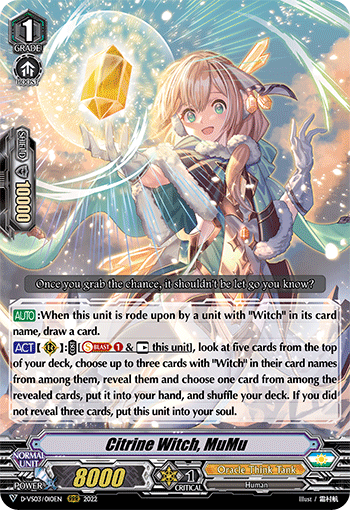 Citrine Witch, MuMu
When rode upon by a Witch unit, draw a card! At the cost of Soul-Blast 1 and resting this unit, you can look at the top five cards of your deck, reveal up to three Witch cards, and add one of them to your hand! If you did not reveal three cards, put this unit into your soul. Include a lot of Witch units in your deck to increase the probability of gaining more hand size!