This fall, we'll be bringing to you new ride lines to be enjoyed and stronger support for your favorite decks! Take a look at the latest D Trial Decks and D Booster Set 06: Blazing Dragon Reborn to have a better idea about what the new season of Vanguard is all about!
New Additions!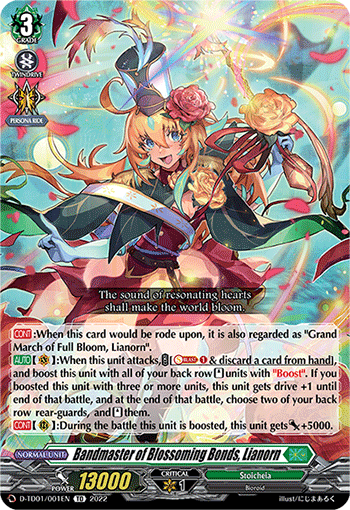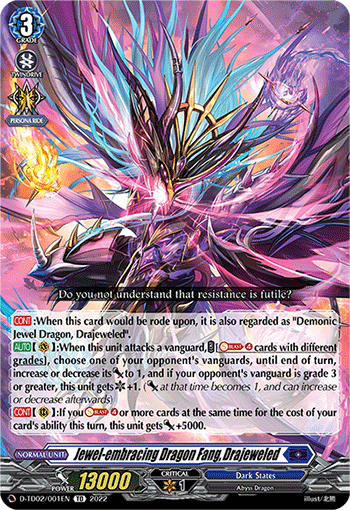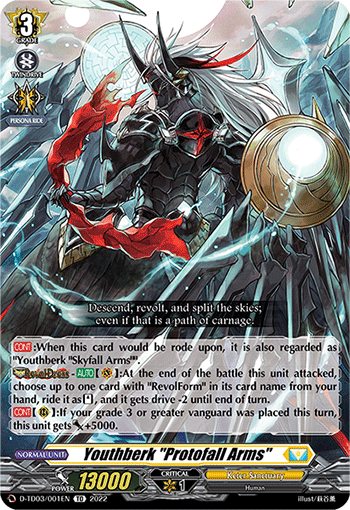 Bandmaster of Blossoming Bonds, Lianorn, Jewel-embracing Dragon Fang, Drajeweled, and Youthberk "Protofall Arms"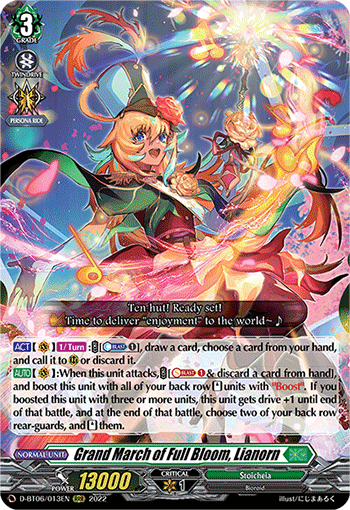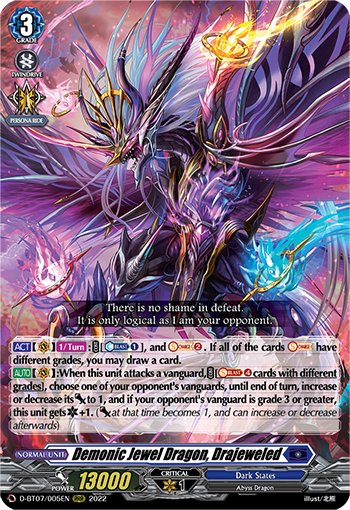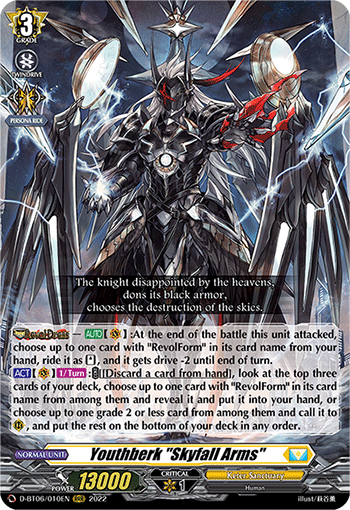 Grand March of Full Bloom, Lianorn, Demonic Jewel Dragon, Drajeweled, and Youthberk "Skyfall Arms"
With the beginning of the will+Dress series, we're introducing three brand new vanguards that are available in D Trial Decks: Lianorn, Drajeweled and Youthberk (as featured in the top row)! These three units have a base form made available in the Trial Decks to serve as an introduction to Vanguard; of course, these can be upgraded to their stronger Booster Set counterparts (as featured in the bottom row) if you want to improve your deck!
*"Demonic Jewel Dragon, Drajeweled" will be available in D Booster Set 07: Raging Flame Against the Emerald Storms.
Two New Rides Line
In D Booster Set 06, we have two new ride lines for Dragon Empire and Brandt Gate! Firstly, there is the majestic "Chakrabarthi Phoenix Dragon, Nirvana Jheva"! This new version of Nirvana takes the powers of overDress to the next level with the inception of XoverDress (pronounced Cross-overDress)! Of course, Nirvana Jheva also enhances its ally Vairina to also take on the power of Xoverdress!
Next, we have the robust Heroes of Brandt Gate! These fighters band together against injustice, using their Base to scout allies that can bring down evil!
Over Triggers and Perfect Guards Reprints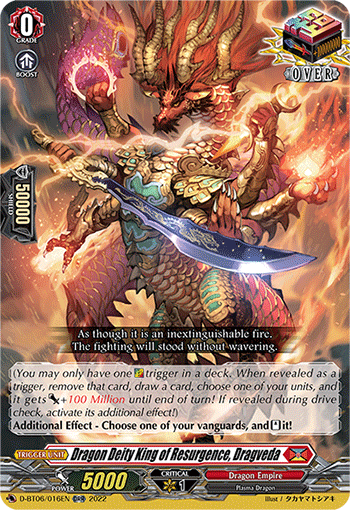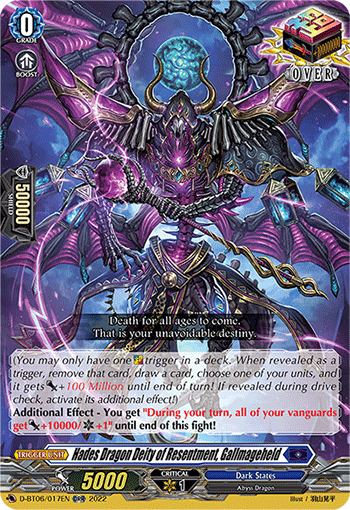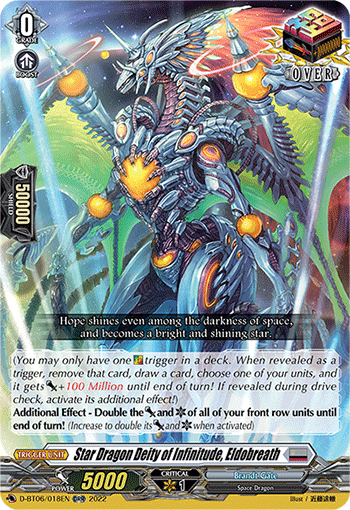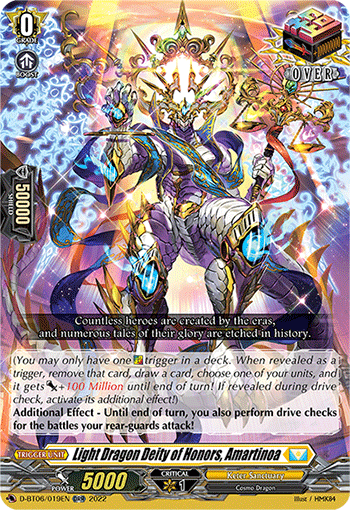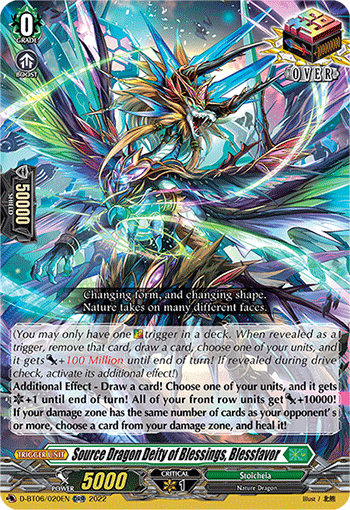 Dragon Deity King of Resurgence, Dragveda, Hades Dragon Deity of Resentment, Gallmageheld, Star Dragon Deity of Infinitude, Eldobreath, Light Dragon Deity of Honors, Amartinoa, and Source Dragon Deity of Blessings, Blessfavor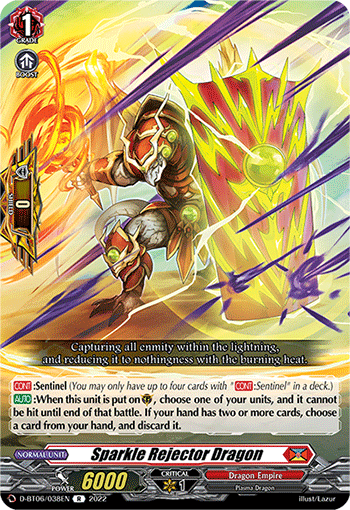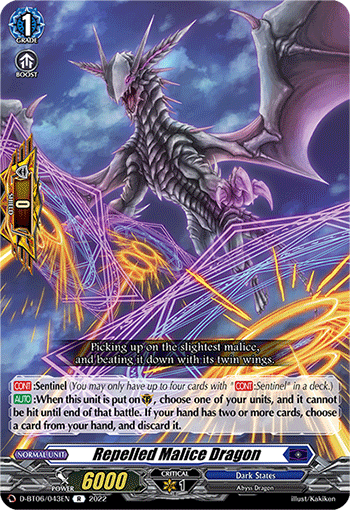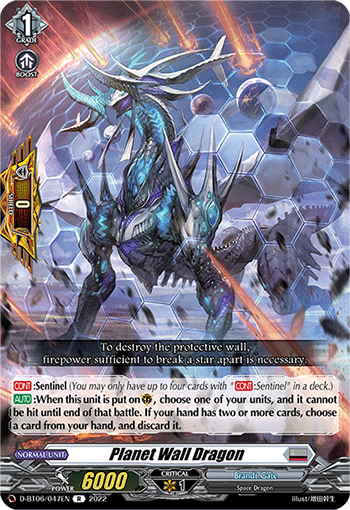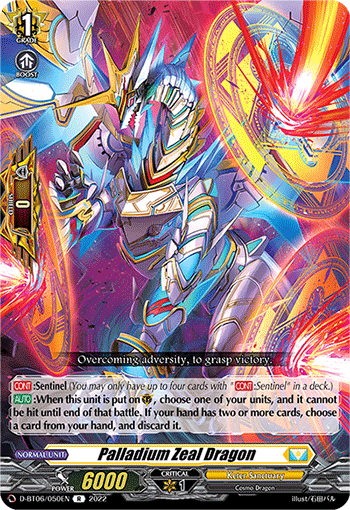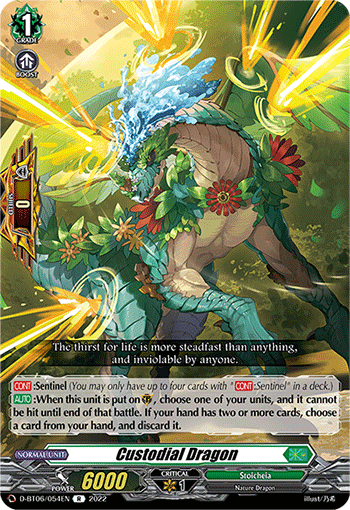 Sparkle Rejector Dragon, Repelled Malice Dragon, Planet Wall Dragon", Palladium Zeal Dragon, and Custodial Dragon
D Booster Set 06 also contains reprints for must-have cards like Over Triggers and Perfect Guards. Originally introduced in "D Booster Set 01: Genesis of the Five Greats", these nation-specific Over Triggers have unique offensive capabilities when revealed during your drive check! Depending on the deck, they can pack a greater punch compared to the generic Over Trigger!
While the Perfect Guards returning in this set are different in name and artwork from their counterparts in the first set, they retain their ability to completely block an attack! (And potentially remove the need to discard a card for its effect!) These cards are upgrades compared to the beginner-level Perfect Guards in Start Decks and Trial Decks, so be sure to get them if you want to strengthen your deck!
Double Frame Rare and Frame Rare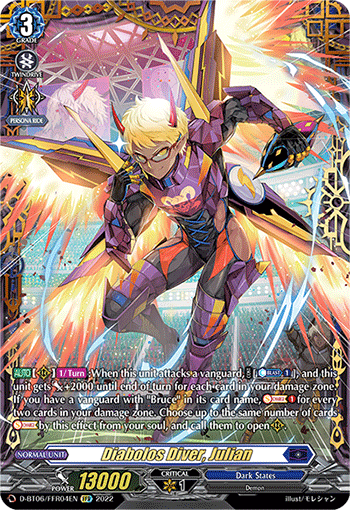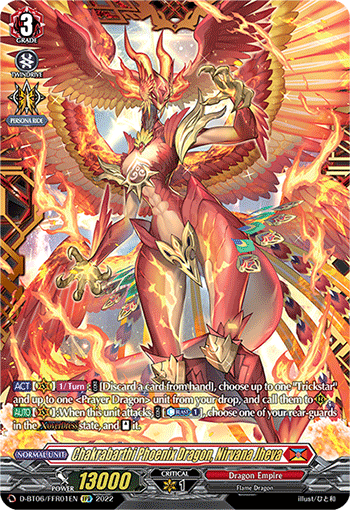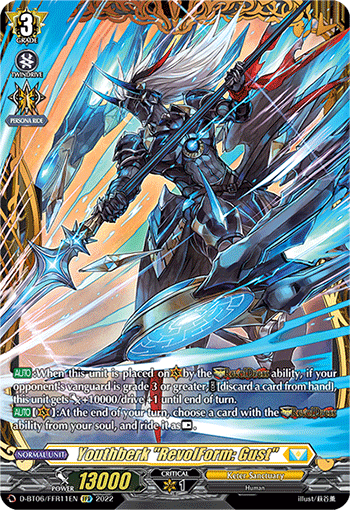 Diabolos Diver, Julian, Chakrabarthi Phoenix Dragon, Nirvana Jheva, and Youthberk "RevolForm: Gust"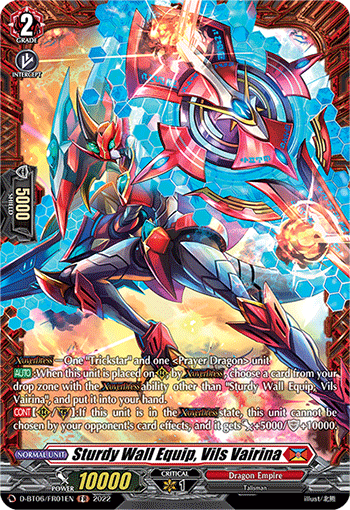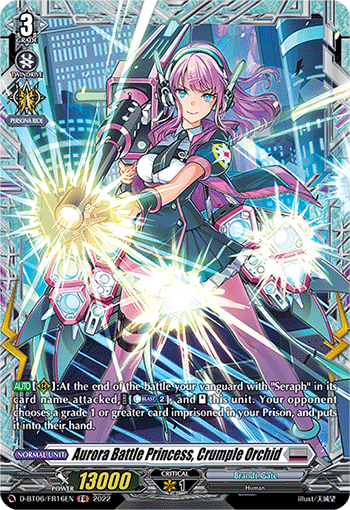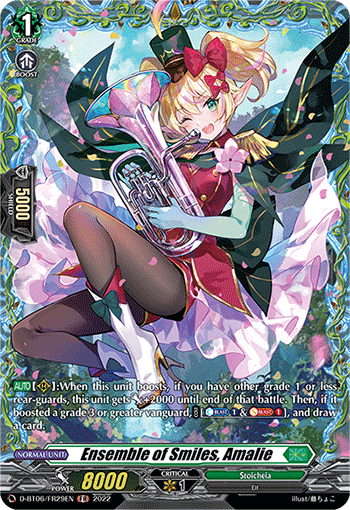 Sturdy Wall Equip, Vils Vairina, Aurora Battle Princess, Crumple Orchid, and Ensemble of Smiles, Amalie
We're also introducing two brand new rarities: Double Frame Rare and Frame Rare! With unique nation card borders, full artwork (and golden text for FFR cards), you can bling out your deck and show your friends your love for your deck!
Elusive DSR forms
You can also get their hands on the elusive DSR forms of their vanguards! These cards are specially illustrated by CLAMP, showcasing series newcomers like Raika Koshiba and Urara Haneyama alongside their avatars "Youthberk, "Skyfall Arms" " and "Grand March of Full Bloom, Lianorn" respectively!
Unique art Over Triggers
True Arbiter Dragon of Hundred Swords, Duralvalse




Conclusion
With these D Trial Decks and D Booster Set 06 , the Standard format continues to diversify with a variety of playstyles and aesthetics! It's never too late to jump in and choose a deck of your liking. What are you waiting for? Come and acquaint yourself with the beautiful and majestic world of Vanguard!