CONSTRUCTED DECK
【VGE-D-TTD03】
Cardfight!! Vanguard Title Trial Deck 03 "SHAMAN KING"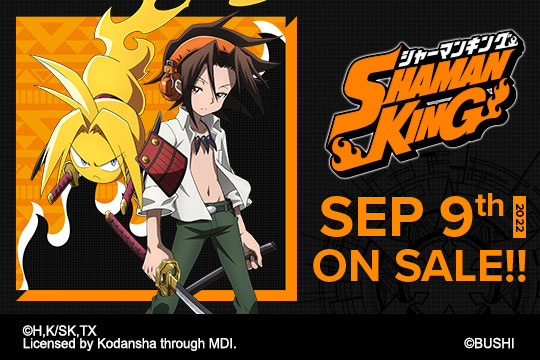 Release Date
September 9th, 2022
Featured Title
SHAMAN KING
Card Types
16 types of cards (16 new cards, inclusive of 1 type of RRR holo card)
+ 18 types of parallels (SSR: 1 type / SP: 1 type / SKR: 16 types)
Others
1 pre-constructed trial deck contains 50 cards/1 display contains 6 decks
2 Power Counters
Playsheet
First Guide
Each product includes 1 RRR card and 2 Parallel cards.
※Includes either 2 pcs of SKR, 1pc of SKR + 1pc of SP, or 1pc of SKR + 1pc of SSR
Commercial
"SHAMAN KING" × "CARDFIGHT!! VANGUARD"!
Joining the "CARDFIGHT VANGUARD" series as a collaboration title,
"SHAMAN KING" enters the fray with a simultaneous release of its Trial Deck and Booster Pack!
Emerge victorious with "Over Soul" in the world of Vanguard!!
What is "SHAMAN KING"?
It is the story where medium "Yoh Asakura" enters "Shaman Fight", a battle tournament held every 500 years,
competing with other shamans in a bid to become the all-powerful Shaman King.
The all new TV Animation "SHAMAN KING" is now available on Netflix! Sales of the manga series by Hiroyuki Takei exceeds 38 million volumes!
"Over Soul" in the world of Vanguard!
"SHAMAN KING" joins the fray as one of our Title Boosters in Vanguard!
With 4 pieces of perfect guards and the deck constructed around the main character "Yoh Asakura", this product is highly recommended for beginners to pick up as well!
"SHAMAN KING" exclusive ability
Emerge victorious with Over Soul!
All of the cards get a Gorgeous Frameless Treatment! Featuring SKR (SHAMAN KING Rare)!
Featuring a special "SHAMAN KING Rare (SKR)" rarity that's exclusive to SHAMAN KING! All cards featured have an SKR version!!
In addition to that, "Amidamaru", the Spirit Ally of "Yoh Asakura", is randomly included in gorgeous SP treatment!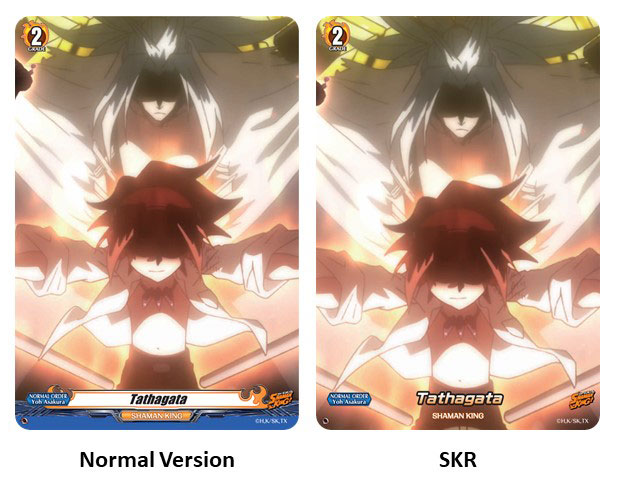 Title Trial Deck Exclusive! Stamped First Vanguard (SSR)!
First Vanguard with gorgeous hotstamp treatment included as SSR exclusively in this product!
SSR is included randomly!
Featuring Over Trigger with "SHAMAN KING" exclusive ability!
"SHAMAN KING" gets a Trigger Order as an exclusive Over Trigger!
"Power Counter" Included!
A set of 2 Power Counters included!
These popular accessories help make changes to the Power clear during the fight!
Booster Pack Simultaneous Release!
Title Booster+ "SHAMAN KING" will be released simultaneously! Will you be the next Shaman King?
Starting out in Cardfight!! Vanguard with a "SHAMAN KING" deck? Look no further!
We have prepared special page for you with various tips and tricks!
Check the banner below for more details!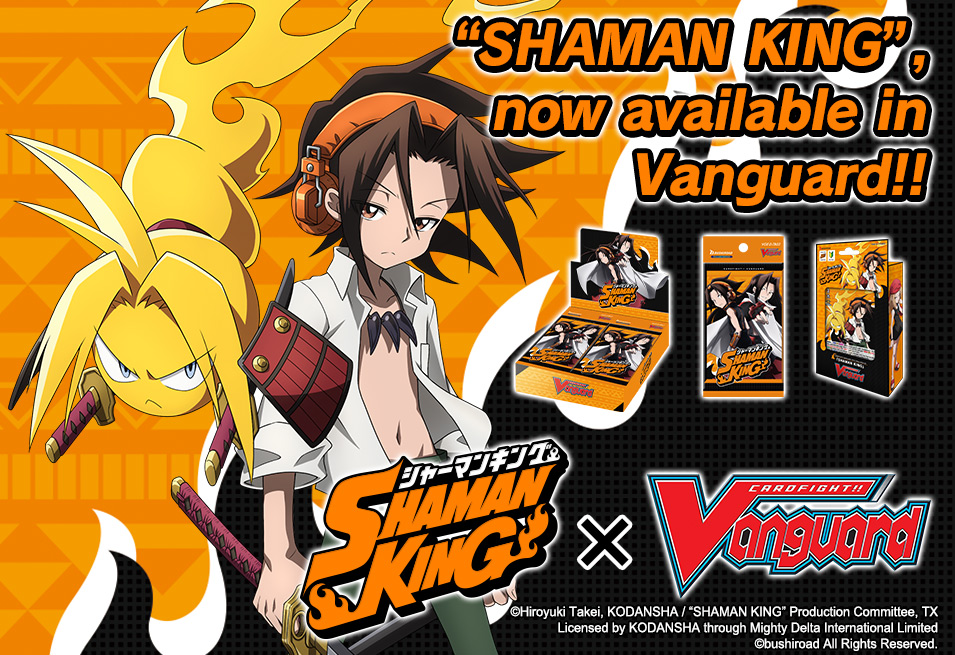 ©Hiroyuki Takei, KODANSHA / "SHAMAN KING" Production Committee, TX
Licensed by KODANSHA through Mighty Delta International Limited