Joining the "Cardfight!! Vanguard" series as a collaboration title, "SHAMAN KING" enters the fray with the simultaneous release of a Trial Deck and Booster Pack!
We have gathered the many shamans and spirits that played a significant role in the animation, so that you can have an enjoyable time with them in the world of Vanguard!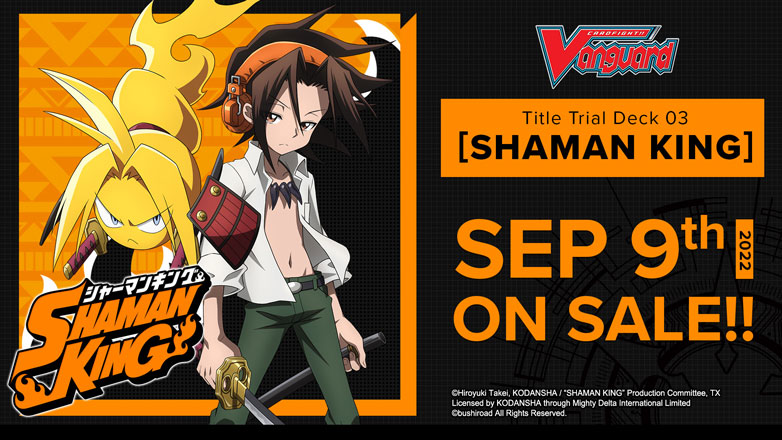 A fully constructed deck featuring "Yoh Asakura" that is suitable for new players!
All the cards that you need to join the fight are included, so you can jump right in!
Additionally, 2 random cards in the deck are guaranteed to have a parallel finish, including the shiny "Shaman King Rares"!
If you are lucky enough, you may even encounter the high-rarity Yoh Asakura card with a gorgeous hotstamp sign of his voice actress, Yoko Hikasa!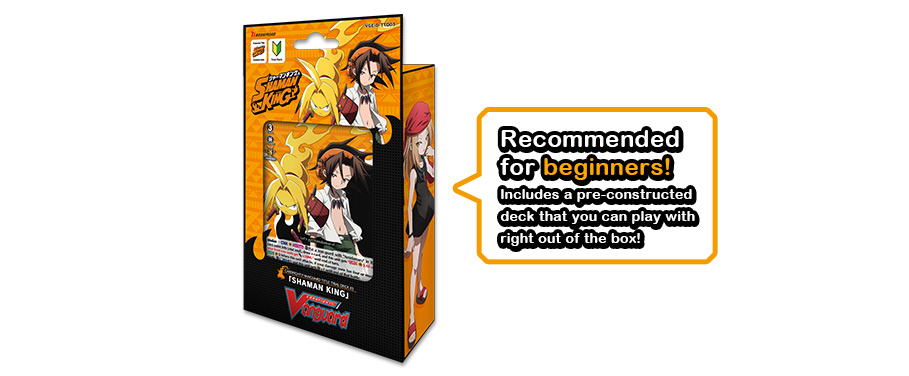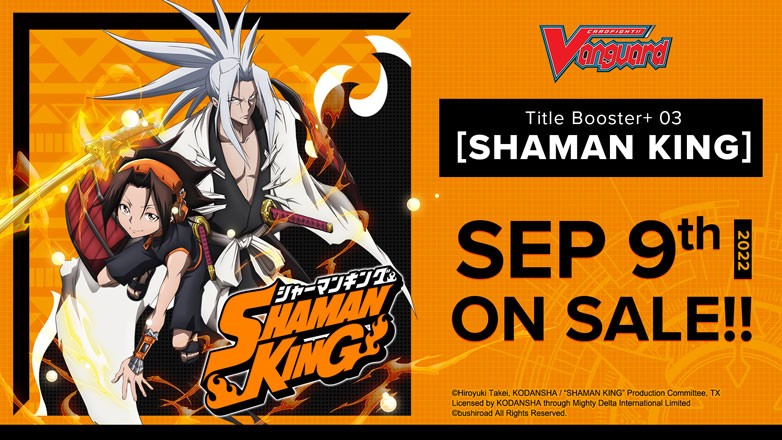 From this booster pack, you can choose to build decks that feature characters like "Tao Ren", "Horohoro", "Faust VII", "Joco", and more!
Many other characters that make their appearance in the animation are also featured! Create your deck and find friends to cardfight against!
You can also mix these cards together with the Title Trial Deck, and further power up the "Yoh Asakura" deck!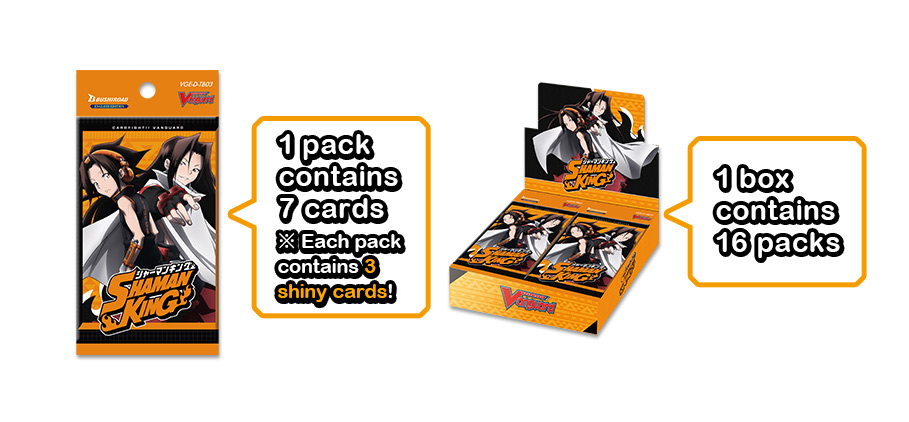 Many different cards with special parallel finish can be found in both the Title Trial Deck and Title Booster+!
All cards have an alternate SHAMAN KING Rare (SKR) version, with a special parallel finish and frameless design allows for a better view of the card illustration!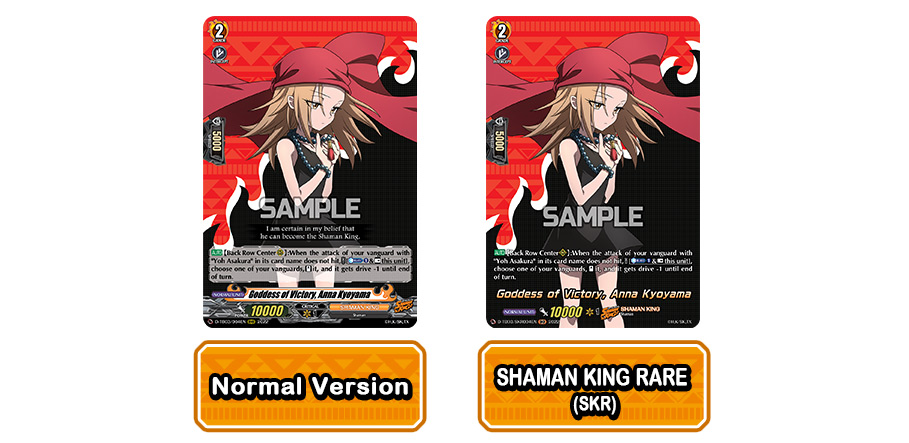 ※The above cards are included in the Title Booster+
Furthermore, some cards from various characters will come in a Special (SP) gorgeous parallel finish, while Super Special Rare (SSR) will come with hot stamps of the voice actresses' signs too!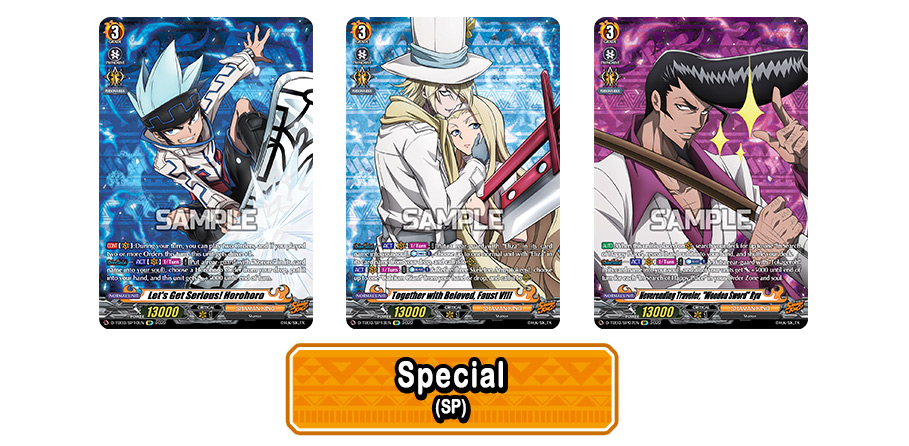 ※The above cards are included in the Title Booster+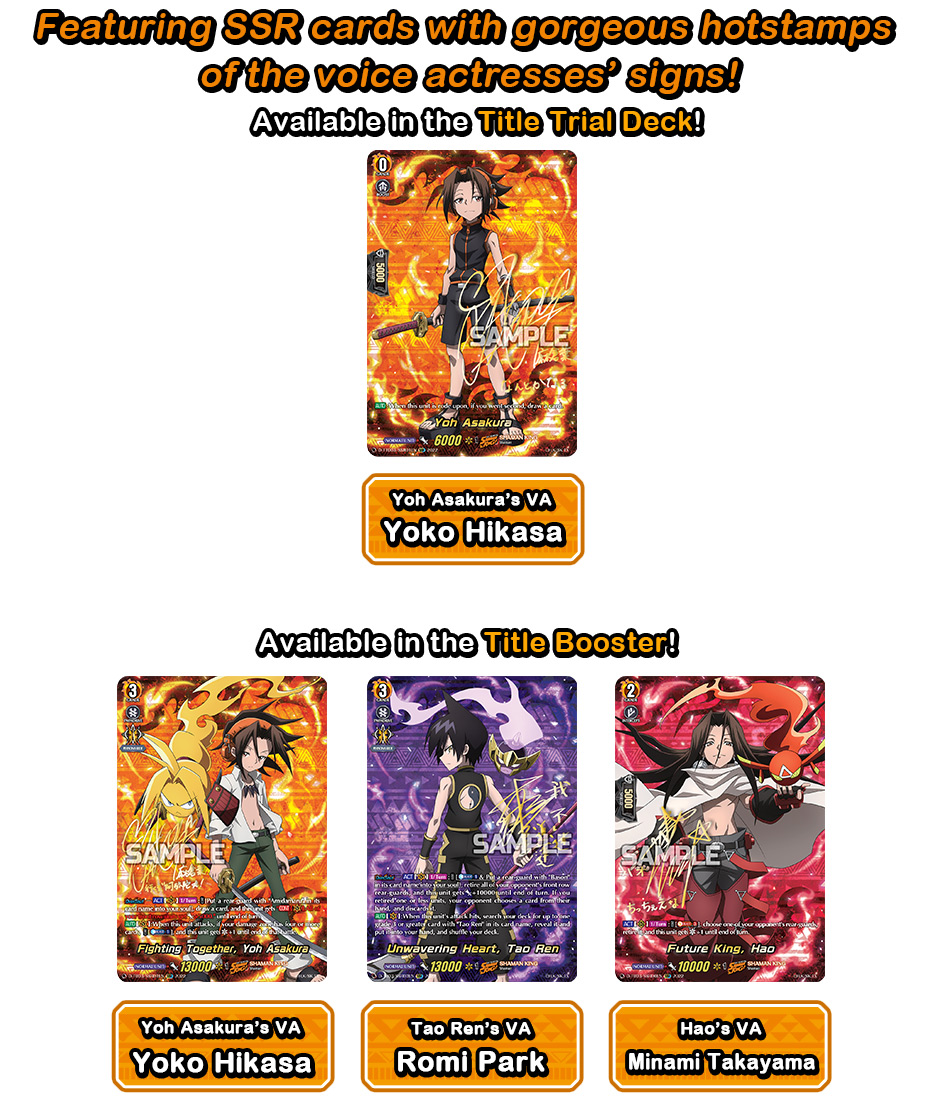 These special rarities will be available in both the Title Trial Deck and Title Booster+!
Let's collect all of these beautiful cards!

After you have collected the cards, next up is the preparation for the fight!
Cardfight!! Vanguard is a card game that is played by 2 players.
A deck is constructed with 50 Vanguard cards, and each player will prepare a deck of their own before playing off against each other!
It is recommended to start playing with the Title Trial Deck without any changes first!
Once you are used to the fight, you can try out the steps listed below to create your very own original deck!

A deck is made up of 4 unit cards that will form your ride deck, 16 trigger cards, and 30 other cards!
Only up to 4 copies of the same card can be included in the deck, so do take note!


First, choose a grade 0 card of your choice!
Characters like "Yoh Asakura", "Tao Ren", "Horohoro", "Faust VII" and ""Wooden Sword" Ryu" are highly recommended!
Once you have picked your favorite card, select one card each from grade 0 to grade 3 of that character!
The unit chosen here shall become your avatar and grow alongside you as you battle your opponent!

Cards with a special icon on the top right corner are trigger cards!
When revealed at specific timings, special effects depending on the icon shown will be activated!
A deck will have a total of 16 trigger cards!

Choose cards that are not trigger cards for the remaining 30 cards!
You can choose cards that have been chosen for your ride deck, or choose to include characters that you like
※If you choose a card that's already in your ride deck, do take note that you can only include a maximum of 4 of that card in total.
Build the deck as you like!
After you have completed your original deck, it is time to challenge your friends to a fight!

"Over Soul" is a special ability unique to SHAMAN KING decks!
By placing a guardian spirit with a specific card name into your soul with the ability of the corresponding shaman's card, Over Soul can be activated and you can enjoy powerful effects! Let's check each grade 3 card for effects that can be activated!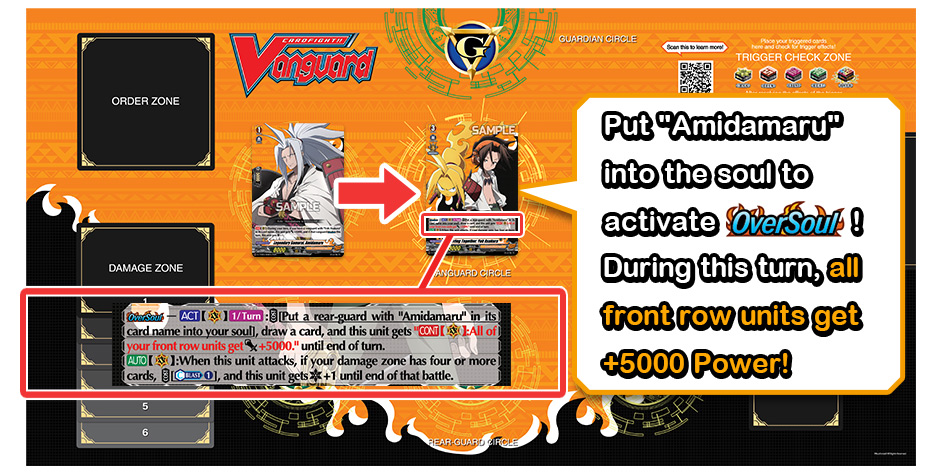 ©Hiroyuki Takei, KODANSHA / "SHAMAN KING" Production Committee, TX
Licensed by KODANSHA through Mighty Delta International Limited