CONSTRUCTED DECK
【VG-G-TTD01】
Cardfight!! Vanguard G Title Trial Deck: Touken Ranbu -ONLINE-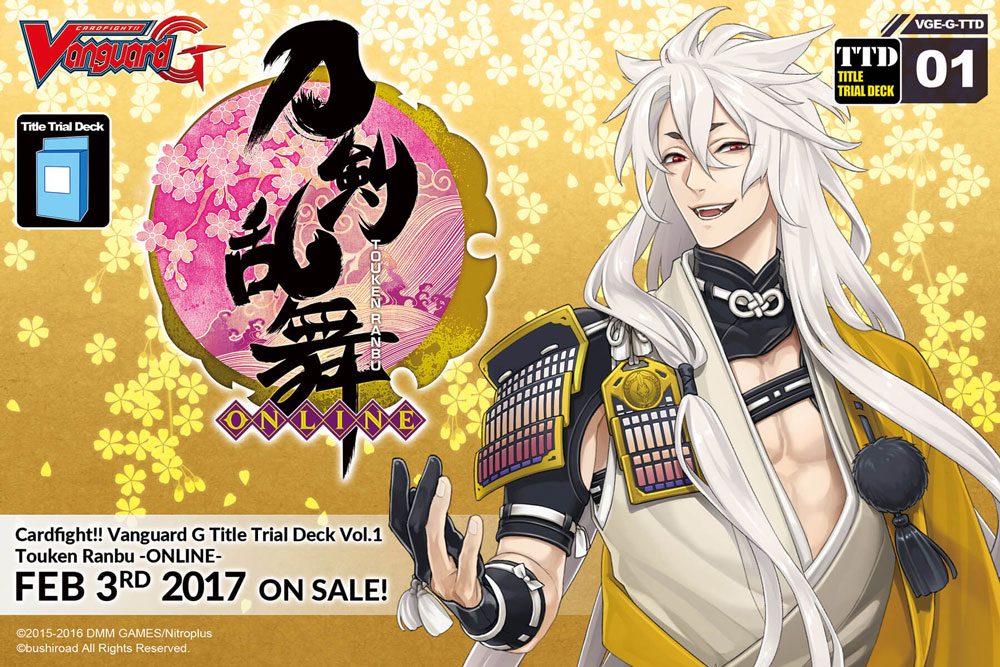 Release Date
February 3, 2017
Featured Clans
Touken Ranbu
Card Types
16 types of cards
7 trial deck exclusives + 9 reissue
inclusive of 4 holo cards
Others
1 pre-constructed trial deck contains 54 pre-set cards
1 display contains 6 decks
Starter's Guide
Playmat
Title Booster Vol. 2 x 1 pack
[VG-G-TTD01] Cardfight!! Vanguard G Title Trial Deck: Touken Ranbu -ONLINE-
Another exciting collaboration between "Touken Ranbu -ONLINE-" and "Cardfight!! Vanguard"!!
"Touken Ranbu -ONLINE-" makes a reappearance in Vanguard, with the [Touken Ranbu -ONLINE-] Title Trial Deck!!
The world of Touken Ranbu is reproduced in Vanguard's game system!
The trial deck includes 7 new trial deck exclusive cards that have simple yet powerful abilities!!
Recommended for both new and existing players of the card game.
Recommended for Beginners!
Cards with easy-to-understand abilities
"Rule book" with explanations of rules included
4 pieces of each required card (main G3 and G4) are included
1 Trial Deck alone is sufficient for tournament
Satisfies both Cardfighters and buyers of the previous volume!
7 powerful cards exclusive to this Trial Deck are included
Many cards that greatly strengthen your trial deck and the previous title booster are featured in the Title Booster Vol. 2 released on the same day!
Thorough support for beginners!
[First Release Limited] Trial Deck contains 1 pack of Title Booster Vol.2 also released on the same day!
1 pack of same-day-release Title Booster Vol.2 is included in every Trial Deck! And its price is the same as every other Trial Deck!
The cards you get from the booster pack can provide great support to your deck depending on the flow of the battle!
All new Touken Danshi! 7 exclusive cards only for the Trial Deck!
"Kogitsunemaru" is upgraded to "Kogitsunemaru Toku", and gains new abilities!!
※not a reissue
Product Package Printing Error
There is a printing error on the trial deck packaging, in the "Contents" section.
【Error】・Pre-constructed deck…52 card set (for 1 player) &1 Shadow Paladin Clan Card
【Correct】・Pre-constructed deck…52 card set (for 1 player)
We apologize for the inconvenience caused.