OTHERS
Mega Trial Deck Vol.01: Rise to Royalty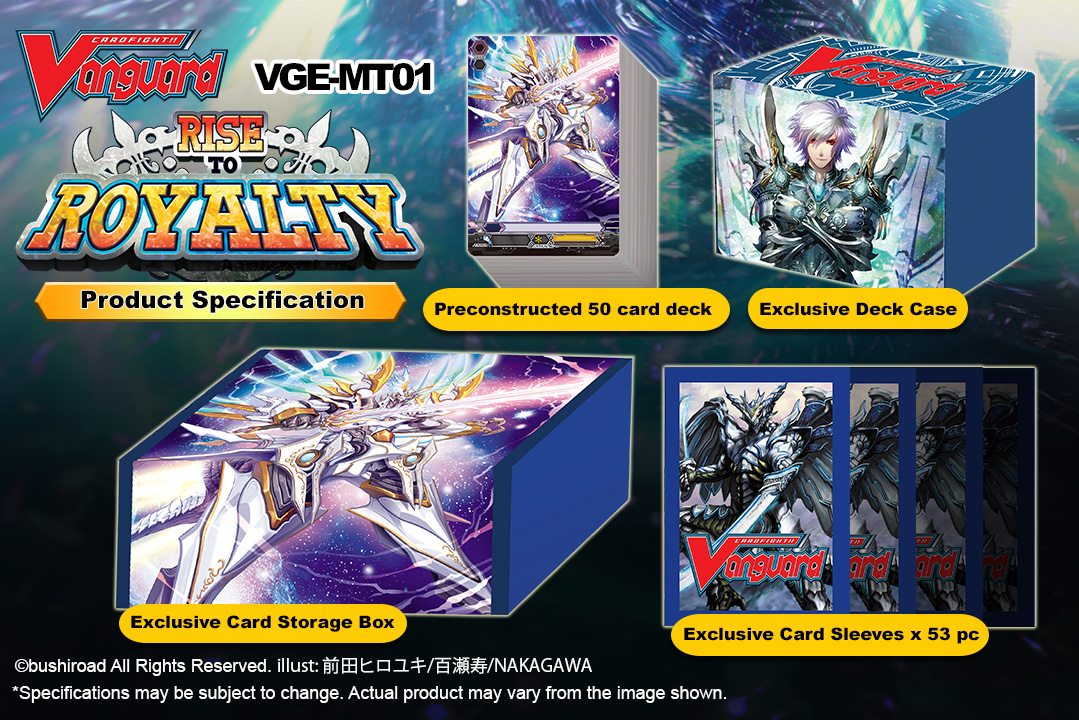 Release Date
November 29, 2013
Clans
Royal Paladin
Card Types
1 pre-constructed trial deck contains 50 pre-set cards
17 types of cards (7 trial deck exclusives inclusive of 3 holo cards plus 10 normal cards)
Others
Each box contains 1 pre-constructed trial deck, 1 card storage box, 1 pre-constructed plastic deck case, and 1 set of card sleeves
Card Storage box holds up to 3 foldable deck cases or 435 individual cards in any combination
Pre-constructed deck-case holds up to 1 fully-sleeved Cardfight!! Vanguard deck
1 set of card sleeves contains 53 pieces of sleeves
Starter's guide, rule book, and playmat are included
The ultimate player's kit is finally here!
Mega Trial Deck Vol.1: Rise To Royalty brings back <<Royal Paladin>> with all-new cards and [Limit Break] abilities! This Mega-sized Trial Deck comes with everything needed for both new players and veterans to enjoy, with exclusive Mega Trial deck-only accessories and supplies to celebrate in style fit for royalty!
What's a Mega Trial Deck?
– The ultimate player's kit: everything needed in one package!
– Each Mega Trial deck comes ready for action right out of the box
– Store your card collection in the premium card storage box
– Tough, durable and attractive plastic deck case
– Exclusive card sleeves protect any Cardfight!! Vanguard deck