Happy New Year!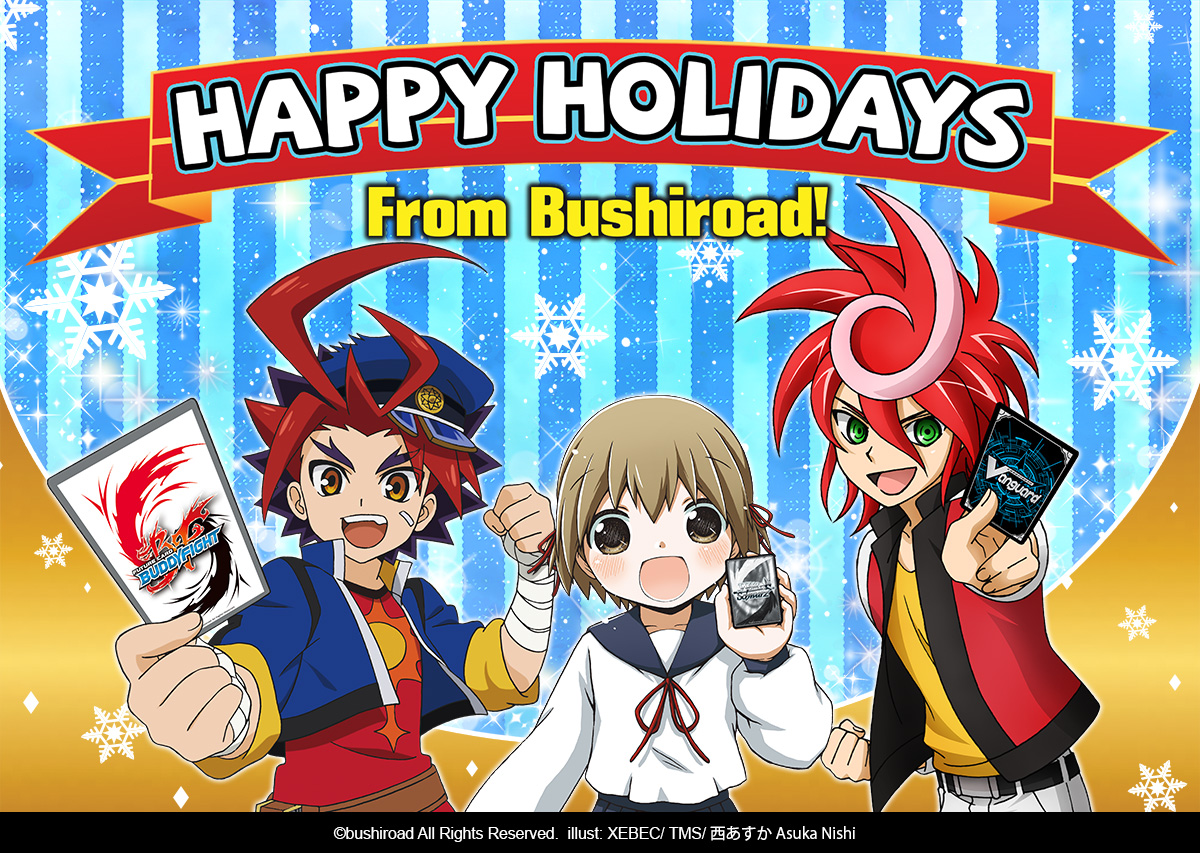 Happy New Year and welcome the year of 2016!
This week, we will continue to feature the wishes submitted to us on Twitter with #cfvanguard2016wish hastag!
A lot of you have multiple wishes submitted (´∀`*) I'm sorry that I am not able to list all the wishes here, but let's take a look at a few! (〃^▽^〃)
If you are not sure what has happened, check out our previous columns!
> > Column 2015.12.25
> > Column 2015.12.18
There are so many wishes on Twitter and I'm not able to list down all of them, but all the wishes are heard. We will continue to work hard in 2016 to bring you a better Cardfight!! Vanguard!
Thank you very much for your overwhelmed responses and participation!
Now, let's continue with the topic, Cardfight!! Vanguard in 2015!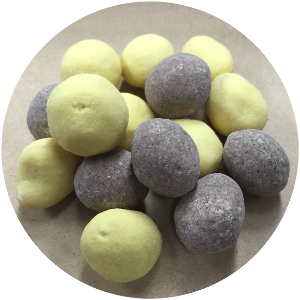 Peanut
A Grain Legume Columnist
Peanut. Peanut oil. Peanut butter. Eat peanuts, draw peanuts, write peanuts, code peanuts and play with a white dog. Live on the ground, look into the sky, and hope to bring joy to everyone.
Cardfight!! Vanguard in 2015 – Part 2
As promised, today, we will be continuing our trip down memory lane! Do join us as we cover our adventures in the last 6 months of 2015.
>> Check out Column 2015.12.25 for Cardfight!! Vanguard adventures in the first 6 months.
JULY 2015
In July, Cardfight!! Online was announced at Anime Expo 2015 and Japan Expo 2015. All that ensuing excitement after the announcements was truly a sight to behold!
In the following months, Cardfight!! Online was swiftly placed on Steam Greenlight and was greenlit within a week thanks to everyone's enthusiastic support.
Cardfight!! Online is currently slated for an early 2016 release. Meanwhile, in order to satiate the curiosity of our fans, Bushiroad hosted three Twitter Q&A sessions whereby many more elements of the game was revealed. For fans who missed out on the sessions, do check out our Cardfight!! Online website for the full Twitter round-up.
In addition, you can now catch a glimpse of the highly anticipated game in our latest Cardfight!! Vanguard G GIRS Crisis episode! Thank you for all your support throughout our endeavor and we hope to present to you a whole new world of Cardfight!! Vanguard soon!
AUGUST 2015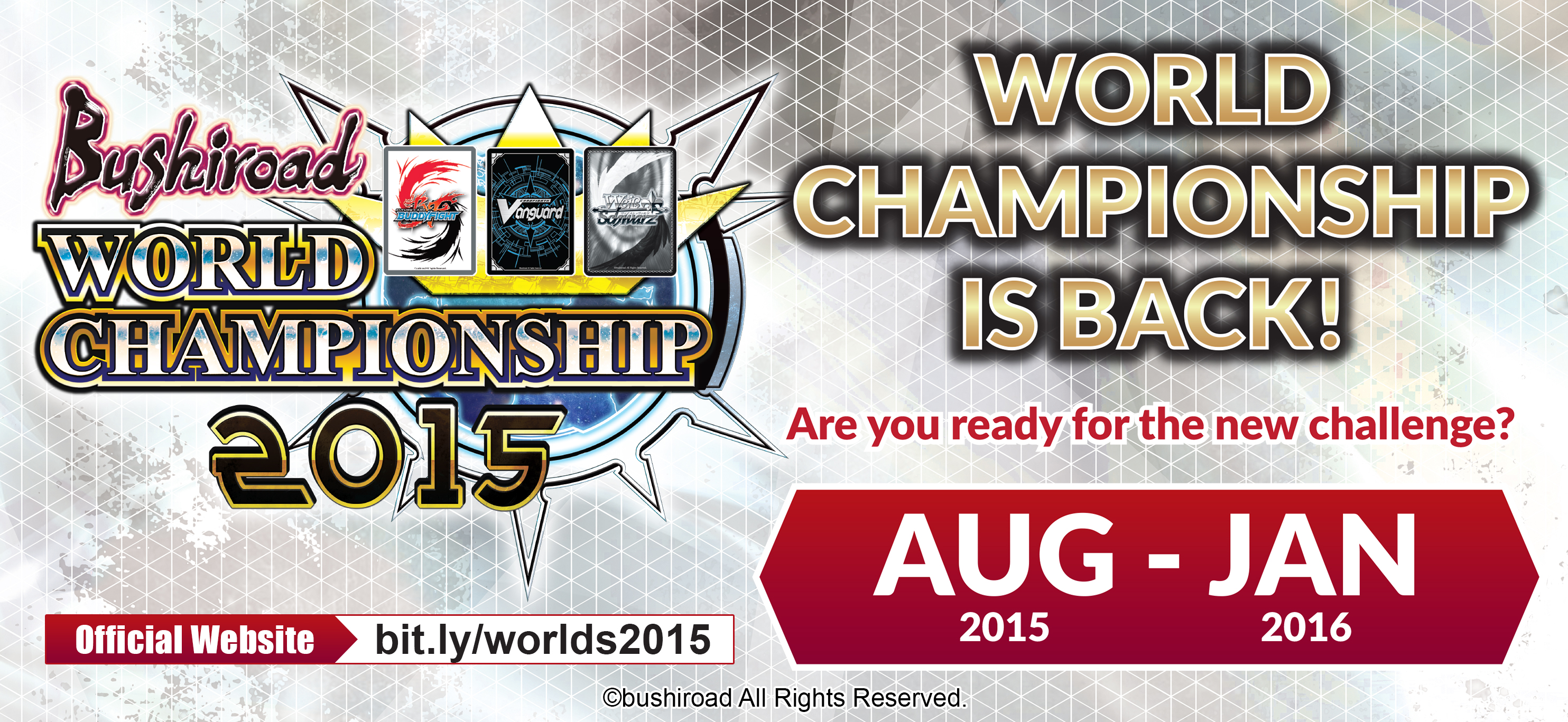 August marked the start of the Bushiroad World Championship (BWC) 2015. This year, the BWC 2015 was held at 24 different locations. It was also the first time the BWC 2015 has ventured to locations such as Costa Rica, Spain and Italy.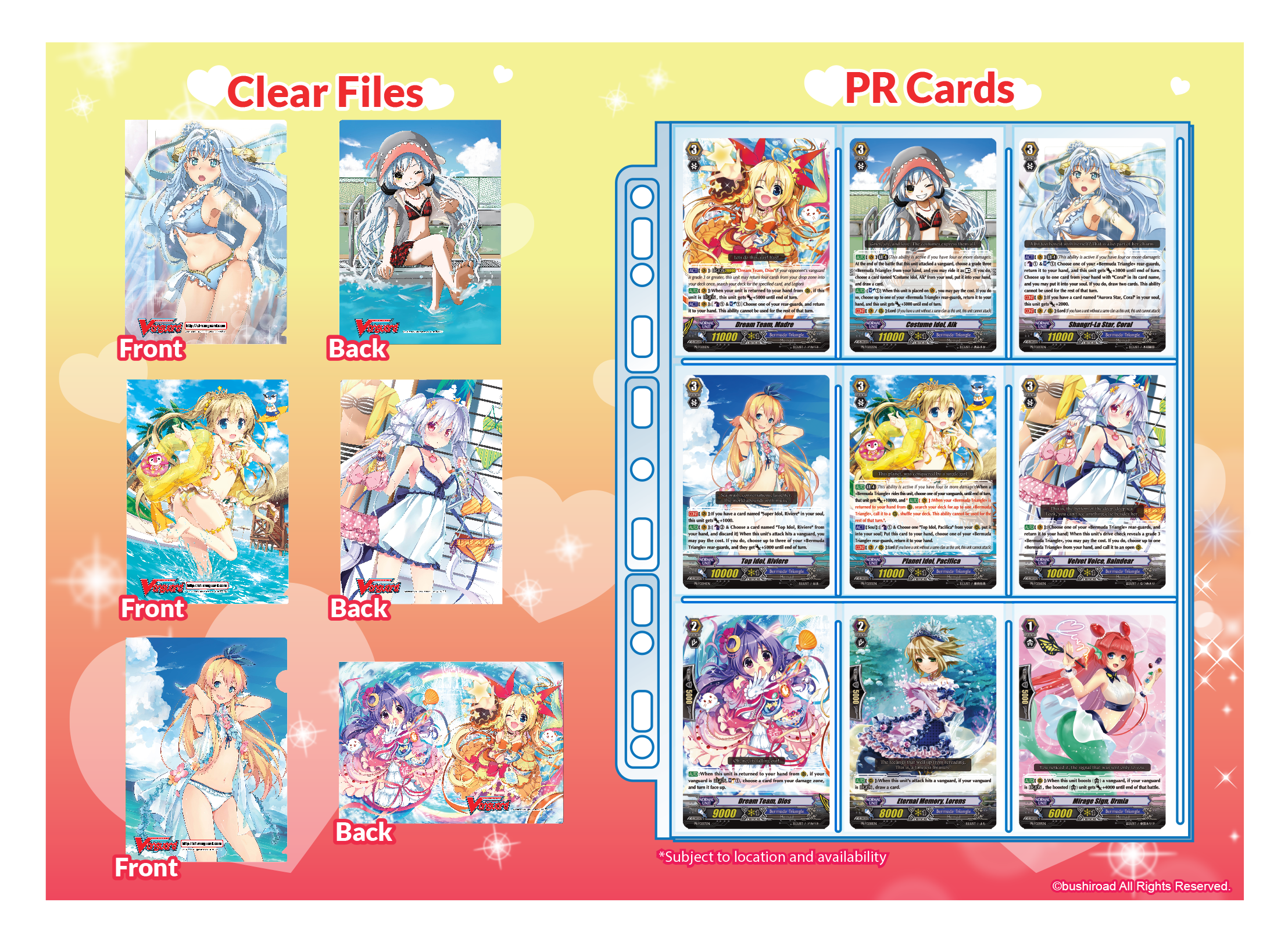 Let's not forget that there were many things that were exclusive to the BWC 2015! The Mermaid Idol Summer Set made waves when it was first released at the BWC 2015 regional qualifiers. Containing 3 clear files and 9 PR cards from the highly popular clan <Bermuda Triangle>, the Mermaid Idol Summer Set was a hit amongst players with everyone catching a little summer fever.
The BWC 2015 was also the first time that an event collection for the Bushiroad Online Shop was organized! Players could now purchase their desired items on the Bushiroad Online Shop and collect them at selected BWC 2015 regional qualifiers. This event collection was such a success that a similar one is in the works, so stay tuned to updates regarding the Bushiroad Online Shop!
With all the regional qualifiers and continental finals concluding successfully, we can now look forward to the BWC 2015 World Finals taking place in Tokyo on January 9, 2016. Aren't you curious to find out who will make it to the pinnacle of the BWC 2015?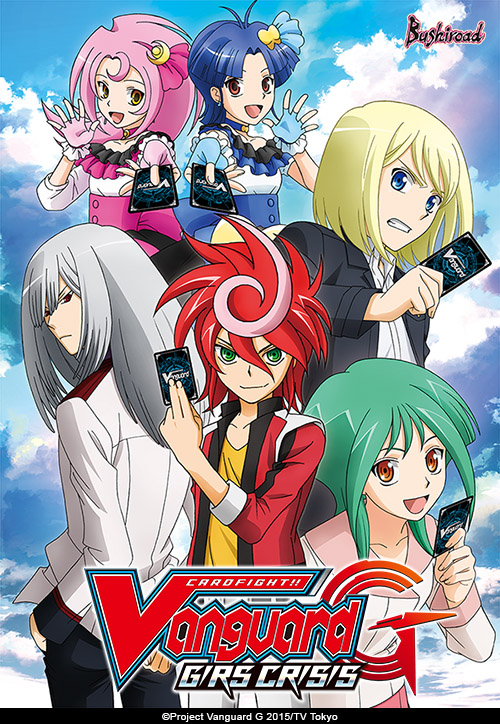 SEPTEMBER 2015
A brand new season of the series Cardfight!! Vanguard G was announced in September. Titled Cardfight!! Vanguard G GIRS Crisis, the new story arc occurs when the Federation of International Vanguard Associations (FIVA) issues a new "Generation Quest", or "G Quest". Fighters who complete this "G Quest" will stand a chance to become a Clan Leader, which is the new aim of series protagonist, Chrono Shindou, and his team TRY3.
Fans of the long running animation were pleasantly surprised to see characters from the previous seasons of Cardfight!! Vanguard, such as Leon Soryu, Naoki Ishida, Miwa Taishi, Ren Suzugamori and Toshiki Kai making appearances during the "G Quest". In addition, two new characters Luna Yumizuki and Am Chouno joined the cast this season and now have their own following as well.
The animation premiered in October and the Japanese dubbed episodes enjoyed a same day release of the broadcasted episodes on the official YouTube channel. The English dubbed episodes for Cardfight!! Vanguard G GIRS Crisis was made available soon thereafter, commencing in early December.
OCTOBER 2015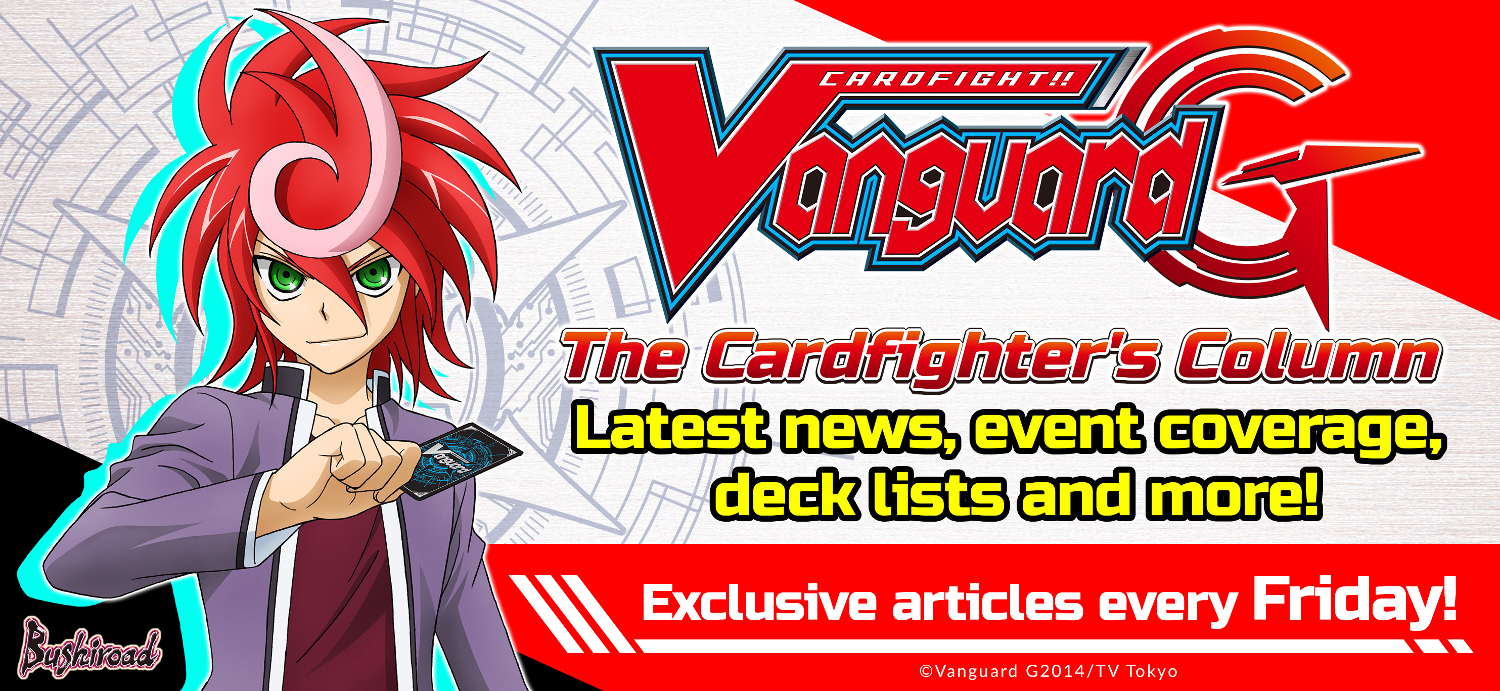 What could have been more exciting than the birth of our Cardfighter's Column!
Over the past few months, it was extremely fun to be able to share with you guys the latest updates, game details and interesting angles some of us had on Cardfight!! Vanguard. We dearly hope that it had been as satisfying for you, as it had been for us. In the coming year, we will strive to bring better content to our fans! If you have any ideas that you wish for us to touch upon in our future column articles, please feel free to contact us!
NOVEMBER 2015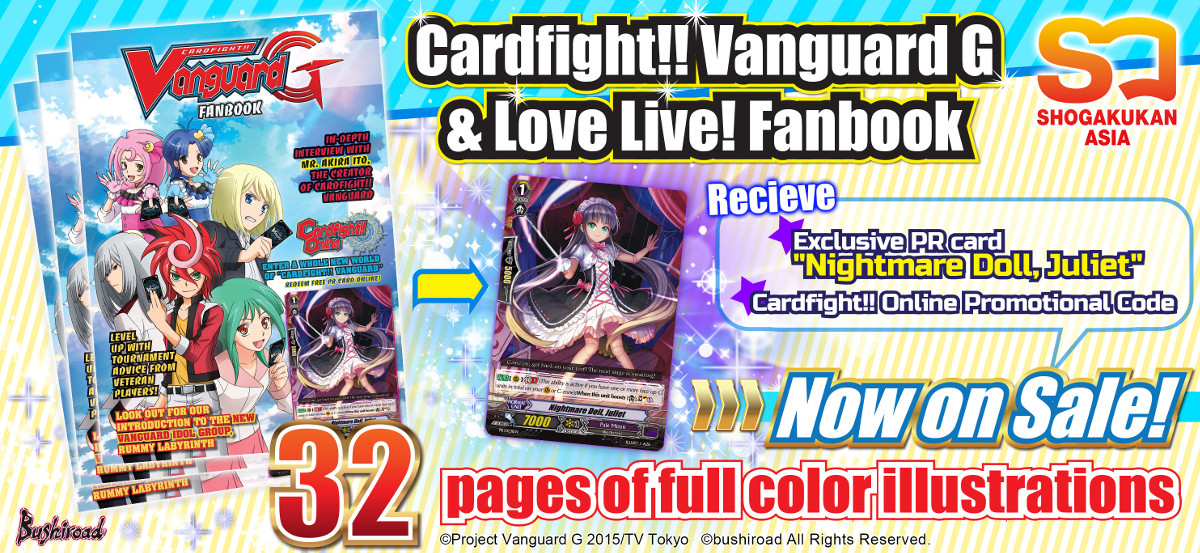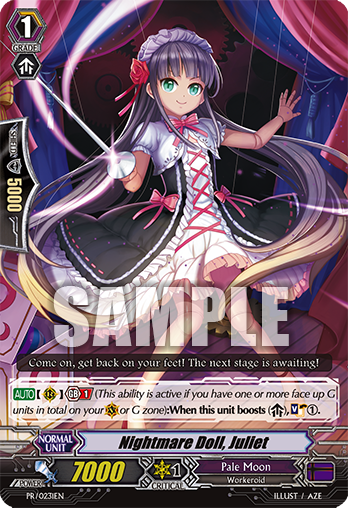 PR/0231EN Nightmare Doll, Juliet
We were happy to release the Cardfight!! Vanguard G & Love Live! Fanbook in November! It is the second fanbook to date but nevertheless, still one that we have poured in a lot of hard work into.
In this issue, we will get to know a little more about the characters currently appearing in the animation Cardfight!! Vanguard G GIRS Crisis. The in-depth interviews with the minds behind your favorite card game as well as a glimpse of the highly anticipated Cardfight!! Online is also a highlight of this fanbook! In addition, the fanbook comes enclosed with exciting perks such as a free PR card, "Nightmare Doll, Juliet" from the Pale moon clan and a free pack to be redeemed within Cardfight!! Online using the unique code enclosed!
The Cardfight!! Vanguard G & Love Live! Fanbook was initially unveiled at Anime Festival Asia (AFA) Singapore 2015 and will be made available internationally soon!
DECEMBER 2015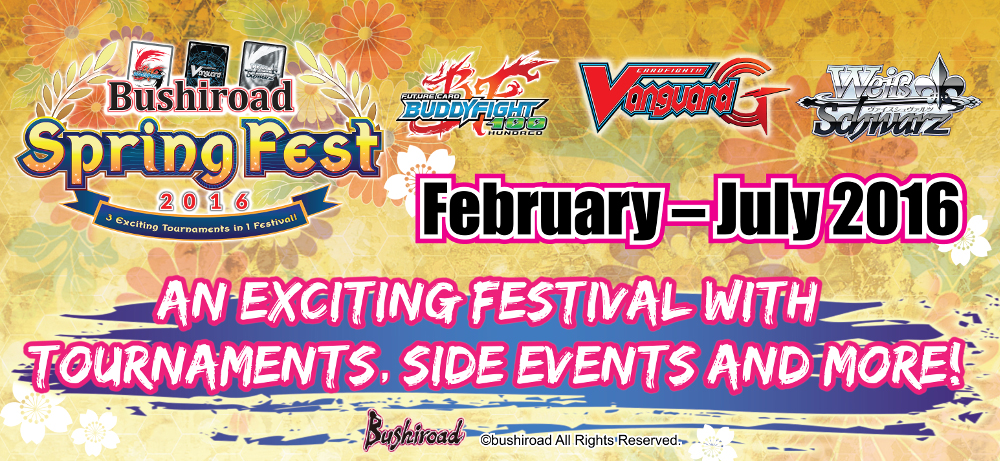 In December, we announced our plans for the Bushiroad Spring Fest (BSF) 2016! Up from 15 locations this year, BSF 2016 will be expanding to a total of 23 regional qualifiers across 3 different continents! In addition, BSF 2016 will be holding 3 Continental Finals this time.
The PR Coupon Campaign will kick start the festival in February 2016. Players who take part in the February and March shop tournaments will be able to receive a coupon that can be used to redeem exclusive PR cards at BSF 2016 events!
Don't miss the exciting participation prizes waiting to be given out! This time, we have prepared hot-stamped PR cards deck cases and Top 8 pins!
That's it for our year in review! With so much to look forward to in 2016, I'm sure we are not too forlorn about leaving 2015 behind.
This has been an exhilarating ride and a big thank you to each and every one of you who rode along with us. Let's go on more adventures together in 2016! Stand up, Vanguard!
Before we close this week's column, let's check out this week's card reveal!
G-TCB01/070EN Moodmaker Nyanrook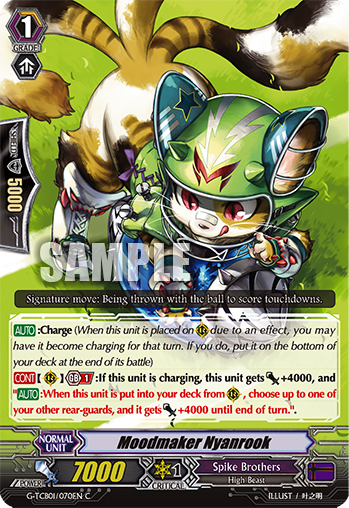 Click to enlarge
Signature move: Being thrown with the ball to score touchdowns.
:Charge (When this unit is placed on

due to an effect, you may have it become charging for that turn. If you do, put it on the bottom of your deck at the end of its battle)
【

】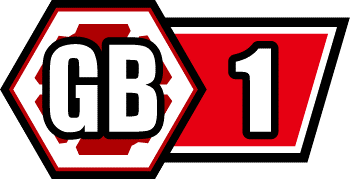 : If this unit is charging, this unit gets

+4000, and
":When this unit is put into your deck from

, choose up to one of your other rear-guards, and it gets

+4000 until end of turn.".
G Technical Booster: The RECKLESS RAMPAGE
Release Date: February 19, 2016
That's the end for today, and we wish everyone a happy new year!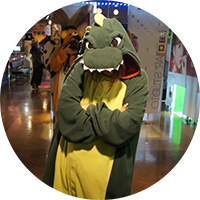 lactariusindigo
Pre-Historic Columnist
Always with her head in the clouds, lactariusindigo is the builder of sandcastles in the air. Easily excitable, she likes to live life both passionately and fiercely. In addition, her love for all things watermelon and dinosaur knows no bounds.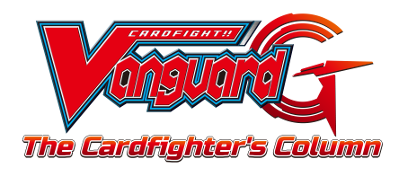 The Cardfighter's Column publishes every Friday, featuring Cardfight!! Vanguard news, card insights, event updates and more!
Do you have any suggestions? What would you like to see in future column articles? Drop us a line on Facebook or through email at sg_support@bushiroad.com!