BWC2015 Continental Championships!
– Winners' Interview: Part 2
Asia-Oceania
Aqua Force
David Adiparatama
BWC2015 Asia-Oceania Continental Championship
Champion
Royal Paladin
Rafli Attar Ricco
BWC2015 Asia-Oceania Continental Championship
2nd Place
Last weekend, we concluded the Bushiroad World Championship 2015 (BWC2015) Asia-Oceania Continental Championship. This marks the end of all Continental Championships for BWC 2015. The Top 2 winners from the Asia-Oceania Continental Championship will be invited to Japan for the World Finals, joining 8 other players from North/Latin America and Europe!
We had the privilege to interview David Adipratama, champion of the BWC 2015 Asia-Oceania Continental Championship. David previously placed 3rd at the BWC 2015 Australia Regional Qualifier. This time, after 4 intensive Swiss rounds, Best of 3, he successfully entered the Top 4, and was eventually crowned champion! Congratulations to David!
David Adipratama
Champion
BWC2015 Asia-Oceania Continental Championship | Deck Recipe
3rd Place
BWC2015 Australia Regional Qualifier | Deck Recipe
First of all, congratulations! How does it feel to be crowned champion at this level, beating other regional champions?
It feels good! For Cardfight!! Vanguard, I usually get to the last stages of the tournament but generally only win the 2nd or 3rd place. This is my first time getting first place so it feels really great.
Are you excited to go to Japan? Will it be your first time to Japan? Besides the finals, what do you wish to do there?
I'm very excited. I have never been to Japan before so it will be my first time. I have made plans to go but due to some last minute issues the plan never go through. I hope this time finally the trip will really happen.
Beside the finals, I probably want to go shopping in Akihabara. I usually get my friends to do it for me, but I have always wanted to do it myself.
Is this your first time participating in Bushiroad World Championship? How did you perform in the previous years?
I have been participating since 2013, but my performance was not great then. I used to play Japanese format, but since last year I changed to English deck. I got 5-2 in regionals last year, so I didn't make it to Top 4. So I am very happy with my result this year.
Can we know your strategy in winning the games?
I am playing Aqua Force deck. Usually people relate Aqua Force with multiple-hitting rear guards, but my strategy is more focused on drawing power. So I draw a lot, and if I have a lot of cards in my hand I can have a good build and I will try to one-shot my opponents. So basically my strategy is big hand, big build, and big power as well. It works well against heavy-retire deck or control deck, in my opinion.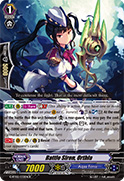 Battle Siren, Orthia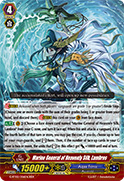 Marine General of Heavenly Silk, Lambros
Do you have a favorite card? Why?
Probably the card that has carried me the most to Victory is Lambros from Aqua Force. It's just so good. The other ones possibly cards with Draw Trigger. I hope to draw cards with soul charge ability to give my unit +3000 power. Usually my damage check will be that one. The last one will be Battle Siren, Orthia. It's cute, and it's a good card with Resist skill.
Anything else you wish to say about the event?
I think it's a well-managed event. I will be more than happy to participate in the next one, probably the team league in Bushiroad Spring Fest. This year my team managed to get Top 4, but there were no Continental Championships for my region then. If we are getting one next year, I hope to aim for that!
Yes, it's about the time to talk about next year's Bushiroad Spring Fest! However, before moving on to the next topic, there is more news on Bushiroad World Championship 2015.
We are going to have a live stream for the final match of Bushiroad World Championship 2015 Cardfight!! Vanguard World Finals on our Official Cardfight!! Vanguard YouTube Channel!* We are currently still preparing for it so more details will be revealed at a later date!
* Information is subject to change.
Bushiroad Spring Fest 2016
– Participation Prizes, Locations and Dates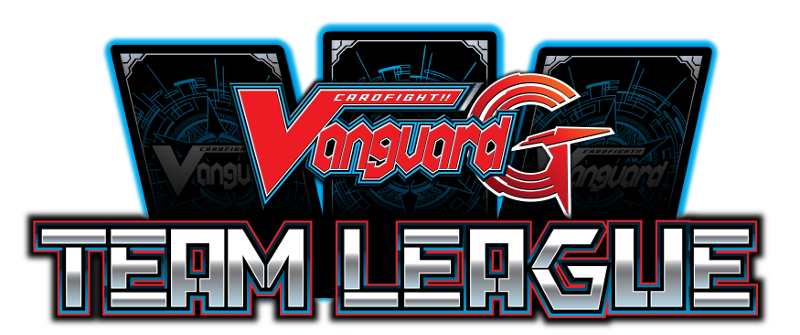 Cardfight!! Vanguard Team League Logo
Previously in our November 20th column, we brought up our plans for the Bushiroad Spring Fest (BSF) 2016. Let's review first before we go more in depth regarding BSF 2016.
Firstly, we have a new logo for the Cardfight!! Vanguard Team League!
Secondly, we brought back the Continental Championships for BSF2016!
Thirdly, the PR coupon campaign for 2016 will cover all 3 games: Cardfight!! Vanguard, Weiss Schwarz and Future Card Buddyfight!
Next we will move on to what most people are probably looking forward to: where and when BSF 2016 will be held, and what promotional goods are available. Shall we take a look at the promotional goods first?
BSF2016 Promotional Goods
* All promotional goods are subjected to stock availability. While stocks last.
BSF2016 Cardfight!! Vanguard Top 8 Pin
Are you excited? This time, we are also introducing new prizes for the Top 8 players in the Regional Qualifiers! Players who advance to the Top 8 will receive a special "Top 8 Pin"!
Lastly, let's have a look at the Regional Qualifier locations for BSF 2016!
BSF2016 Regional Qualifier Locations
* Information listed below is subjected to change.
"Team League" refers to Cardfight!! Vanguard Team League tournaments.
"Neo-Showdown" refers to Weiss Schwarz Neo-Showdown tournaments.
"Buddy Challenge" refers to Future Card Buddyfight Buddy Challenge tournaments.
Asia-Oceania (6 locations)
Indonesia
Jakarta
Pluit Village Mall
Mar 26-27
Team League & Buddy Challenge only
Philippines
Manila
SM Aura Premier
Apr 16-17
Australia
Sydney
Bankstown Sports
Apr 23-24
New Zealand
Auckland
Akiba Con 2016
Apr 24
Neo-Showdown only
Malaysia
Selangor
AEON Shah Alam
May 28-29
Team League & Buddy Challenge only

Singapore

Singapore

Singapore EXPO
Jul 9
Team League & Buddy Challenge only
Europe (8 locations)
Greece
Athens
Kaissa Café
Apr 16-17
Team League & Buddy Challenge only
Belgium
Brussels
Outpost Brussels
Apr 23
Team League only
Germany
Munich
Mathildensaal, Evangelischer Handwerkerverein
May 21-22
Italy
Rome
Angeli e Draghi
May 22
Neo-Showdown only
Spain
Madrid
Akiba Store
Jun 11
Team League only
United Kingdom
Cardiff
Firestorm Games
Jun 18-19
United Kingdom
Huddersfield
IQ Games Center
Jun 18-19

France

T.B.C.

North America / Latin America (9 locations)
USA/Georgia
Atlanta
Omni Atlanta Hotel at CNN Center
Feb 27-28
Canada
Vancouver
Executive Airport Plaza Hotel & Conference Centre
Mar 19-20
USA/Illinois
Chicago
Chicago Marriott Oak Brook Hotel and Marriott Suites
Mar 26-27
Mexico
Mexico City
Expo Reforma
Apr 9-10
Canada
Toronto
Sheraton Toronto Airport Hotel and Conference Centre
Apr 23-24
USA/California
Anaheim
Anaheim Convention Center
May 7-8
USA/New York
White Plains
Westchester County Center
May 28-29
USA/Texas
Austin
Hyatt Regency Austin
Jun 11-12
USA/Ohio
Columbus
Origins Game Fair
Jun 18-19
Check out the official web page for more information on Bushiroad Spring Fest 2016 and stay tuned to our official channels for updates!
Peanut
A Grain Legume Columnist
Peanut. Peanut oil. Peanut butter. Eat peanuts, draw peanuts, write peanuts, code peanuts and play with a white dog. Live on the ground, look into the sky, and hope to bring joy to everyone.
The Cardfighter's Column publishes every Friday, featuring Cardfight!! Vanguard news, card insights, event updates and more!
Do you have any suggestions? What would you like to see in future column articles? Drop us a line on Facebook or through email at sg_support@bushiroad.com!