New Episode This Weekend!
Watch the latest episodes on official Cardfight!! Vanguard G YouTube Channel!
The New Fanbook!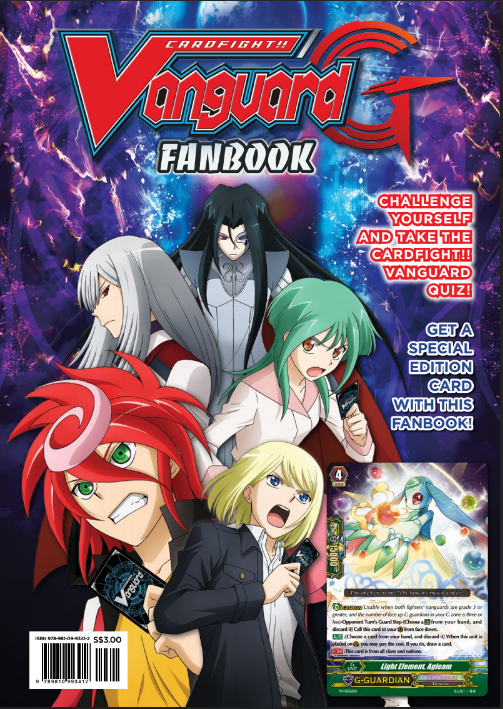 Cover for the new Cardfight!! Vanguard G Fanbook
Hello Guys!
Great news to start your Friday off with a bang! There's another Cardfight!! Vanguard Fanbook in the works!
Last year, we received an overwhelming response when we released our first two Cardfight!! Vanguard Fanbooks. We've mentioned it briefly in the last 2 columns and today, we are officially announcing our new Fanbook!
Along with Cardfight!! Vanguard, Bushiroad's new TCG, Luck & Logic, will also feature in the fanbook. Prepare to be wowed by the 32 pages of full color illustrations containing your favorite trading card games: Cardfight!! Vanguard and Luck & Logic!
An exclusive Cardfight!! Vanguard PR card will also be included along with the new Fanbook! With the introduction of G guardian, this <<Cray Elemental>> G guardian will definitely be a useful card that many of you are looking for! In addition to the PR card, there will also be a serial code coupon for Cardfight!! Online!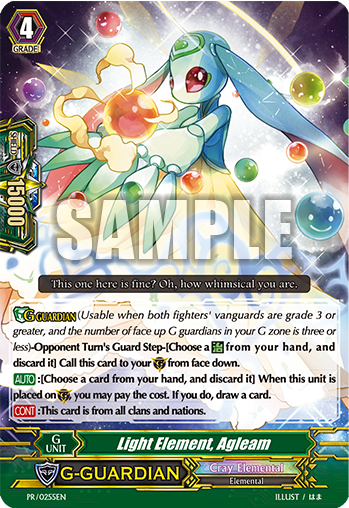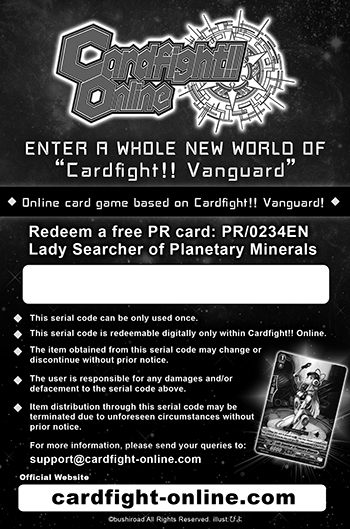 Our new fanbook will debut at C3 CharaExpo 2016 in Singapore on July 9 & 10, and will be made available worldwide thereafter.
G Fighters Collection 2016, G Guardians and 16 G Units
Meanwhile, G Fighters Collection 2016 will release next Friday, May 20, 2016. This will be the first time you can get your hands on the English edition G guardian cards. You will be able to use G guardians in official tournaments from May 20 onwards! In addition, you may include up to 16 G units in your G zone (including G guardians) starting from the same date!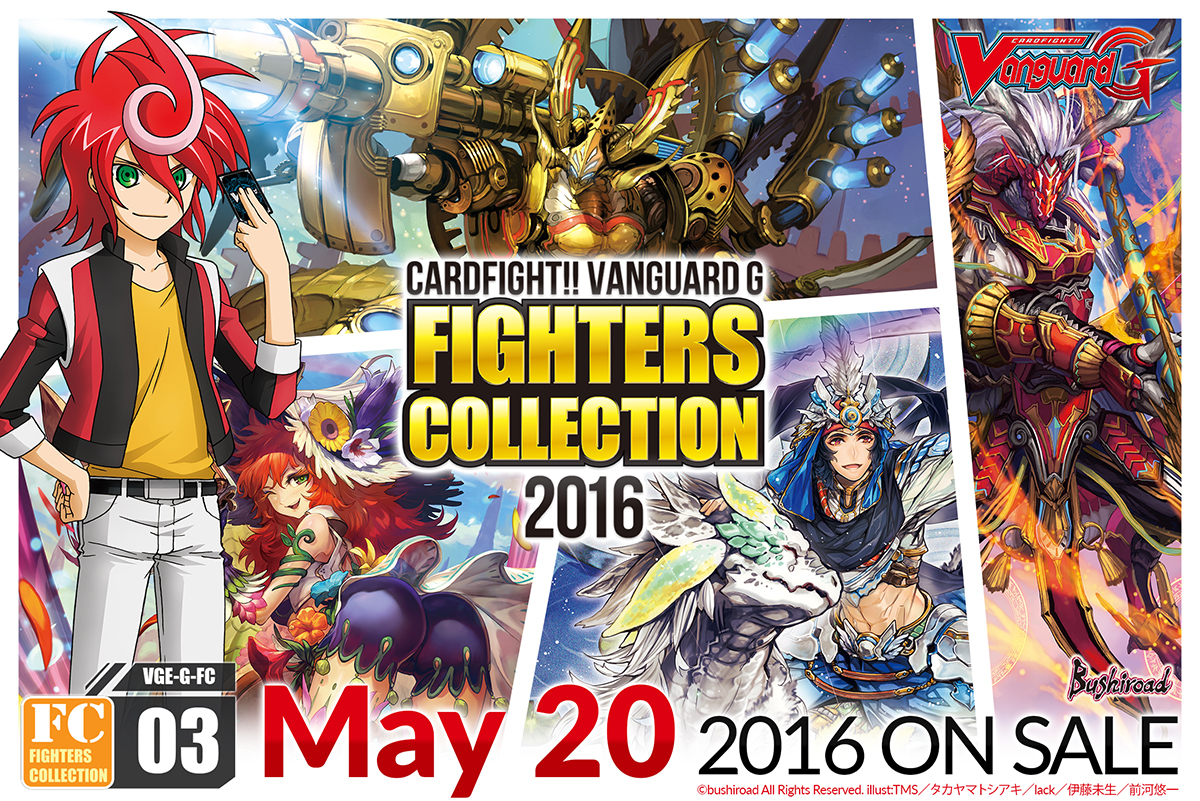 The new ruling will affect the Bushiroad Spring Fest Regional Qualifiers after May 20. The BSF2016 Germany Qualifier will be the first location that applies the new ruling.
Here's a list of BSF2016 Cardfight!! Vanguard Team Leagues with the new rulings applied:
Bushiroad Spring Fest 2016 North America / Latin America Locations
May 28
USA/New York
Jun 11
USA/Texas
Jun 18
USA/Ohio
Jun 25
Colombia (Special)
Bushiroad Spring Fest 2016 Europe Locations
May 21
Germany
Jun 18
United Kingdom (Cardiff & Huddersfield)
Bushiroad Spring Fest 2016 Asia-Oceania Locations
May 28
Malaysia
Jul 9
Singapore
Bushiroad World Championship 2016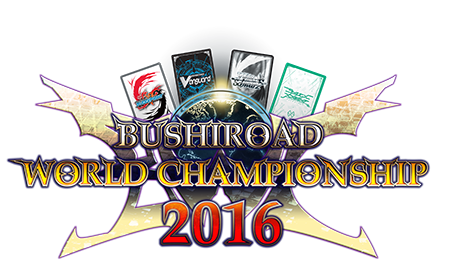 Bushiroad World Championship 2016 logo
As we inch closer to the climax of the BSF2016, let's also take a look at the upcoming Bushiroad World Championship 2016!
Similar to previous years, Bushiroad World Championship 2016 will consist of 3 parts: Regional Qualifiers, Continental Championships, and World Finals. The Regional Qualifiers will run from August 2016 till November 2016, with qualifiers across Europe, Asia-Oceania, North America and Latin America!
We will be sharing more details about the Bushiroad World Championship in June so keep your eyes peeled. One more great thing to note is that we will be holding a 2016 CARDFIGHT!! VANGUARD UK STORE CHAMPIONSHIP CIRCUIT event in the United Kingdom!
If you are residing in the United Kingdom, you may take part in the special tournaments at the participating stores from May till July! The champion from each store's Championship Circuit tournament will be able to join the Bushiroad World Championship United Kingdom Qualifier at the Strategy Gaming Convention in Telford, with 2 automatic byes for the first 2 elimination rounds!
Curently, we have 44 participating stores across the United Kingdom! The first few tournaments start next Saturday, May 21, so do check out the list here and mark the dates on your calendar!
Last but not least, for players from the rest of the world, this is what you are looking for. We have received a number of requests from you, especially after the announcement of 16 units, that you wish to have a larger deck holder to store your favorite deck, which now contains more cards. In the World Championship 2016, we will be giving out vertical deck holders to tournament participants for the first time!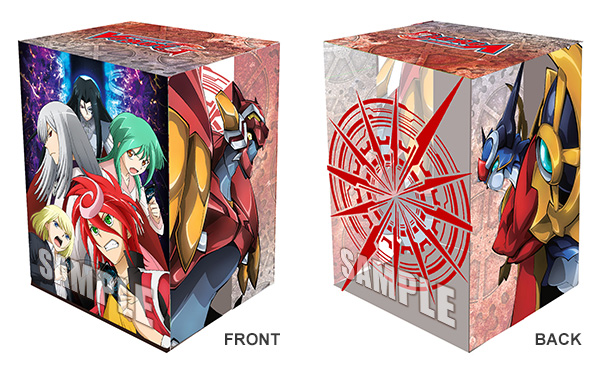 The foldable deck case will be more rigid as well, with a dimension of 7cm x 6cm x 9.8cm (2.8in x 2.4in x 3.9in).
We will gradually reveal more information on the Bushiroad World Championship in future. Do stay tuned to our official channels for updates!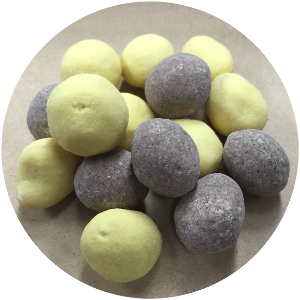 Peanut
A Grain Legume Columnist
Peanut. Peanut oil. Peanut butter. Eat peanuts, draw peanuts, write peanuts, code peanuts and play with a white dog. Live on the ground, look into the sky, and hope to bring joy to everyone.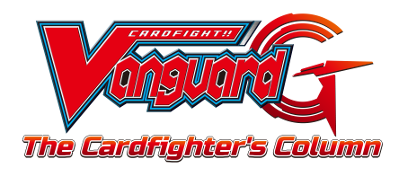 The Cardfighter's Column publishes every Friday, featuring Cardfight!! Vanguard news, card insights, event updates and more!
Do you have any suggestions? What would you like to see in future column articles? Drop us a line on Facebook or through email at sg_support@bushiroad.com!