[VGE-V-BT12] Divine Lightning Radiance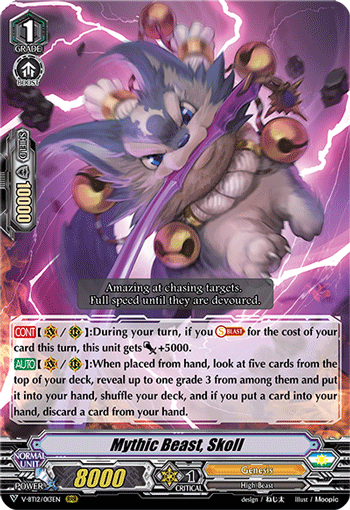 ---
Normal Unit
Genesis
High Beast
United Sanctuary
Grade 1
Power 8000
Critical 1
Shield 10000
Boost
-
[CONT](VC/RC):During your turn, if you [Soul-Blast] for the cost of your card this turn, this unit gets [Power] +5000.
[AUTO](VC/RC):When placed from hand, look at five cards from the top of your deck, reveal up to one grade 3 from among them and put it into your hand, shuffle your deck, and if you put a card into your hand, discard a card from your hand.
Amazing at chasing targets. Full speed until they are devoured.
V-Premium
V-BT12/013EN
RRR
design:ねじ太 illlust:Moopic
Found in the following Products