BOOSTER PACK
【VGE-V-BT12】
English Edition Cardfight!! Vanguard Booster Pack Vol. 12: Divine Lightning Radiance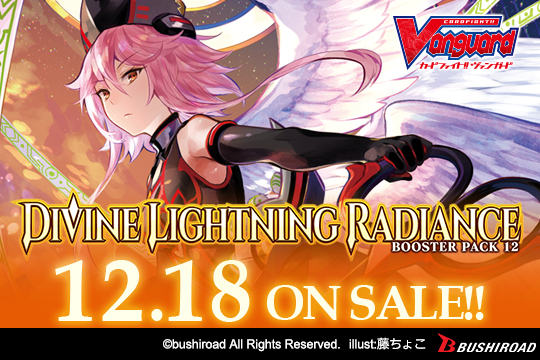 Release Date
December 18th, 2020
Featured Clans
Angel Feather, Gold Paladin, Genesis, Narukami
Card Types
89 types of cards (81 new cards / 8 reissue cards)
(VR: 5 / RRR: 11 / RR: 13 / R: 17 / C: 43)
+ Various Parallels (SP: 41 + ASR: 2 + Re: 1) + 1 type of marker
2 cards in every pack will definitely be R or above cards!!
※6 types of critical triggers, 2 types of front triggers, and 1 type of marker for reissue
Others
1 pack contains 7 random cards
1 display contains 16 packs
・Featuring the 5 VRs (Vanguard Rares), namely "Black Shiver, Gavrail", "Sunrise Ray Knight, Gurguit", "Mythic Beast, Fenrir", "Holy Heavenly Dragon, Eosanesis Dragon", and "Dragonic Vanquisher"FULLBRONTO""!

・Popular units from the past, like "Holy Seraph, Nociel" and "Eradicator, Dragonic Descendant", make a return!

・New strategies for each clan!
 The super-aggressive Angel Feather gets more ways to make use of the damage zone!
 Shinemon's deck gets an all new Astral Poet that completely changes the playstyle!
 Don't miss the new strategies of Gurguit and the evolved form of Vanquisher too!

・The Special Reissue rarity from "Phantom Dragon Aeon" and "Storm of the Blue Cavalry" will be included, and "Mighty Bolt Dragoon" is confirmed too!

・The special treatment rarity, known as "ASR - Another Secret Rare", continues in this product too! "Eradicator, Dragonic Descendant" and "Giant Deity of Distant World, Valkerion" will be randomly included; do keep a lookout for them!

※Each display box of VGE-V-BT12 will come with a bonus clan dice! (While stocks last!)
Commercial

Introducing the sneak preview for Cardfight!! Vanguard Booster Pack Vol. 12: Divine Lightning Radiance! Be the first to get your hands on the upcoming VGE-V-BT12 cards a week before the actual release!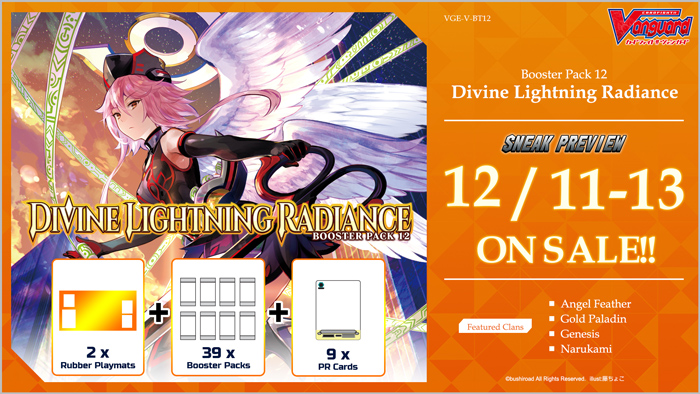 Participate and stand a chance to obtain exclusive sneak preview event goodies such as promotional cards and rubber playmats!
Check out for stores near you that are organizing the Sneak Preview Booster Draft Tournament on any one day between December 11 and 13!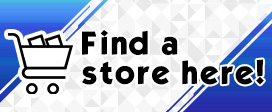 Disclaimer:
* Not all stores will be running the sneak preview tournament. Do check with your local stores for updates.
* The event will only be held on one of the dates stated. If you discover any stores running the sneak preview tournament more than once or not on the stipulated date, do let us know at sg_support@bushiroad.com.
Note:
* Due to Covid-19, we strongly advise players to contact your local game store to confirm product availability and how the Sneak Preview will be held, as it may vary by store. At the same time, we would also like to highlight the importance of prioritizing personal safety and the safety of those around you above all else.
* Sneak Preview kits for this product can be sold without the event being held at shops!