The Noble Princess in Perpetual Full Bloom

A Neo Nectar deck that fights for continuous attacks with a grade 3 rear guard. Align rear-guards of the same name in the front row, then increase their power and attack continuously!
Check out these featured cards!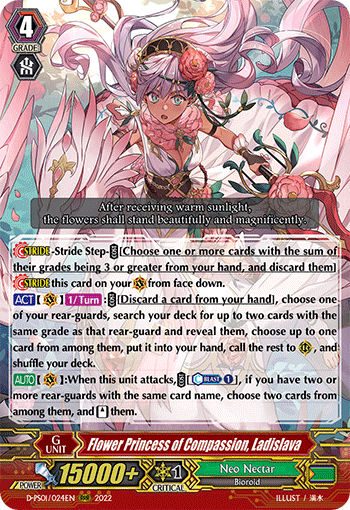 Flower Princess of Compassion, Ladislava
Featuring a new G unit trump card for this deck! Discard one card from hand, search your deck for up to two cards with the same grade as your rear-guard, choose one from among them, add it to your hand, and call the rest! When this unit attacks, restand two of your rear-guards with the same card name! Let's fight with units like "Cornflower Flower Maiden, Ines" and "Arboros Dragon, Sephirot" in the front row, as it is easy to increase their power levels! The cards you add from your deck to your hand can be either a unit or an Order card as long as they match the grade, so be sure to utilize this flexibility!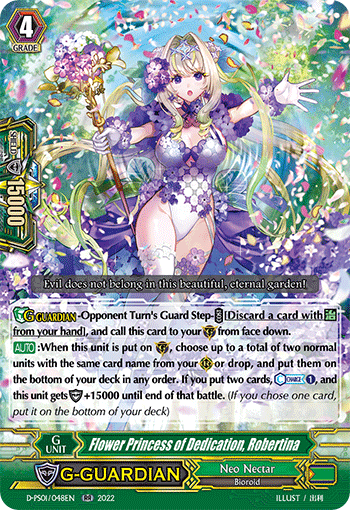 Flower Princess of Dedication, Robertina
Let's take a look at the new G Guardian of the Neo Nectar clan! When put on the Guardian Circle, choose up to two normal units with the same card name from your rear-guard circle or drop, and place them under your deck! If you put two cards, it gets +15000 Shield and a Counter-Charge! Return retired grade 3 and other units to the deck and aim to call them again on the next turn! If you meet the conditions, you can return the critical trigger "Marigold Musketeer, Rachele" (which is treated as a normal unit) to the deck!