Kasen Kanesada
A Kasen Kanesada deck attacks and deals damage with a super powerful vanguard. This deck will greatly power up your vanguard for battle by resting allies! Your allies may not be able to attack, but your vanguard can execute a super powerful attack instead! This deck is recommended for those who like power type tactics!
Check out these featured cards!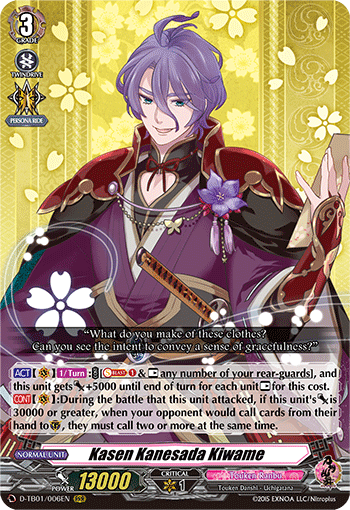 Kasen Kanesada Kiwame
This grade 3 unit is the trump card of this deck! You can increase this unit's Power by 5000 for every ally you rested, and if its Power is 30000 or greater, it gains the ability to prevent your opponent from guarding with only one card! Take down your opponent with a single blow with a powerful attack that is difficult to overcome!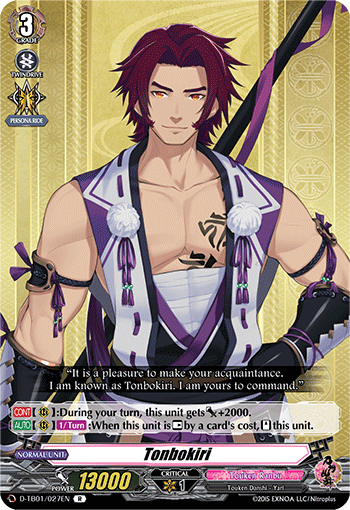 Tonbokiri
This unit has abilities that go well with "Kasen Kanesada Kiwame"! Since this unit has the ability to restand when rested for a card's cost, even when it is rested by the ability of "Kasen Kanesada Kiwame", it can restand and battle! Let's attack together with the powered-up "Kasen Kanesada Kiwame"!
Kasen Kanesada Shinken Hissatsu
An Over Trigger that gives you the chance to turn the battle to your favor! When in a pinch, play it from your hand to get even more out of it! Available as a box topper of Title Booster 01 "Touken Ranbu -ONLINE-.