BOOSTER PACK
【VGE-D-LBT04】
Cardfight!! Vanguard Lyrical Booster 04: Lyrical Monasterio ~Trick or Trick!~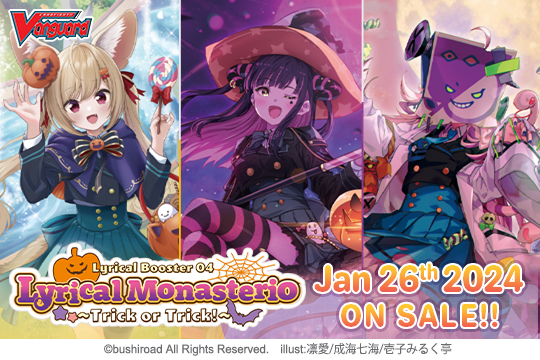 Release Date
January 26th, 2024
Featured Nations
Lyrical Monasterio
Card Types
94 types of cards
(RRR: 16 types / ORR: 1 type / RR: 19 types / R: 21 types / C: 37 types)
Others
1 pack contains 7 random cards
1 display contains 16 packs
Each pack is guaranteed to include 2 foiled cards!
Introducing the new set for "Lyrical Monasterio"!
New under the spotlight are "Tr!ple×Tr!ck, Fenelle", "LèVre♡SœurS, Charmout" and "Gorgon Eyes, Siana"!
Build decks for these 3 new ride lines that will take the stage in this volume!