[VGE-D-LBT01] Lyrical Booster Pack 01: Lyrical Melody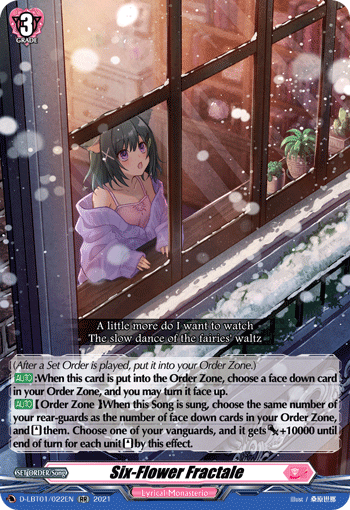 ---
Set Order
Lyrical Monasterio
Grade 3
Power
Critical
Shield
(After a Set Order is played, put it into your Order Zone.)
[AUTO]:When this card is put into the Order Zone, choose a face down card in your Order Zone, and you may turn it face up.
[AUTO]Order Zone:When this Song is sung, choose the same number of your rear-guards as the number of face down cards in your Order Zone, and [Stand] them. Choose one of your vanguards, and it gets [Power] +10000 until end of turn for each unit [Stand] by this effect.
A little more do I want to watch The slow dance of the fairies' waltz
Standard
D-LBT01/022EN
RR
桑原世那
Found in the following Products
[Six-Flower Fractale] is used in the follow Deck Recipes