BOOSTER PACK
【VGE-D-VS01】
CARDFIGHT!! VANGUARD overDress V Special Series 01: V Clan Collection Vol.1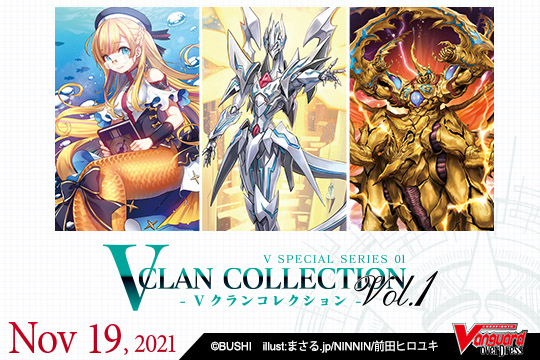 Release Date
November 19th, 2021
Featured Clans
Royal Paladin, Oracle Think Tank, Genesis, Kagero, Murakumo, Narukami, Dimension Police, Spike Brothers, Pale Moon, Bermuda Triangle, Aqua Force, Megacolony
Card Types
84 types of cards (50 new cards / 34 reissue cards)
(RRR: 84) + Parallels: 16 types (VSR: 4 + SP: 12)
※VSR = Vanguard Secret Rare
Others
1 pack contains 7 random cards
1 display contains 12 packs
Commercial
Introducing a new product for the V Premium format!
All 24 clans receive a power up with the same-day release of V Clan Collection Vol.2!
※The cards featured in this release can be used for the "Premium" format,
and cannot be used for the "Standard" format.
Popular units return!
Genesis – Goddess of Good Luck, Fortuna
Narukami – Eradicator, Vowing Sword Dragon
Megacolony – Evil Armor General, Giraffa
and many more!
New grade 3 units featured! New decks, new possibilities!
Murakumo – Stealth Fiend Chief, Nura Hyouga
Do keep a lookout for more reveals!
New Heal Triggers!
Oracle Think Tank – Goddess of Water Dragon, Toyotamahime
Kagero – Dragon Dancer, Nastasha
Dimension Police – Ultimate Salvation Combination, Aidambulion
Pale Moon – Nightmare Doll, Lindy
As featured in the weekly VG Bites. Do keep a lookout for more reveals!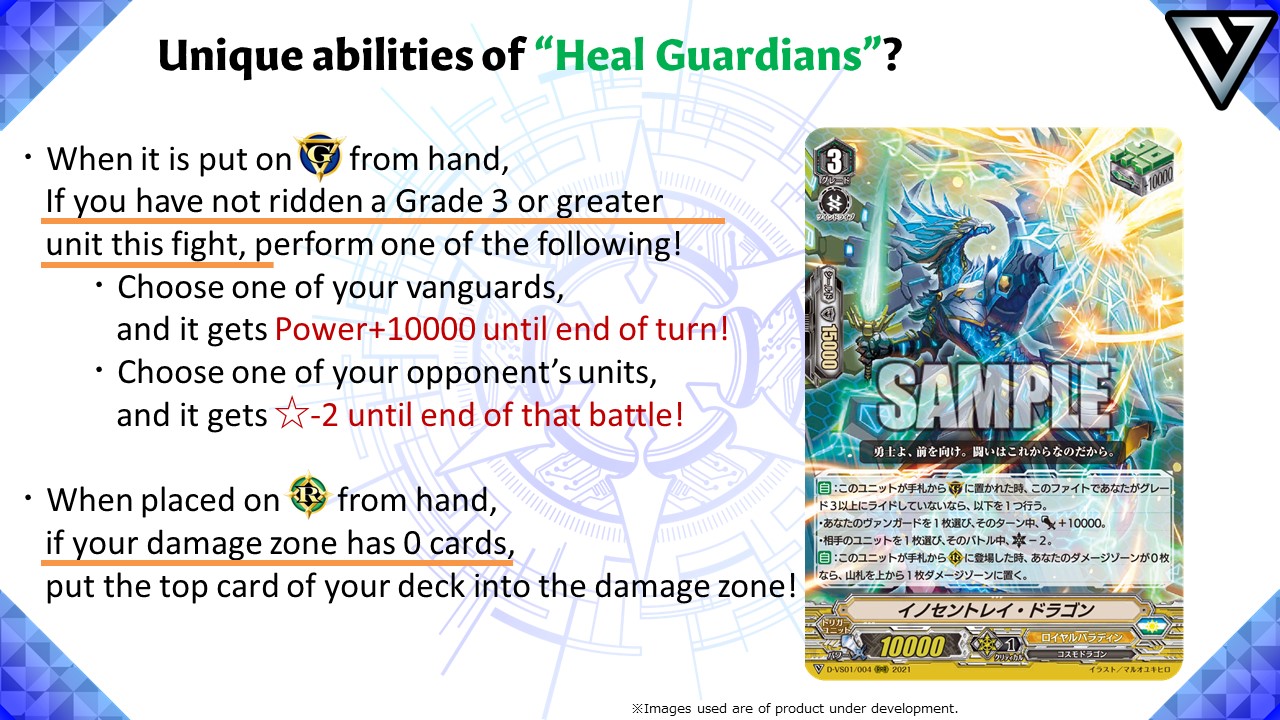 1 Guaranteed SP rarity card per box!
SP refers to special cards that have a different treatment on the surface compared to regular cards.
Get yours now with every box (of 12 packs)!
Don't miss out on the shiny VSR rarity cards too!
As featured in the weekly VG Bites. Do keep a lookout for more reveals!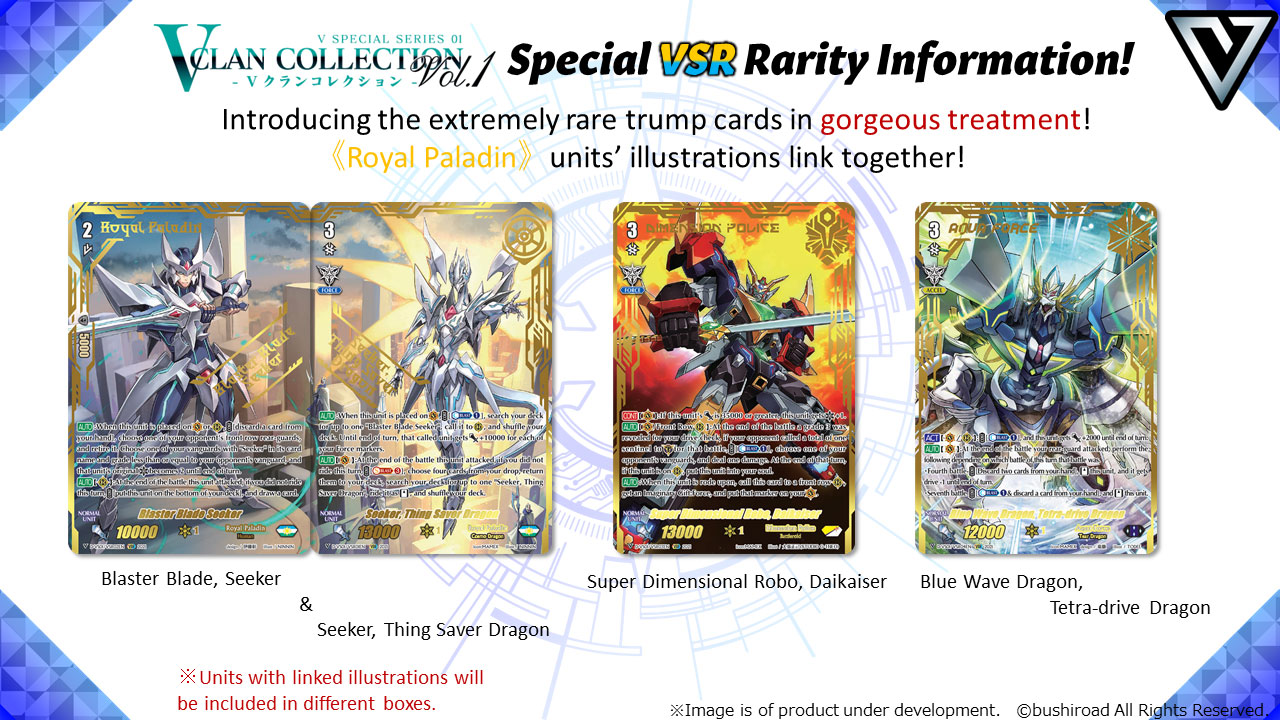 Now's the best time to secure your cards with popular abilities!
Units from all 24 clans with the following ability to be reissued together with V Clan Collection Vol.2!
"When placed from hand, look at five cards from the top of your deck, reveal up to one grade 3 from among them and put it into your hand, shuffle your deck, and if you put a card into your hand, discard a card from your hand."
※Images used are of cards from past releases, and will be different from the actual cards in this release.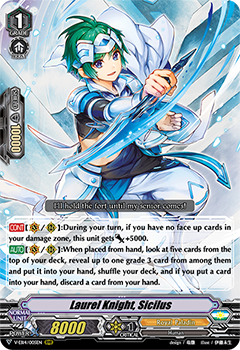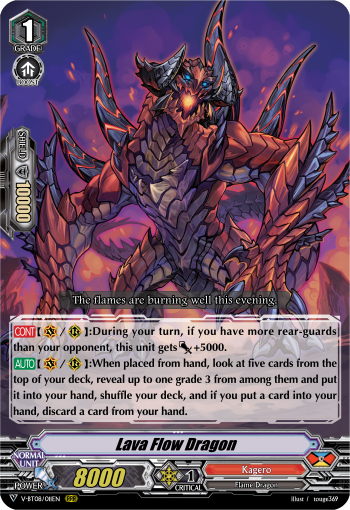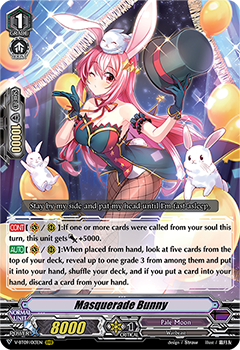 Box toppers you should not miss out on!
1 out of 3 exclusive "V Clan Collection Vol.1" Gift Markers to be randomly included!