BOOSTER PACK
【VGE-V-SS08】
English Edition Cardfight!! Vanguard Special Series 08 Clan Selection Plus Vol.2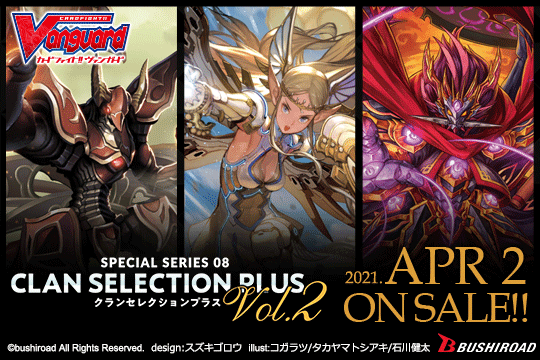 Release Date
April 2nd, 2021
Featured Clans
Royal Paladin, Oracle Think Tank, Genesis, Kagero, Nubatama, Nova Grappler, Dimension Police, Spike Brothers, Pale Moon, Bermuda Triangle, Aqua Force, Great Nature
Card Types
84 types of cards (39 new cards / 45 reissue cards)
(RRR: 84)
+ Various Parallels (SP: 12 + ASR: 1)
All cards are featured in RRR treatment!
1 display box will contain all the types!
※Other than when SP or ASR is included
Others
1 pack contains 7 random cards
1 display contains 12 packs
・12 clans will be included.
 Popular illustrations from Vanguard ZERO such as "Pure Heart Jewel Knight, Ashlei" return as a card!
 Also, featuring many popular nostalgic units like "Dauntless Drive Dragon"!
・Many new units will be included too!
 From Nubatama, we have the grade 3 "Evil Stealth Dragon Tasogare, Hanzo"!
 First Akatsuki, then Tasogare... Make full use of its highly adaptable abilities!
・All "new" and "reissue" cards will be included in RRR treatment. 3 new cards for each clan, and a total of 39 new card types will be included!!
 Also, powerful support units such as "Flourishing Knight, Edith", and the draw trigger sentinels from the 12 clans will be included!!
 ※Does not include reissues of cards included in products released from July 2020 onward (excluding PR cards).
English-exclusive Purchase Campaign!
Each purchase of a display will entitle you to a copy of a D-series PR card "Twin Buckler Dragon" (as pictured below, while stocks last).
*Limited to tournament stores in North and Latin Americas only*.