BOOSTER PACK
【VGE-D-VS04】
CARDFIGHT!! VANGUARD overDress V Special Series 04: V Clan Collection Vol.4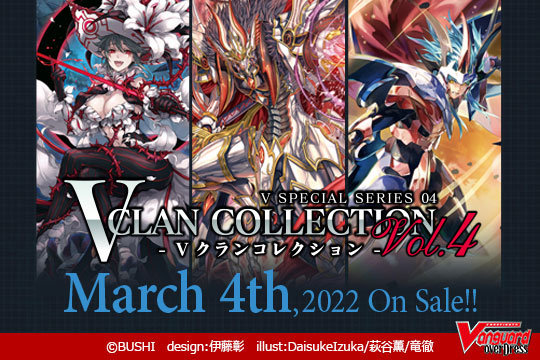 Release Date
March 4th, 2022
Featured Clans
Angel Feather, Shadow Paladin, Gold Paladin, Nubatama, Tachikaze, Nova Grappler, Link Joker, Dark Irregulars, Gear Chronicle, Granblue, Great Nature, Neo Nectar
Card Types
84 types of cards (37 new cards / 47 reissue cards)
(RRR: 84) + Parallels: 15 types (VSR: 3 + SP: 12)
※VSR = Vanguard Secret Rare
※Each box is guaranteed to have 1 SP!
Others
1 pack contains 7 random cards
1 display contains 12 packs
Commercial
"Яeverse" units are entering the fray of "V Premium"!
The units that grabbed the attention of veteran players are back,
along with the allure of the new "Яeverse" forms of popular units!
All 24 clans receive a power up with the same-day release of V Clan Collection Vol.3!
※The cards featured in this release can be used for the "Premium" format, and cannot be used for the "Standard" format.
Upgrade popular decks with new cards!
Featuring new cards that work well with various existing cards!
Upgrade popular decks such as "Revengers" from Shadow Paladin or "Ezel" from Gold Paladin!
※"Яeverse" units will be featured in the upcoming V Clan Collection Vol.5/Vol.6 as well
Great compatibility with cards from the previous Clan Selection Plus (Vol.1, Vol.2) & V Clan Collection Vol.2 too!
Combine the new "Яeverse" units with existing VR and RRR units to form the core of new decks!
New units galore!
As featured in the weekly VG Bites.
Units like Revenger, Raging Fall Dragon "Яeverse" and Thorn Lily Musketeer, Cecilia "Яeverse" make their "Яeverse" debut, while familiar regular units such as Salvation Lion, Grand Ezel Scissors and Demon World Marquis, Amon make their V Premium debut!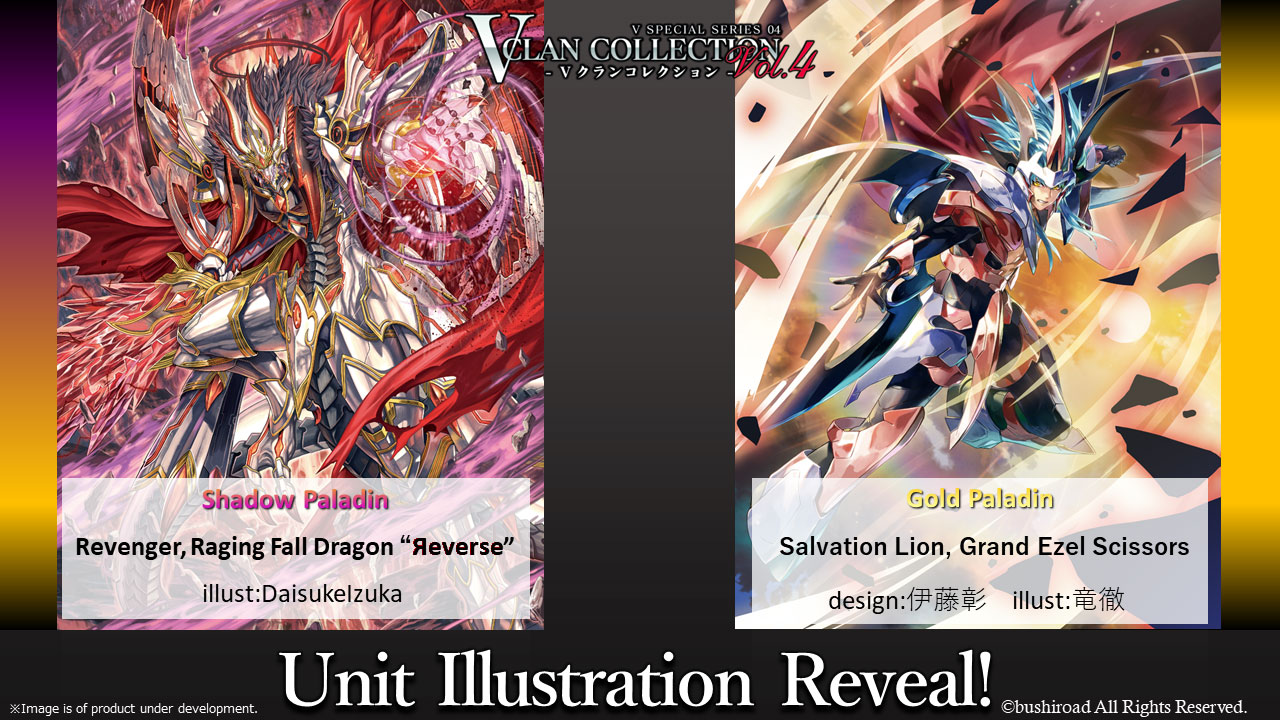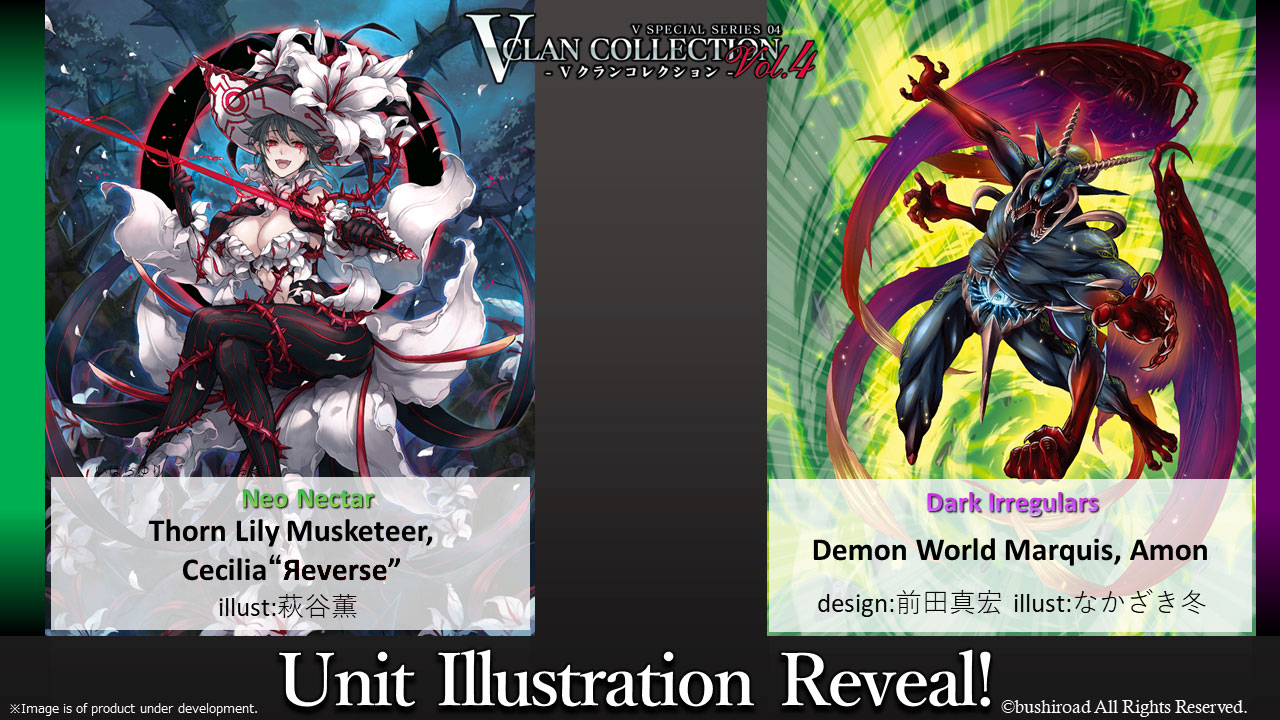 Special SP Frame for "Яeverse" units!
SP of "Яeverse" units will feature a special frame, based on a red and black theme to emphasize the "Яeverse" state!
Collect all the "Яeverse" units with the special frame!
1 Guaranteed SP rarity card per box!
SP refers to special cards that have a different treatment on the surface compared to regular cards.
Get yours now with every box (of 12 packs)!
Box toppers you should not miss out on!
Exclusive Gift Markers are included in each display of V Clan Collection Vol.4!
The gift markers will have the "Яeverse" theme as well!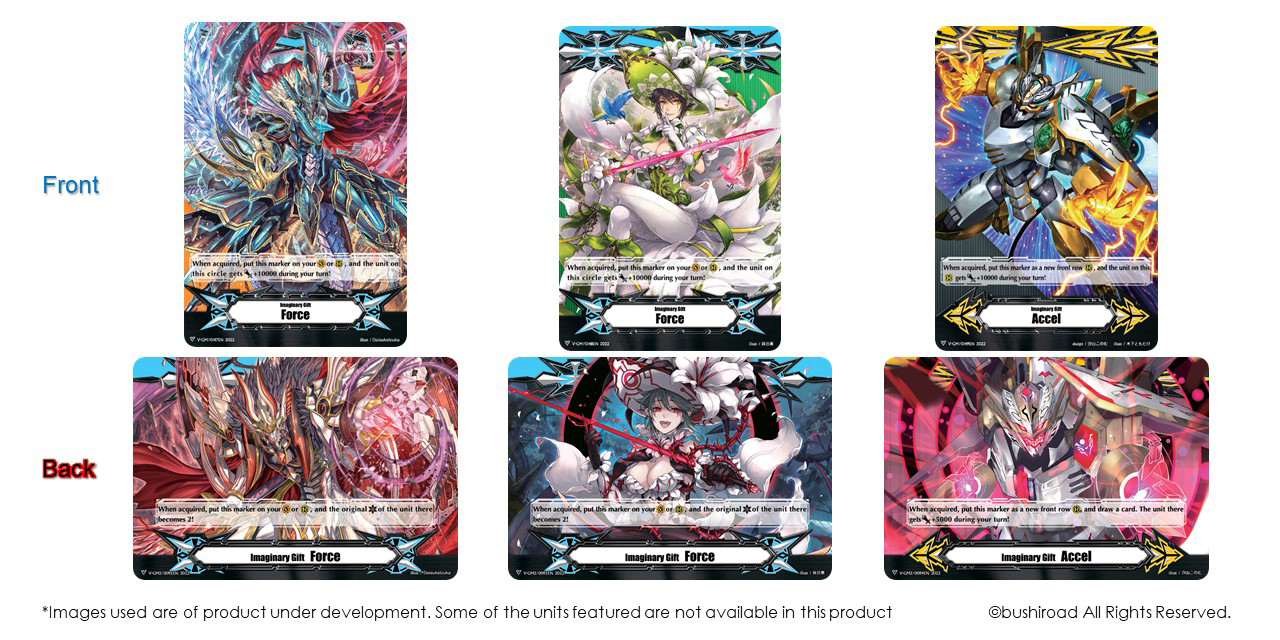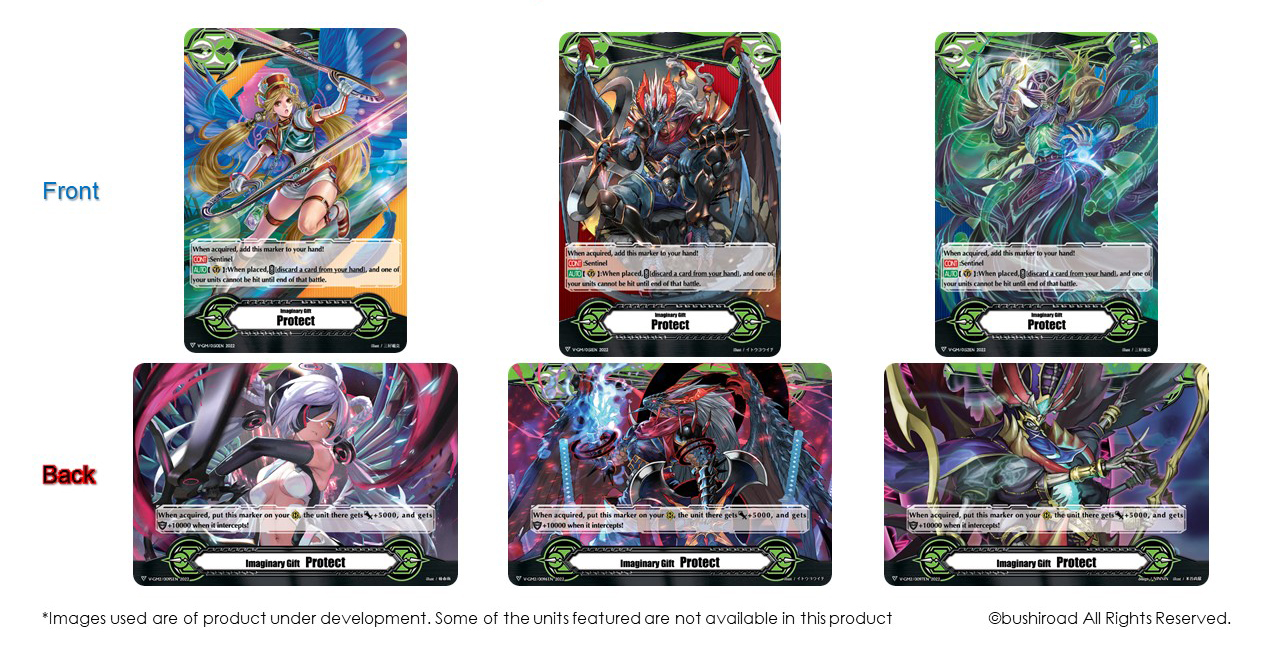 Tournament store-exclusive booster release campaign!
Get 1 PR pack free with your purchase of any 10 packs of English Edition Vanguard products!
There are 12 types of cards to collect!
※While stocks last, limited to tournament stores only.